What a Difference a Home Makes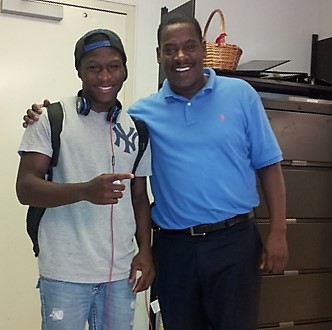 You're a single mother.
All your children have grown up and left home except one: the youngest who still lives with you and attends elementary school.
But then the dreaded day comes when your rent subsidy runs out and you have to explain to your little boy why you need to move into a homeless shelter.
What do you do?
Eight years ago this was the situation faced by Liliette Harris and her youngest son, Adrian (pictured, left). After spending some time living in a shelter, Liliette wrote an article for a newsletter for homeless shelters about her experiences with depression and homelessness. Services for the UnderServed (S:US) was among the first organizations to respond to Liliette's article, offering her not only counseling but also an apartment in the Stratford House in the South Bronx.
Stratford House is permanent supported housing that provides 60 apartments for formerly homeless families who face challenges such as mental illness and substance use disorders. Although Stratford House is located in an area known for high crime, the building management has made great strides to clear the streets right outside the building and elicit more police protection. Stratford's warm, supportive environment inspires health and well-being in tenants and increases their sense of stability and self-sufficiency. It is not surprising then when Adrian transitioned from childhood to adolescence that Program Director Robert Pruitt (pictured, right) and other staff were able to steer him away from the influence of negative friends.
Then, just three years ago, Liliette made a bold and difficult decision: to ensure her son remained safe from the dangerous South Bronx streets, she agreed to let him move to Tennessee to attend high school there. In the short time since he left home, Adrian has caught the attention of the Chattanooga Times Free Press who wrote a story describing how Adrian is making an impact on his new community and what he plans to do for young people in the Bronx after he graduates.
Today Adrian is not the only one in his family who is focused on study as his mother is now in college studying French literature. As she looks to the future, Liliette is both hopeful and thankful. "In 10 years I hope to move to a more suburban environment. But I don't know what my situation would be like today if I didn't have S:US' supportive housing. I have nothing negative to say about Stratford House and I am very grateful to S:US for having helped me."