A Community Grows in Brooklyn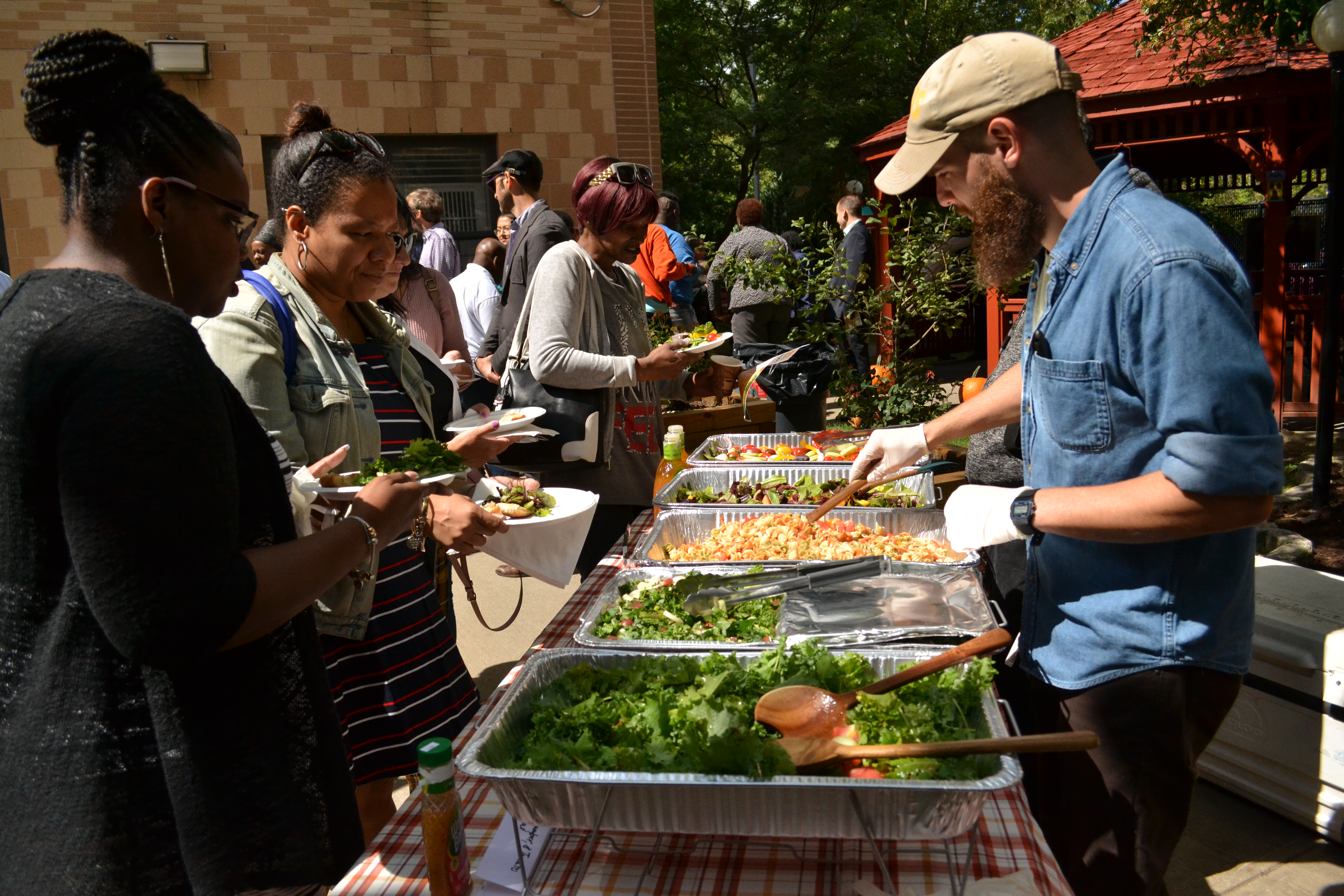 Photo credit: S:US
For Immediate Release:
Monday, September 16, 2019
Contact:
Alexis Geslani, S:US Marketing and Communications Director
[email protected]
---
Urban farmers and Brooklyn community celebrated innovative urban agriculture initiative at fall harvest event in Brownsville
BROOKLYN, NY – On September 13, 2019, urban farmers who work on Services for the UnderServed's (S:US) 48 urban farms and gardens hosted their annual Harvest Luncheon, a festive celebration of urban agriculture and the fall harvest. The event took place at S:US' Chester Supported Housing Residence in Brownsville.
"I would like to commend S:US for the great work they've done here today and for the services they provide to the community. They truly serve the underserved. We need to promote more urban farming and sustainable food practices. It's amazing to see the food that was served today, all locally grown fruits and vegetables. I enjoyed sharing an organic vegan meal with everyone," said State Senator Roxanne J. Persaud, who attended the event.
Since 2011, S:US has been at the forefront of the effort to provide access to urban agriculture for individuals and families who have experienced homelessness, poverty, behavioral health challenges, and disability. Often in neighborhoods where produce and healthy food options are scarce, S:US' urban farms are located in the backyards and on the rooftops of its supported housing and other residences. Through their work on the urban farms and gardens, every year over 500 participants gain employable skills, generate income, build self-esteem, and enjoy the nourishing benefits of fresh organic produce.
Leveraging funding from Euroclear, between April 2019 and September 2019, S:US redeveloped Chester's community farm to replace the infrastructure and to address the growing needs of its community. Corporate and community groups from Euroclear, the Federal Reserve Bank of New York, Uber, Barclays, Fluent, Inc., Remedy Health Media, and students from Columbia University and Barnard College helped to rebuild the farm site by constructing enhancements which included a 3-season hoop house and greenhouse, an independent irrigation system, a composting system, perennial plantings, and a semi-enclosed outdoor classroom. The community groups also created a new integrated seating and planting space, installed a new storage unit, refurbished a gazebo and picnic tables, and put in new landscaping elements.
"Euroclear is pleased to support projects in local communities which enable those less privileged to acquire new skills and build confidence. The urban farmers project is a great example of such a community initiative as part of our Corporate Responsibility programme," said Joyce Thormann, Euroclear Chief Representative of the New York Office.
"Food is a powerful connector. It brings us together, shapes our memories, and empowers our community. Coming together to build structures, plant seeds, harvest crops, prepare and share meals connects all of us. And for S:US, it reinforces our mission of helping individuals who are often marginalized to lead purposeful lives," said Donna Colonna, CEO of S:US. "We're excited to celebrate our community every year with the Harvest Luncheon."
The benefits of green spaces and access to healthy food has been well reported. Unfortunately, many New York City neighborhoods are cut off from nutritious food options and green spaces like parks or community farms. S:US' urban farms provide a sustainable model for long-term community health and wellbeing in New York City.
"Through our work, we distribute over 5,000 pounds of fresh produce to our residents free of charge. It also employs 30 individuals as part-time stewards for our community farms and as core team members with our marketed landscaping initiatives," said Michael Hollis, S:US' Director of Urban Farms. "From beekeeping to community volunteerism, to vocational training, to cooking and nutrition education, I'm certainly very excited by what we have been able to achieve this year and every year, especially with the redevelopment efforts which began in January."
The urban farms and gardens are created and maintained through the work and dedication of the farmers, who each have their own stories of resilience and personal triumph over very challenging circumstances. The urban farms have played a pivotal role in giving farmers a therapeutic outlet, helping them to adopt healthier habits, and providing new career opportunities.
Rhonda, one of the farmers who spoke at the Luncheon, once lived in a New York City homeless shelter and now has a home at S:US' Dewitt Supported Housing Residence. The urban farms have helped her gain a sense of purpose and stability. She is now employed with S:US as an Urban Farmer.
"This is my fourth year cooking for the S:US Harvest Luncheon. Working with the urban farms, I've learned a lot of skills. Urban farming also helps people learn about horticulture and how to prepare nutritious food. I love eating vegetables fresh out of the ground. I also lost 80 pounds since I've been involved in urban farming!" said Rhonda.
###
About Services for the UnderServed (S:US): Services for the UnderServed is a New York-based nonprofit organization that provides housing and support services to 35,000 individuals and their families living in New York City and Long Island. S:US believes every New Yorker has the right to lead a life of purpose. For over 40 years, S:US has been transforming this belief into reality by working as an advocate for people with life circumstances marked by intellectual/developmental disability, behavioral health challenges, homelessness, poverty, histories of incarceration, or trauma. Learn more at sus.org.