Alafia Groundbreaking Media Coverage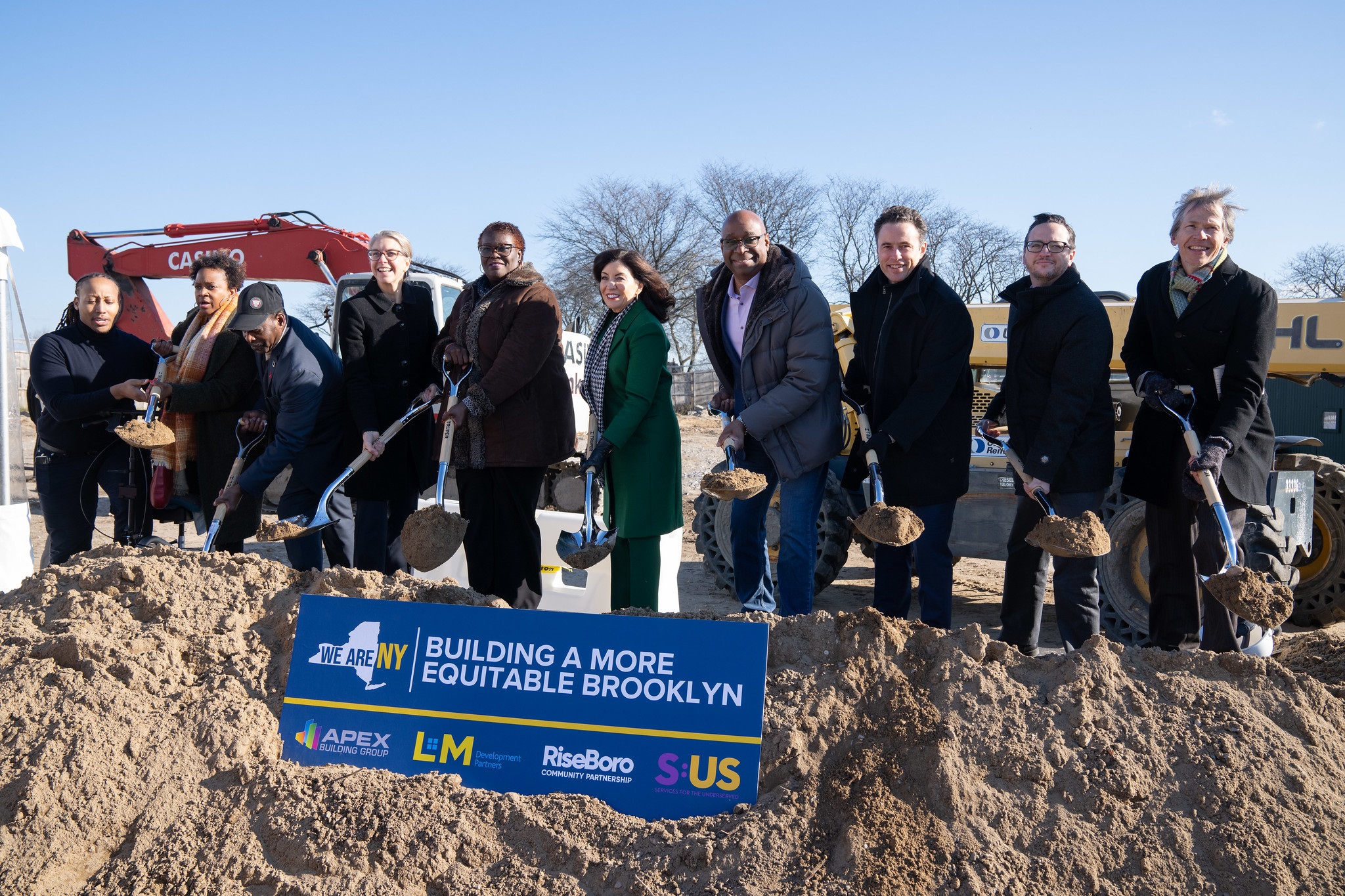 Photo: NYS Governor's Office
On December 19, 2022, S:US, in partnership with Apex Building Group, L+M Development Partners, and RiseBoro Community Partnership, broke ground to celebrate the development of Alafia at the former Brooklyn Developmental Center under the NYS Vital Brooklyn affordable housing initiative.
We're grateful to Governor Kathy Hochul, State Senator Roxanne J. Persaud, Assemblymember Nikki Lucas, Brooklyn Borough President Antonio Reynoso, NYS HCR Commissioner RuthAnne Visnauskas, NYS OMH Commissioner Dr. Ann Sullivan, community partners, and lenders for creating life-changing opportunities for New Yorkers.
Alafia is located on a 27-acre site in the Spring Creek section of East New York. With more than 2,400 dwelling units, all of which will be affordable to households earning 80% AMI and below, Alafia is intentionally designed around wellness, providing considerable set-asides for high health-cost populations. All residential units will be constructed with green building standards and energy-efficient appliances; passive house design principles will be incorporated.
Media Coverage
New York Daily News, Dec 19, 2022:
Gov. Hochul celebrates Brooklyn groundbreaking of affordable, supportive housing campus
Brooklyn Paper, Dec 19, 2022:
'A new beginning for East New York': Construction begins on $1.2B affordable housing project
Real Estate Weekly, Dec 19, 2022:
Governor Hochul Announces Transformative $1.2 Billion Development to Create 2,400 Affordable Homes, Medical Clinic, Retail in East New York
The Construction Broadsheet, Dec 20, 2022:
Construction starts on $1.2B Brooklyn housing, mixed-use project
Brooklyn Daily Eagle, Dec 20, 2022:
Construction begins on $1.2B East New York development
Multi-Housing News, Dec 21, 2022:
$373M Redevelopment Project Begins in Brooklyn
New York YIMBY, Dec 28, 2022:
Renderings Reveal $1.2B Mixed-Use Alafia Campus In East New York, Brooklyn
Press Release
NYS Governor's Office, Dec 19, 2022:
Governor Hochul Announces Transformative $1.2 Billion Development to Create 2,400 Affordable Homes, Medical Clinic, Retail in East New York
---