Andrew Zimmern & 11 Master Chefs Cook For The Cause At 3rd Annual Dinner For A Better New York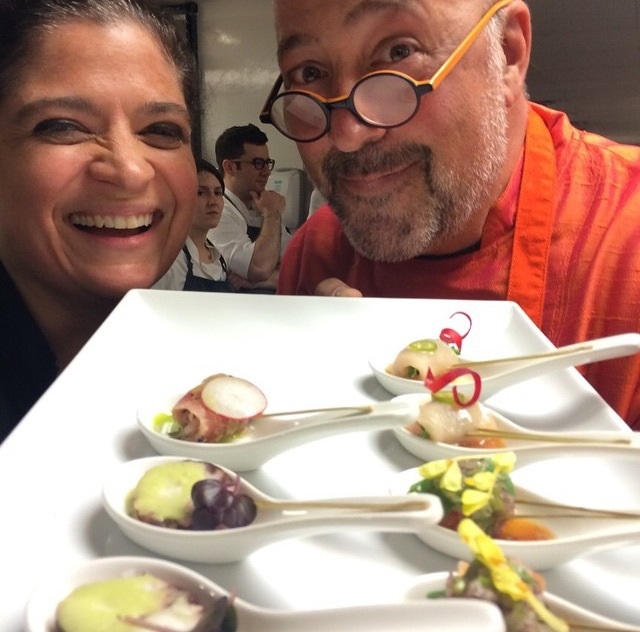 For the third year in a row chef , TV personality and S:US Board member Andrew Zimmern gathered some of the culinary world's most celebrated chefs to create a six-course dinner experience to benefit thousands of individuals and families with challenging life circumstances who are served by S:US.
Participating chefs who donated their time, talent and teams for the cause include: Andrew Carmellini (Locanda Verde), Marc Forgione (Restaurant Marc Forgione), Alex Guarnaschelli (Butter), Eric Korsh (North End Grill), Nobu Matsuhisa (Nobu), Masaharu Morimoto (Morimoto), Ken Oringer and Jamie Bissonnette (Toro NYC and Coppa), Bryan Hunt (Riverpark), Mark Welker (NoMad), Michael White (Altamarea Group).
Zimmern, who sits on the board of S:US, shared his history of substance abuse and homelessness with guests while speaking of his involvement with the organization. "S:US is an organization that's close to my heart; I can relate to the residents and community they serve," he said. "S:US is doing some of the most important work in our nation, and it's valuable for everyone, not just New Yorkers to support."
In addition to raising proceeds for the cause, the evening honored Danny Meyer, CEO of Union Square Hospitality Group. Meyer called visiting one of S:US' residences and interacting with staff and individuals a "religious experience" and noted, "If you ever doubted the power of love, you need to see what S:US does."
Honoree Danny Meyer receives a cleaver from Chef Andrew Zimmern.
The honoree was introduced by Alicia Glen, NYC Deputy Mayor, Housing and Economic Development who drew applause when she told guests, "With S:US' help, we are on track to end veteran homelessness in New York City this year."
Additional attendees included Joe Bastianich, the star of 'Restaurant Startup' on CNBC and judge of 'MasterChef' on Fox; Alicia Quarles, E! News anchor; Christina Grdovic, Publisher, Food & Wine; Dana Cowin, Managing Editor, Food & Wine; Pat LaFrieda, Pat LaFrieda Meat Purveyors; Harry Smith, TV Journalist, NBC News.
Click here to see official pictures from the event.
Visit S:US on Instagram (@S:USIncNYC) for more photos and behind-the-scenes video from the chefs themselves.