Batter Up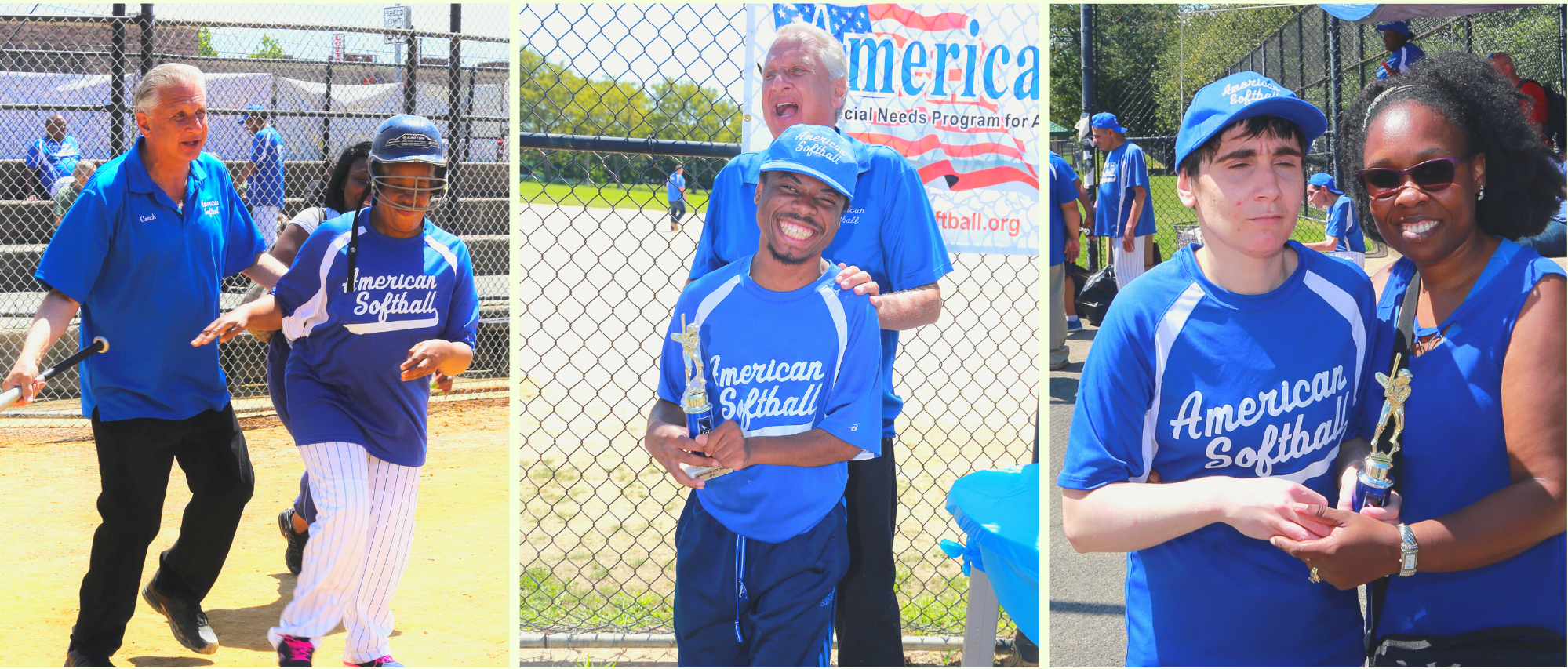 Photo credit: S:US
Pictured: American Softball League Founder Randy Novick and Darlene; Randy Novick and Daniel; Kelly Ann and S:US Program Director Brigitte Campbell
For three months in the late summer season, many individuals who receive services from S:US played on the American Softball League. Formerly known as American Achievers, the American Softball League enables adult individuals with an intellectual and/or developmental disability to compete weekly with other teams made up of players who receive services from various organizations in New York City. No player is turned away, regardless of their ability.
For the S:US team, the players were David, George, Joseph, Richard, Howard, André, Maurice, Jasmine, Ngoc and Tanasha who live in a home on Vernon Avenue, along with players Daniel, Javan, Orlando, Kelly Ann and Darlene who live in a home on Bushwick Avenue. Both residences are located in Brooklyn. Each Saturday morning, the League's teams would meet at Riis Park to sing the national anthem at the start of each softball game and then compete. Sponsorship comes from baseball teams the Mets and the Yankees, football team the Jets, and local politicians. The League provides wonderful opportunities for individuals to cultivate their skills as budding or seasoned softball players, socialize and make friends with new people. During the postseason, the team from the home on Vernon Avenue participated in a parade in Queens by riding on a float.
According to Edwin Hicks, S:US' Vernon Avenue Program Director, "David loves hitting the ball hard and watching it fly through the air! He enjoyed watching the ball fly so much that he needed a bit of encouragement to remember to run." The individuals showed a lot of enthusiasm in playing outside with the other teams throughout the season, in going up to bat and hitting the ball, and in socializing with the players from all of the other organizations. Edwin also mentioned, "Richard loves the trophies which all of the players received at the end of the season and the very patient coaches!" In addition to the opportunities it provides the players from all of the participating teams, family members who have younger children with intellectual and/or developmental disabilities who receive services from the Living Flower Children and Family Services of New York would come to watch the games weekly and be inspired. Edwin shared, "Our games pave the way for these children and families by showing them that nothing is off limits!"
We, at S:US, are grateful to Edwin Hicks and the S:US staff, along with the patient coaches, volunteers and sponsors, including the professional sports teams and politicians of the American Softball League in cultivating a love of sports, camaraderie, learning and teamwork for all of the players!
---
S:US' Developmental Disabilities Services serves approximately 800 individuals who have been diagnosed with an intellectual and/or developmental disability, as well as autism spectrum disorders and other psychiatric disorders. S:US is an integral part of the communities that host our programs and services in every borough of New York City.