Bringing Cheer with Holiday Stockings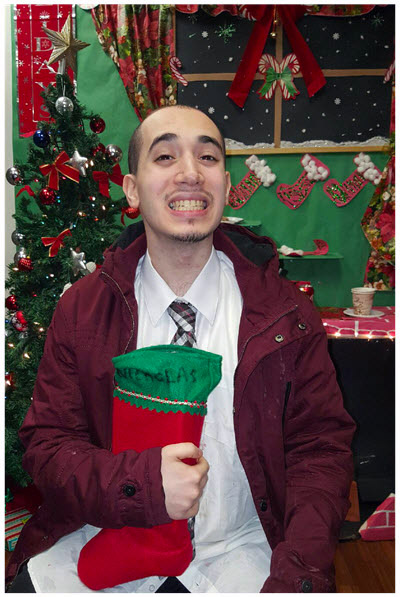 What warmed your heart during the holiday season?  Was it tinsel?  Egg nog?  Sleigh bells in the snow?  For us it was the joy of seeing multiple corporate and community teams and individuals take part in the S:US Holiday Stocking project by volunteering to buy or package holiday gifts for those individuals who S:US serves, many of whom have no family or social networks.
And this is exactly what happened when 85 individuals each "adopted" up to five S:US consumers for the holidays and 15 corporate and community teams each "adopted" up to 100 consumers. The 15 teams included American Eagle Outfitters, The Barman's Fund; First Quality Maintenance; Fluent; Lawyers Alliance; New Leaf Literary; New York Cares; Snap Interactive; Teachers for Tomorrow; Wisdom Tree, Zeta Phi Beta Sorority, Sigma Nu Zeta Chapter.
Volunteers from Citi Group and S:US' Young Leaders Council members were among the 19 individuals who volunteered their time to help package the gifts.
See slide show below:

By the time the holidays were over more than 800 children, teens and adults received personalized holiday gifts.
Children, teens and adults alike were all ecstatic as they excitedly unwrapped their gifts, eagerly showing them off to the camera. For some of the children, their holiday stocking was so heavily laden that they had to use all of their muscles to pick it up but they didn't mind a bit as was evidenced by the beaming faces around the room.  Several consumers wrote a thank you note to Santa and put it under the Christmas tree.
See slide show below:

And in addition to adopting 100 individuals through the S:US Holiday Stocking Project, American Eagle Outfitters employees also threw a holiday party for approximately 50 S:US consumers. Everyone created holiday necklaces, decorated and ate cookies and took photos with Frosty the Snowman.
See slideshow below:

S:US would like to thank each and every one of its volunteers for reaching out and touching the lives of our consumers.
Although the holiday season is over, we still have many opportunities for you in 2016 to volunteer with S:US to make a difference in someone's life. If you are feeling inspired to help let us know by contacting [email protected].