Celebrating an S:US All-Rounder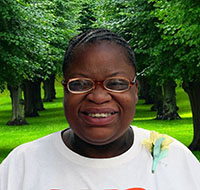 Valerie Stanback is an honoree at next month's S:US Annual Benefit – An Evening of Opportunity.  Valerie has been part of S:US since 2008 and for the last three years has been employed as one of S:US' urban farmers.
Valerie is not one to let her personal challenges hold her back from achieving her goals.  She lives in her own apartment but she doesn't spend much time at home.  In addition to Valerie's job as an urban farmer, she volunteers with Meals on Wheels delivering meals to homebound elderly people.  But the Urban Farms are the favorite part of her involvement with S:US.
Valerie's work on the farms has reinforced her love of seeing things grow.  She gets great satisfaction from selling produce at farmers markets, promoting the S:US cookbook and introducing honey from the beehive at the S:US Marcy Hard residence in Bedford-Stuyvesant.
At the East New York Farmer's Market, Valerie was beaming when she exclaimed, "I helped sell $244 worth of honey made from S:US' bees!"
S:US is thrilled to recognize Valerie as a budding farmer, entrepreneur and a deserving "Person of the Year" honoree at the November 17 Benefit.