Celebrity Chef Andrew Zimmern and Other Top Chefs Came Together for "Dinner for a Better New York," Raising $700,000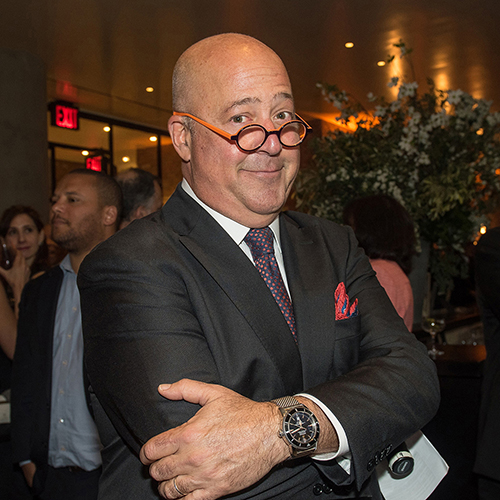 Photo credit: S:US
Andrew Zimmern, celebrity chef, host of the Travel Channel's "Bizarre Foods" franchise, and three-time James Beard Award-winner curated Services for the UnderServed's 2017 Dinner for a Better New York, a culinary celebration to benefit our life-changing work offering housing, employment, skills-building, and rehabilitation services to New York City's most vulnerable individuals and their families. Zimmern, whose own life has been impacted by homelessness and addiction, was joined by 13 of the city's best chefs, celebrating S:US' aim to build a better New York where opportunities are available for all. The evening raised $700,000, a record for this event.
Chefs who prepared the evening's world-class menu included:
Floyd Cardoz of Paowalla
Scott Conant of Impero Caffè and SC Restaurants
Marc Forgione of Restaurant Marc Forgione and American Cut
Alex Guarnaschelli of Butter
Eric Korsh of North End Grill
Nobu Matsuhisa of Nobu New York
George Mendes of Aldea and Lupulo
Douglas Quint and Bryan Petroff of Big Gay Ice Cream
Jacques Torres of Jacques Torres Chocolate
Laurent Tourondel of L'Amico
Mark Welker of the NoMad and Eleven Madison Park
Michael White of Altamarea Group
Guests enjoyed tasting stations, each presented by a chef in-person, and a multi-course menu curated by Zimmern. The Dinner for a Better New York also honored American Express for their commitment to strengthening supportive housing developments throughout New York City.
"A very special 'thank you' to Andrew Zimmern, who has done so much for S:US," said Donna Colonna, Services for the UnderServed CEO, addressing the crowd. "I feel the positive energy and generosity in the room, and for me, I think this is what a better New York feels like," she continued. "The people we support work every day to change the circumstances of their lives, and they are incredibly resilient […] The people we support need us to lead, to pioneer new ideas, to continue to be bold […] S:US has a vision and passion, we have the scale and the expertise to make New York better for all, but we cannot do it alone […] We are in this together and we could not ask for better partners."
In a heartfelt speech, Zimmern recalled his own past struggles with addiction and homelessness. "I was a homeless, unrecovered drug addict and alcoholic, stealing purses off of park benches and sleeping in an abandoned building," he said. "[…] That was 25 years and four months ago, and I've been sober ever since." Pointing to himself, Zimmern continued, "But the fact of the matter is that this is what addiction looks like, this is what alcoholism looks like, this is what homelessness looks like, this is what mental illness looks like. Those things are a part of me but I am not those things. I am a human being, just like you, and human beings are the most resilient beings I've ever encountered […] once you give them a little compassion, a little dignity and respect – look someone in the eye and give them a hug and a handshake – amazing things start to happen. And that is what S:US does absolutely every single day."
The highlight of the evening came when, as a surprise to Zimmern, Dana Cowin, formerly of Chefs Club International and an honoree of last year's Dinner for a Better New York, announced the inaugural Andrew Zimmern Award, which honors the resilience, optimism, and loving heart of an individual served by S:US. This year's winner, Stacy Hakim, is an army veteran and mother of two young daughters who became homeless after escaping an abusive relationship. With the help of S:US, Stacy found a permanent home and a job. Incredibly, Stacy's resilient spirit brought her life full circle, and she now works with homeless veterans at the same S:US program that helped her and her children.
"It was my girls that gave me the courage to walk away from a ten-year relationship to the only man that I ever loved," said Stacy. "Everyone I met at S:US was there for me every step of the way, helping to guide me as I reinvented myself […] To be given an award in Andrew Zimmern's name fills me with pride. I want to thank you, Andrew, for openly sharing your struggles and using your success to help others."
The Dinner for a Better New York took place at Manhattan's Hotel Eventi.