Consumer Perspectives: Peers in the Workforce – Reversing Misconceptions and Succeeding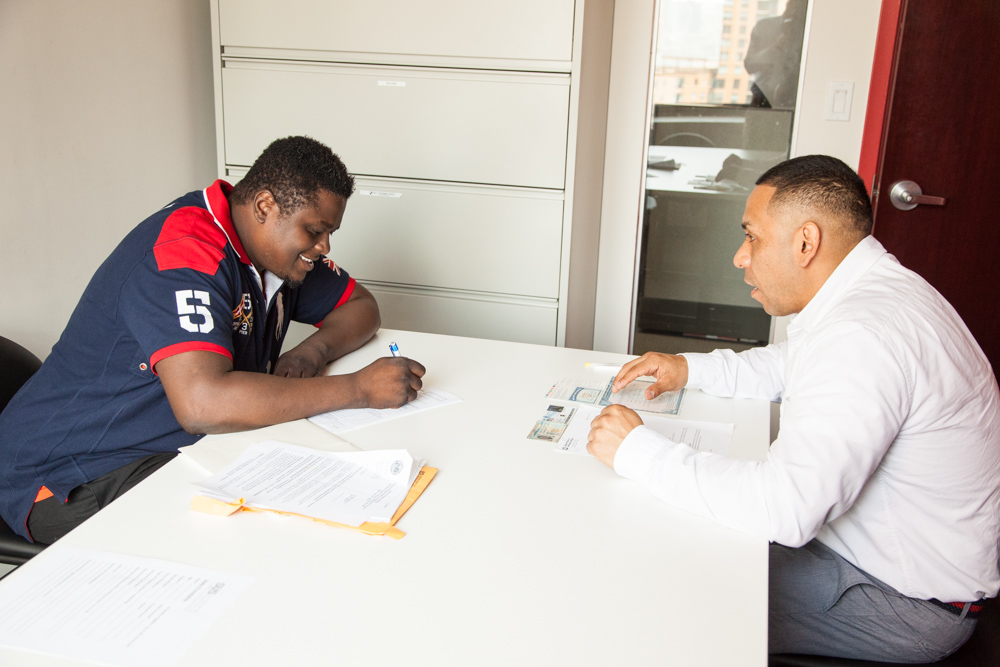 Photo credit: S:US
By Kerry, Andrea, William, Shaneefa, Elfreda, and Joseph
Behavioral Health News
Summer 2019
This article is part of a quarterly series giving voice to the perspectives of individuals with lived experiences as they share their opinions on a particular topic. The authors of this column facilitated a focus group of their peers to inform this writing. The authors are served by Services for the UnderServed.
Employment is one of the most essential aspects of a stable, productive, well-rounded life. This is no less true for us, individuals with behavioral health needs with lives impacted by mental health challenges, substance use, and homelessness. But maintaining stable employment can be more difficult and fraught for us. Instability in our lives may have prevented us from working for periods of time, making it harder to find gainful employment now. We may experience particular obstacles stemming from our individual diagnoses and needs that make certain types of employment difficult. On top of this, we may also be up against stigma from employers and structural barriers.
But, as several of us learned when we gathered to discuss our experiences as part of the 'behavioral health workforce,' we are more than capable of thriving in our jobs and building careers. The possible challenges we may face certainly don't encapsulate our experiences. Here is some of what our conversation revealed.
Support Tailored to Our Needs
Members of our discussion group have been employed consistently from 10 years to 6 months. One of us is currently seeking employment, but has a diverse work history with periods of long-term employment. Our experiences finding a job are varied, but what they have in common is the importance of the support and resources made available to us through organizations like S:US, and programs designed specifically for our needs. For instance, one of our discussion participants found permanent employment through a job fair run by the New York City Office of People with Disabilities and a program that adjusts typical employment testing requirements for people with disabilities. With these two resources, he was able to secure a permanent job with the City. "Prior to that," he says, "I had been sending out dozens and dozens of resumes and no one was responding."
Two of us are participating in transitional employment (TE), which we obtained through S:US' Brooklyn Clubhouse. (The Brooklyn Clubhouse is part of Clubhouse International, an organization that provides opportunities and resources for individuals with mental illness to live healthier, happier lives.) Transitional employment opportunities typically last for 6 to 9 months each, and are secured by the Clubhouse. One of us talked about an exciting TE opportunity with the NYC Mural Arts Project (part of the NYC Department of Health and Mental Hygiene), helping to design and install a mural to raise awareness about mental illness on a wall of a local Brooklyn school. While the Clubhouse encourages members to obtain outside employment on their own as well, it also offers opportunities for Supported Employment and Independent Employment. Under these two employment types, the Clubhouse provides us with varying levels of intervention to support our adjustment to our places of work.
Paying it Forward as Peers
Two participants in our discussion group work as Peer Specialists with S:US. Having gone through their own journey through behavioral health services, whether for substance use recovery or some other need, they received training (with the support of S:US staff), and now serve other individuals with behavioral health needs. Because of their lived experience, peers can provide invaluable knowledge and support that can't be taught formally.
For the two peers in our discussion group, the opportunity has been life-changing. One spoke about participating in peer training after receiving support from S:US following the death of his mother, when he needed recovery support for alcoholism co-occurring with depression. After completing a free Recovery Peer Advocate Training, he sought out other classes related to recovery services.
"My S:US caseworker sent me to someone to help me revamp my entire resume. I was coming up around two years clean. After working with her colleague on my resume, I got an interview with my current director," he said. "Every question she asked me I had an answer for, because I was fresh out of school. And the next thing I know, I'm employed for S:US as a Peer Specialist. I had never done it in my life. They had to teach me how to use the copier. This was six months ago. Now, I have a case load of 12. I do service plans. I do one-on-ones, I run men's groups. Before, I couldn't even turn on the computer!"
Peers provide services that are centered on what the individual wants for themselves and their life, not dictated by the peer or other staff.
"All our notes must reflect a person-centered approach, where the person's going to tell you what they need. This has changed from the old traditional method of 'you're going to do it this way or I'm going to report you to your mandating agency.' We now meet people where they're at…It makes me feel so good to know what I could help somebody, because I got helped. It's paying it forward, it's amazing. My life just transformed, and S:US really played a big part."
What We Need to Keep Succeeding
Our group discussed some of the factors that allow us to maintain our employment and be successful once we have been hired. Many of us mentioned needing continued support from our mental health care providers, who can help us build confidence and see things differently in our lives. We also utilize outside resources like the VA or other providers, because it can be almost impossible to maintain a job when we aren't able to manage our health and safety.
"Living at S:US and having a place where I can lay my head, where it's clean and it's safe, has been very helpful," one of us stated. "That's what helped me earn my Master's, being able to just go home and not worry about where you're going to live and how you're going to pay the rent. That is very supportive, along with the Wellness Coaches there."
Another in our group spoke about following a concept used in the field of addiction recovery which focuses on balancing eight dimensions of wellness: emotional, environmental, financial, intellectual, occupational, physical, social, and spiritual.
We also touched on the importance of coping with job stresses. Listening to music, watching favorite TV shows, and knowing when to use our vacation time were all mentioned as important self-care strategies.
As our discussion concluded, a sense of optimism and contentment could be felt in the room. Each of our stories contributes to reversing stigma in the workforce about people with mental health challenges and other disabilities. With our visibility, this can only continue to grow and our workplaces, community, city, and country will be the better for it.