Consumer Perspectives: Volunteering Makes a Difference in Our Lives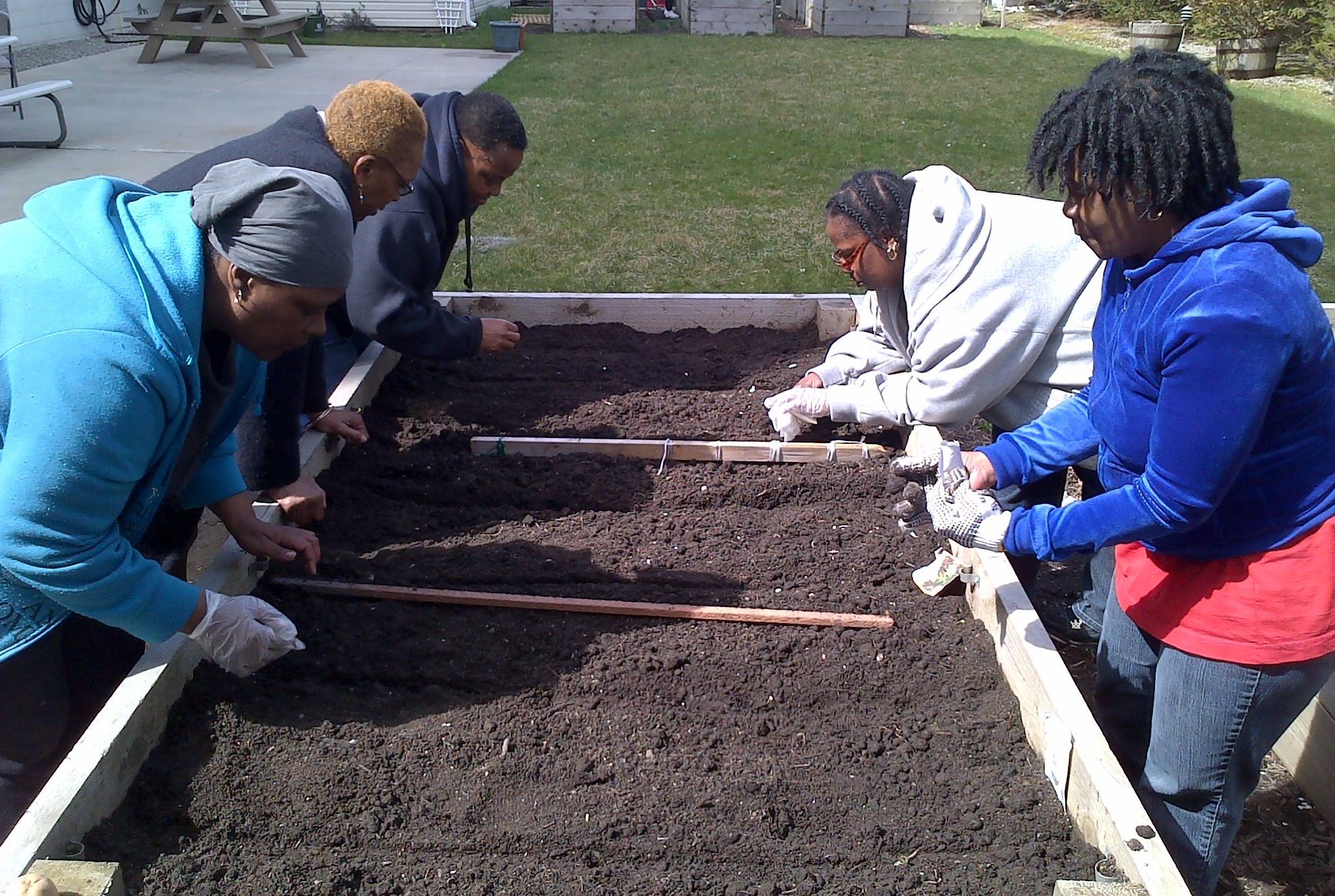 Photo credit: S:US
By Kimyai, Missy, Rhonda, and Wesley
Behavioral Health News
Winter 2022
This article is part of a quarterly series giving voice to the perspectives of individuals with lived experiences as they share their opinions on a particular topic. The authors are served by Services for the UnderServed (S:US), a New York City-based nonprofit that is committed to giving every New Yorker the tools that they can use to lead a life of purpose.
We are four New Yorkers in our 50s and 60s who receive support from Services for the UnderServed (S:US). We all live in S:US housing and have a variety of behavioral health needs. Three of us were in homeless shelters before we found housing with S:US. One of us has been in recovery for 10 years.
Volunteering, in its many different forms, plays an important role in our lives. Some benefits include an increase in self-esteem and confidence, a reduction of stress, and improvements in well-being; taking on new challenges helps us obtain different experiences, learning new skills can lead to gainful employment, and making a difference feeds our bodies and souls. By making connections with the people we're helping, we are cultivating friendships and doing our part to strengthen our community.
Volunteering Can Lead to Paid Employment
Two of us started volunteering with S:US Urban Farms, an initiative that runs community farms and garden spaces at S:USresidences, and now we are paid urban farmers.
"When Urban Farms first started, 11 years ago, I volunteered to work in the garden. We started with one bin and no one else volunteered. It kept me busy, kept me from thinking about using substances and alcohol. Then I started working for a stipend and we got a couple of garden bins. Now we have 10 bins and I get a paycheck. Being part of Urban Farms helped me a lot, it kept me out of trouble," said Missy.
"We have an S:US cooking class, and I help residents learn how to cook because I'm a chef. Also, we have a garden so I help residents learn to eat healthy. We have people with diabetes, cancer survivors, and other underlying health issues. Everybody can learn how to cook. I also cook for staff lunches and for events," said Rhonda. "Even though I have food service experience, I've also learned horticulture — so now I know how to do all these things on my own. I've learned how to grow things from seeds and watch them flourish. It's beautiful! Food tastes better when grown locally. It's fresher."
Volunteering is a Stepping-Stone to Employment
Two of us are members of the Brooklyn Clubhouse, which provides activities for and is run by individuals who live with mental illness. The Clubhouse offers TASC (formerly GED) and basic computer training, as well as instruction in food service, facilities management, computer applications, and office skills. We like the Clubhouse because of the training opportunities they provide, plus we connect with our peers and other members of the community.
Two of us have receptionist positions at S:US residences through a Transitional Employment Program, which operates out of the Brooklyn Clubhouse. This program provides time-limited employment and on-the-job training in one or more integrated employment settings as an integral part of members' vocational rehabilitation growth. We both hope that these positions lead to similar jobs. This work has helped us improve our computer skills, gain office and people skills, and learn to manage stress.
"One of the things that this position has helped me with is how to handle stress. If I get upset about something for more than 20 minutes, I let it go. I know how to let it go so it doesn't mess up the rest of my day. I start realizing that the person who upset me isn't having a good day, that's why they're messing up my day. It helps me snap out of negative thinking," said Wesley.
"I had never worked with my peers or adults like me, only the general population. Now, I work with residents with disabilities and some with criminal backgrounds. And it makes me feel good to serve them in a positive way while also helping myself. It also feels good to have a routine, to get up in the morning," said Kimyai.
Volunteering Makes A Difference in Our Lives
We all help our communities in other ways as well.
"I help other tenants go to doctor and dentist appointments, or go shopping. We have a lot of tenants who can't read, so I help them with appointments and help them read things. Many people in my building don't have family to go to or can't come visit them for the holidays. Before I venture off to see my family, I cook for those who don't have friends and family. I serve them. So, they have something and don't feel alone," said Rhonda.
Wesley volunteers at St. John's Bread & Life. He said, "It makes me feel good because I like to help people fulfill their needs. They look up to me and that makes me feel special. That makes me happy and I like to give back."
Missy volunteers to decorate the building she lives in. "I have always loved to decorate, even when I lived with my mom. The living room was spectacular! I couldn't wait until we put up the Christmas tree. When I left home, I always bought a tree. I love the decorations–it makes me happy and makes the place look nice. I do every holiday downstairs and on my own floor in my building," said Missy.
Some of us appreciate that other volunteers have improved our residences.
"Volunteers are great. They painted all our garden bins. They do the tough weeding. They're very nice and they help a lot. I always greet volunteers when they're here," said Missy.
"The volunteer groups are nice. There are different ones — people who work at banks, church volunteers, etc. It's nice for other people to see what we're doing. Volunteers help us maintain and beautify our garden and backyard space. We have a gazebo in the backyard, bins, different plants, bird feeders — different birds come throughout the season, like blue jays, sparrows, and once a swan," said Rhonda.
The Value of Volunteering
The opportunity to do volunteer work has helped us learn new skills and stabilize our lives.
"Doing this (receptionist) role has greatly improved my job skills and job prospects. And I've come a long way from when I was diagnosed with paranoid schizophrenia, got divorced, and lost my home. I spent 18 months in a Brooklyn shelter and then moved into temporary housing with S:US. Now I'm looking for permanent housing through the help of my wellness coach," said Kimyai.
"I used to work as a chef on cruise ships. When I stopped working and had knee surgeries, I got depressed. I've always cooked. Growing up in a big family, cooking was a passion for me. Now I have metal in both of my knees. I didn't know what I was going to do. Working in Urban Farms and volunteering makes me feel good, like my world opened up again," said Rhonda.
Volunteering Feels Good

We want to let other people know that volunteering is a win-win for us and for our community as a whole. It makes us feel good to give back and help others.
"I like doing this work because I enjoy seeing the smiles on their faces when I give them fresh tomatoes from our garden," said Missy.
"It makes me feel good to be able to give back to my community," said Rhonda.
"Don't be afraid to change, don't be afraid to move forward in your life and do something positive," said Kimyai.
---