Developers Secure Financing For Starhill Affordable Housing At 1600 Grand Avenue In Morris Heights, The Bronx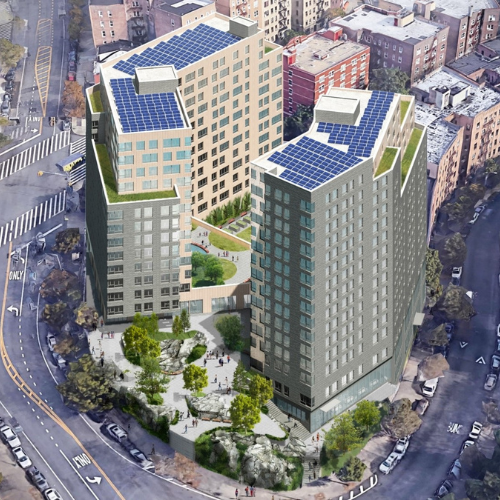 Rendering by Marvel Architects
New York YIMBY
June 29, 2022
Services for the UnderServed (S:US) and Bronx Pro have closed on a sizeable construction loan to complete the first phase of a dual-tower affordable housing project in the Morris Heights section of The Bronx. Phase one of the development, a 14-story residential tower, is located at 1600 Grand Avenue and will comprise 325 units.
A total of 200 units in this first tower will be set aside for formerly homeless individuals with substance abuse disorders. S:US will be the service provider for the supportive housing units, through funding from the Office of Addiction Services and Support under the Empire State Supportive Housing Initiative (ESSHI) program.
In total, Starhill complex will comprise around 570 apartments of supportive and affordable housing designated for the formerly homeless and households earning between 40 percent and 80 percent area median income (AMI).
"At S:US, housing is at the core of what we do," said Dr. Jorge R. Petit, S:US president and CEO. "Without the stability of a home, families cannot stay together, people cannot find employment, challenges completely overwhelm, and life quickly spirals out of control. Helping New Yorkers obtain housing is part of our social justice mission to end homelessness and ensure access to affordable and supportive housing."
The development site spans approximately two acres, and it is occupied by a former hospital operated by S:US. In this location, construction would not have been possible without ratification of the Jerome Avenue rezoning plan, a major initiative to facilitate the construction of mixed-use and mixed-income housing along 73 blocks of Jerome Avenue in The Bronx. The plan was approved by The New York City Council in 2018 and is expected to create roughly 4,600 new apartments, with over 1,000 units of affordable housing.
The Starhill team has not announced when construction of phase two is expected to break ground. Located at 1600 Macombs Road, the second and final phase, will include a 222,000-square-foot tower with around 240 units of supportive and affordable housing. The ground floor will also include a 4,400-square-foot community facility.
Residents will have access to an amenity deck with elevated green space, seating, social services, and a water feature, in addition to a children's play area, laundry facilities, and a fitness room. Residents will also have access to a rear yard with a barbecue area and an urban farm.
The interior complex will also include 11,500 square feet of publicly accessible open space.
"Bronx Pro Group is proud to be a part of the next chapter and reinvention of the Starhill Campus of Morris Heights," said Samantha Magistro, BPG CEO. "Starhill Phase I honors the site's history of medical and mental health care, while responding to the present-day community's need for affordable housing and new open space. We look forward to building this new community together with S:US, our lenders, as well as our community stakeholders."
Marvel Architects served as the design studio for both Starhill towers.
The total development cost for Starhill phase one is $190 million. The project is being financed through tax-exempt bonds, low-income housing tax credits and subsidy loans provided by the New York State Housing Finance Agency, and subsidy loans provided by the New York City Department of Housing, Preservation, and Development. Additional funding includes tax credit equity syndicated by Enterprise Community Partners and purchased by Freddie Mac, a construction loan provided by JP Morgan Chase, and Resolution A funds.
The developers did not confirm total development costs for the entire Starhill complex.
---