Supporting Victims of Domestic Violence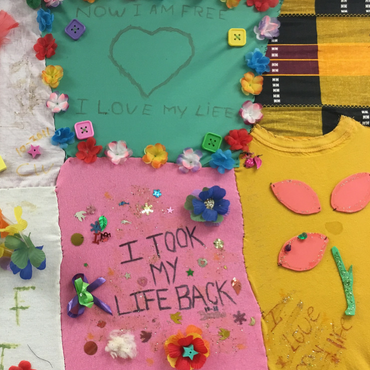 Photo credit: S:US
Maria's father was not a prominent figure in her life as he was gone from home for months at a time after several domestic violence incidents involving her Mom. Then, Maria was barely a teenager when her Mom passed away and she spent the next three years living with her grandmother. But when her grandmother became too old to care for her, she and her three siblings were placed in separate homes, with Maria herself being raised by her Mom's sister, Aunt Matilda*.
Life at her Aunt Matilda's house was no cakewalk. During the two years she stayed there Maria witnessed several acts of domestic violence between her aunt and her uncle. And it wasn't long before Maria herself became the direct victim of physical abuse—each day Aunt Matilda gave Maria a long list of chores to complete and if she didn't finish them on time, she would beat her.  Whenever she was mistreated, Maria would run away for a couple of days only to return home and be abused again. One day Maria couldn't take it any longer so she reported Aunt Matilda to the police, and thankfully Maria's aunt never hit her again.
By this time, Maria had turned 18 and began to have a relationship with a man named Carlos. Six months after the couple met, Maria moved in with Carlos. For a while things were wonderful.  Then Carlos began to physically abuse her. Hoping that things would improve if they were husband and wife, Maria agreed to marry Carlos and in due course gave birth to two children. Hoping to make a fresh start, in 2014 the family moved to North Carolina. But it wasn't long before Carlos began to hit Maria again, and at one point threw her out of a moving car. By 2015 Maria couldn't take the abuse any longer: she broke off her relationship with Carlos, and fled with the children back to New York. She was pregnant and desperate to find a safe haven to escape the cycle of domestic violence. But Carlos wasn't ready to let his wife go. He would call her cellphone in an attempt to track down where she was living. His persistence paid off because shortly after Maria gave birth to their youngest son, Carlos discovered Maria's address. Fearing for her safety Maria called the Safe Horizon domestic violence hotline seeking shelter for herself and her offspring. That's when she first heard about the S:US' Aegis domestic violence shelter.
Maria was happy to make use of the support system offered by our staff at Aegis. Shortly after arriving she began to attend classes where she obtained her GED. She has been working part time and plans to take college classes in fashion. Maria has moved into a Tier 2** shelter, and is attending interviews for permanent housing for her and her three children. She stays connected to the S:US services and gives credit to staff at Aegis for being the "support system that she needed in her life".
*Pseudonym
** Tier 2 is a shelter that allows families to remain living at the facility for 1 to 2 years depending on the need of the family and the status of their housing application.