Fighting Hunger In NYC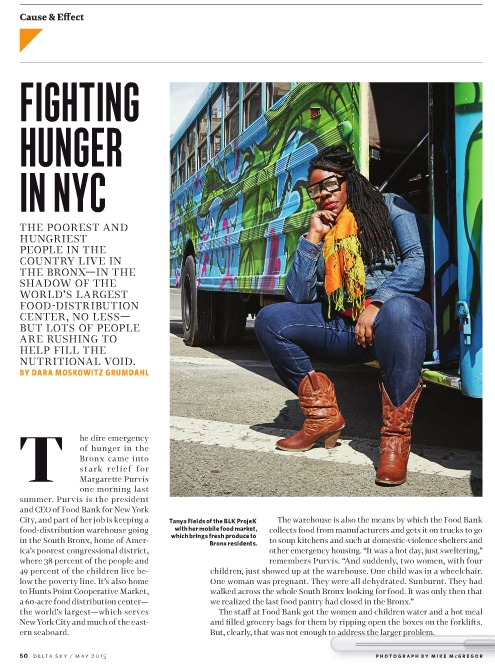 (Delta Airlines SKY Magazine) The poorest and hungriest people in the country live in The Bronx–in the shadow of the world's largest food-distribution center, no less–but lots of people are rushing to help fill the nutritional void.
By Dara Moskowitz Grumdahl
The dire emergency of hunger in the Bronx came into stark relief for Margarette Purvis one morning last summer. Purvis is the president and CEO of Food Bank of New York City, and part of her job is keeping a food-distribution warehouse going in the South Bronx, home of America's poorest congressional district, where 38 percent of the people and 49 percent of the children live below the poverty line. It's also home to Hunts Point Cooperative Market, a 60-acre food distribution center — the world's largest — which serves New York City and much of the eastern seaboard.
The warehouse is also the means by which the Food Bank collects food from manufactures and gets it on trucks to go to soup kitchens and such at domestic-violence shelters and other emergency housing. "It was a hot day, just sweltering," remembers Purvis. "And suddenly, two women, with four children, just showed up at the warehouse. One child was in a wheelchair. One woman was pregnant. They were all dehydrated. Sunburnt. They had walked across the whole South Bronx looking for food. It was only then that we realized the last food pantry had closed in the Bronx."
The staff at Food Bank got the woman and children water and a hot meal and filled grocery bags for them by ripping open the boxes on the forklifts. But, clearly, that was not enough to address the larger problem.
Throughout the Bronx, different groups are scrambling to help solve a problem so big and multifaceted that it almost defies comprehension. On the one hand, the Bronx is still New York City, so it can be prohibitively expensive to open a new food pantry site. Plus, the cost of living is sky-high: The Economic Policy Institute estimates that a family of four paying market rates would need more than $90,000 a year in the Bronx just to make ends meet; meanwhile, the actual median income of the district is roughly $34,000. that's why community churches don't have their own food pantries: "They're having a hard time just keeping their own lights on," Purvis says.
On top of these crises, the Bronx is effectively what's known as a food desert with few grocery stories selling healthy food at market rates. Instead, the borough has corner stores or bodegas that mainly sell convenience foods such as chips and soda. Consequently, the Bronx also leads the nation in obesity, and generations of children growing up without a sense of what healthy eating is. How to even begin?
For Stephen Ritz, the answer is: Begin in the schools. Ritz started Green Bronx Machine, and he has set up vertical urban farms through the city, reaching students from preschools to postsecondary schools. The Students learn about how vegetables grow–and then they take them home. "Thirty-thousand pounds of food later, my favorite crop is the organically grown citizens," Ritz says. "I have 200-pound six-graders. Kids who have never had a pet, never mind a zucchini. I give them a lima bean in a paper towel in a glass jar– you see them start to nurture it. Then we are growing arugla, mint, tomatoes. There's a trickle-up phenomena. We've taken attendance from 40 percent to over 90 percent in some classes. Grandma comes in to get the bag of vegetables and the whole family is eating better."
Donna Colonna, CEO of Services for the UnderServed, and Mike Hollis, S:US farm manager, also see growing food as a part of the solution. That's why there will be a raised-bed farm opening this spring on the roof of a 17-unit residential building in the Bronx for families whose head of household has a disability. "Tomatoes, collards, any kind of vining plant you can imagine, they all grow well on a roof in the city," Hollis says.
Getting the most disadvantaged citizens involved in farming has added benefits, says Colonna, who helps those facing the greatest barriers to housing in the city, including people with intellectual and developmental disabilities, the long-term homeless and those with mental illness or substance abuse problems. "Our mission is based on the idea that everybody matters," says Colonna, "but while housing is key, and employment is key, that first element is often connectivity, just helping people think they have a life. Getting that connection to plants and growing food, to weeding, to a place to go where your work matters, that can be the first step that makes the rest possible." That's why all of S:US' new housing will have some sort of urban farm component, whether it's on the roof or on the ground.
Of course, the great majority of Bronx residents are neither in supportive housing nor interacting with the schools. To help them get real food, Tanya Fields of the BLK ProjeK rehabbed a school bus into a mobile food market and stocks is with everything from greens to avocados. Think of it as a food truck with the same low overhead and low staffing needs, she says. The real message she is bringing by the bus, Fields says, is: "We value you…We all say in our culture: 'Time is money.' If you're talking about people in the Bronx, now you're talking about people who are already stressed in that equation, they're already working twice as hard for half as much. And they might have a three-mile walk for good-quality food. What we say is, 'We understand, we hear you, and we're going to bring what you need to have a good dinner tonight to you.' When people climb into the bus and see a good-quality pesticide-free tomato or avocado, they are happy to pay for it."
But even with all of these initiatives will anything truly move the needle? "It has to be an all-hands-on-deck movement," says Purvis of Food Bank for New York City. "We really can solve hunger. It's a tangible mission. If you provide food and access to food, you can end hunger."
Click here to see more from the May 2015 issue of SKY Magazine.