Governor Hochul Announces Transformative $1.2 Billion Development to Create 2,400 Affordable Homes, Medical Clinic, Retail in East New York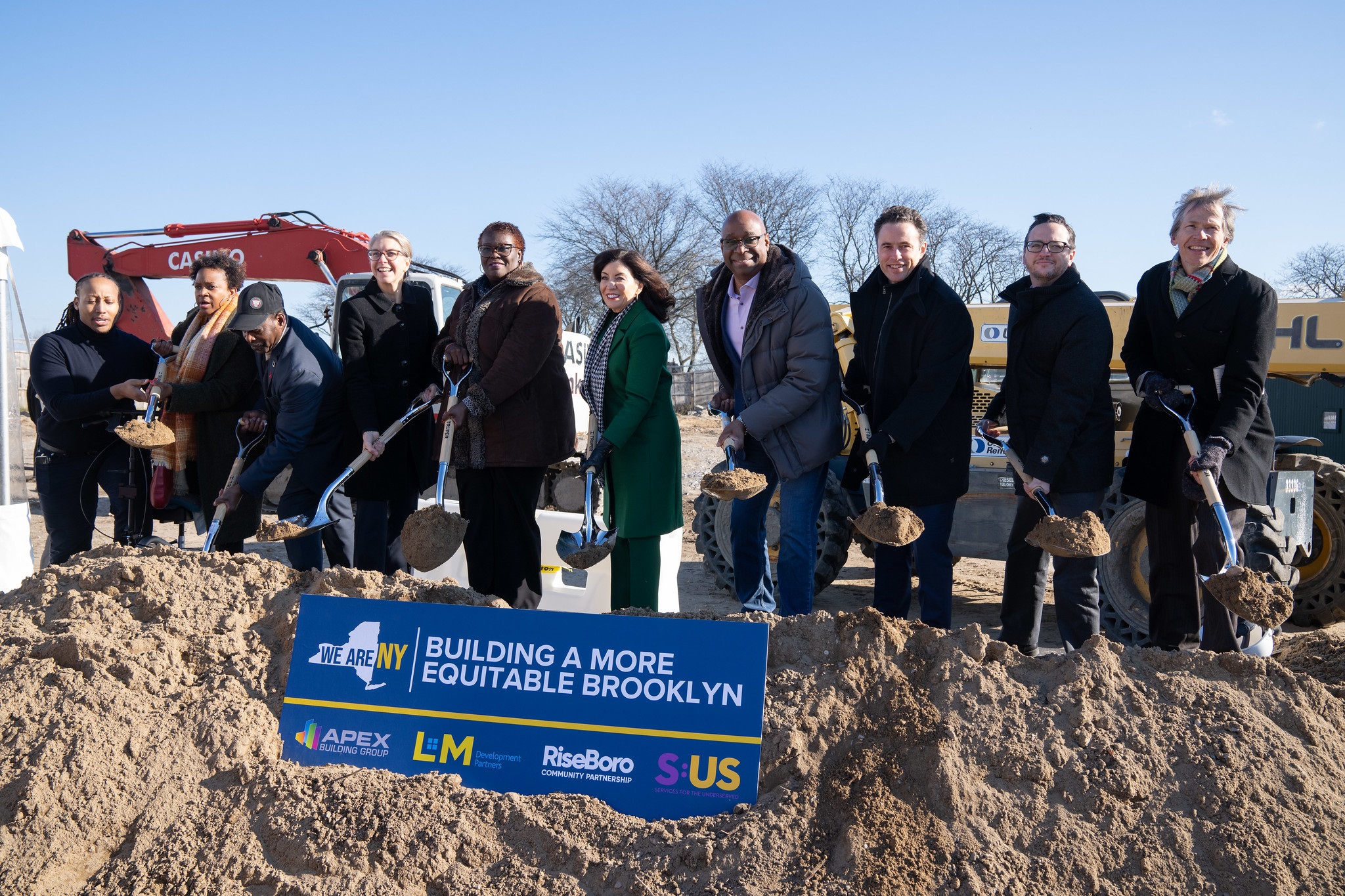 Photo: NYS Governor's Office
New York State Governor's Office
December 19, 2022
Groundbreaking on $373 Million Initial Phase of Redevelopment at Brooklyn Developmental Center Now Underway, Will Create Nearly 600 Affordable Homes
Multi-Phase Community Development Part of the State's Vital Brooklyn Initiative To Address Economic Disparities in East New York
Rendering Available Here
Governor Kathy Hochul today announced that construction has begun for the transformative $1.2 billion redevelopment of the former 27-acre Brooklyn Developmental Center property in Brooklyn's East New York neighborhood. The initial $373 million phase will create 576 affordable homes, a new 15,000-square-foot outpatient medical clinic, and 7,000 square feet of ground floor retail space. Once completed, the entire development, known as Alafia, will ultimately create more than 2,400 affordable homes in a walkable neighborhood with recreational spaces and access to community resources that promote health and wellness. Alafia is part of the State's Vital Brooklyn Initiative that is addressing chronic social, economic, and health disparities in Brooklyn's high-need communities.
"We are not just building housing for the people of East New York, we're investing in a community so that generations of New Yorkers can flourish and thrive," Governor Hochul said. "By creating 2,400 new quality homes and expanding access to social services and health care, Alafia will make this neighborhood a more affordable, more inclusive and healthier place to live. This truly transformative investment will put us on the path toward mending the societal cracks in the system to ensure all New Yorkers have a chance to prosper."
In 2018, Empire State Development, in collaboration with New York State Homes and Community Renewal, requested proposals to bring a modern, mixed-use wellness-oriented development to the campus of the Brooklyn Developmental Center in the Spring Creek area of East New York. The winning development team consists of Apex Building Company, L+M Development Partners, Services for the UnderServed and RiseBoro Community Partnership. The masterplan for the site was developed by Dattner Architects.
Ultimately, the overall BDC redevelopment, known as Alafia, will be constructed in separate phases and will create approximately 2,400 affordable apartments and other mixed uses on a walkable campus with open space designed by SCAPE Landscape Architecture.
The first phase of redevelopment will include the new construction of a 15-story building with 452 apartments and a six-story building with 124 apartments. The 15-story building includes two towers connected by a common lobby with a 15,000-square-foot medical clinic in the first tower and 7,800 square feet of retail space in the second tower.
One Brooklyn Health will operate an outpatient medical facility which will include primary care and an array of specialty services to address the needs of the residents in Alafia and the surrounding community. The retail space is expected to house five commercial tenants with the goal of attracting neighborhood-serving local small businesses.
There are 48 apartments reserved for individuals with mental health challenges who will have access to rental subsidies and services funded through the Empire State Supportive Housing Initiative and administered by the New York State Office of Mental Health. An additional 88 supportive homes will be reserved for individuals with intellectual or developmental disabilities who will benefit from rental subsidies and services funded by the New York State Office for People With Developmental Disabilities. The service provider for the 136 supportive homes is Services for the UnderServed.
Both buildings in the initial phase are designed to meet Passive House design standards and will utilize a closed loop geothermal heat pump system for energy efficient heating and cooling. There will also be a roof-mounted solar array that will convert solar energy into electricity and a SHARC wastewater heat recovery system that uses energy from wastewater for heating, cooling and hot water.
Residents will have access to free high-speed broadband connection and 24/7 security services. Additional residential amenities will include laundry rooms, bike rooms, and recreational spaces.
State financing for the first phase includes $38.1 million in permanent tax-exempt bonds, Federal Low-Income Housing Tax Credits that will generate $117.8 million in equity and $174.9 million in subsidy from New York State Homes and Community Renewal. The New York State Energy Research and Development Authority will provide approximately $450,000 and the project is also eligible to apply for NYSERDA funding for the solar installation through the NY-Sun Multifamily Affordable Housing Incentive program. In addition, the project is expected to qualify for Solar and Geothermal Tax Credits that will generate $670,000 in equity. OMH is providing $1,200,000 annually to fund operating costs of the 48 ESSHI units, as well as $430,000 in a Program Development Grant to cover start-up costs. Additional financing is being provided through a mix of private sources.
Alafia complements Governor Hochul's sweeping plans to make housing more affordable, equitable, and stable. In the FY 2023 State Budget, the Governor introduced and successfully secured a new $25 billion, five-year, comprehensive housing plan will increase housing supply by creating or preserving 100,000 affordable homes across New York including 10,000 with support services for vulnerable populations, plus the electrification of an additional 50,000 homes. Last week, Governor Hochul and Mayor Eric Adams announced the groundbreaking of Logan Fountain, a mixed-use project also in East New York that will include 174 permanently affordable homes, a shelter with homes for 169 New Yorkers experiencing homeless, and more than 7,600 square feet of retail space.
New York State Homes and Community Renewal Commissioner RuthAnne Visnauskas said, "The redevelopment of the Brooklyn Developmental Center property is a once-in-a-lifetime opportunity to build an inclusive, sustainable, and active affordable housing community that will improve health outcomes and expand opportunities for thousands of New Yorkers living in Central Brooklyn. We are thrilled to announce the start of construction on the $373 million initial phase of a $1.2 billion project that will make a substantial impact on the lives of future residents and the entire East New York neighborhood. With supportive services, a health clinic, free Wi-Fi, clean energy usage, retail space, and affordable rents, this is truly a holistic approach to producing more affordable housing and enriching the communities we serve."
Empire State Development President, CEO and Commissioner Hope Knight said, "Alafia is the latest example of Governor Hochul's commitment to expanding economic opportunity for all New Yorkers through strategic investments in affordable housing. Made possible through the Vital Brooklyn Initiative, the redevelopment of the Brooklyn Developmental Center will revitalize Central Brooklyn by building a healthy, affordable, and vibrant community for generations to come."
New York State Energy Research and Development Authority President and CEO Doreen M. Harris said, "This project reflects Governor Hochul's commitment to ensuring underserved New Yorkers across the state have equitable and affordable access to energy efficient homes as part of her goal to develop 2 million climate friendly homes by 2030. With the use of geothermal heat pump technology and electricity from renewable solar energy, when completed, the Alafia Development will provide clean and resilient living spaces for residents in Brooklyn's East New York neighborhood and help revitalize the community at large."
New York State Office of Mental Health Commissioner Dr. Ann Sullivan said, "The supportive housing apartments included in the redevelopment of the Brooklyn Developmental Center will give people living with mental illness safe and stable homes with the services they need to live successfully in their own community. Governor Hochul's commitment to supportive housing and to mental health care is helping thousands of New Yorkers live healthier and more independent lives."
Dormitory Authority of the State of New York President and CEO Reuben McDaniel said, "DASNY is proud to support an important project that will benefit the Brooklyn community long into the future. Under the leadership of Governor Hochul, we are working to invest in Brooklyn and to revitalize communities throughout New York State."
New York State Office for People With Developmental Disabilities Commissioner Kerri Neifeld said, "Governor Hochul continues to prioritize New Yorkers living with developmental disabilities with inclusive and supportive housing options that enrich communities and improve lives. It's especially fitting that the 88 apartments for people with developmental disabilities are being built on the site of a former institution, the Brooklyn Developmental Center, as its closure was among 19 others in OPWDD's move toward increased community living. I look forward to its transformation to allow more people to realize their dream of living independently."
State Senator Roxanne J. Persaud said, "Phase 1 of the new Alafia development will create nearly 500 beautiful new apartments in the neighborhood, 132 units of which will be critically needed supportive housing. The Vital Brooklyn initiative is bringing significant transformation to the former Brooklyn Developmental Center campus and, most importantly, there will still be services on site for vulnerable New Yorkers."
Assemblymember Nikki Lucas said, "The Alafia development is an important step for our community. We desperately need affordable housing and an additional Medical Center. I'm looking forward to working with the developers and the Governor's office on this community partnership, starting with today's groundbreaking and through the entire pre and post construction phases. The goals should include guaranteed employment opportunities for community members and securing apartments for members who currently live within the 60th Assembly District. Additionally, I'm looking forward to working together to prepare the community for the application process to ensure residents within the district are registered and educated on the process in order to take advantage of the opportunities for employment and housing."
Brooklyn Borough President Antonio Reynoso said, "Once again, East New York is stepping up for their Brooklyn community, creating hundreds of affordable homes, health care services, and retail space for our neighbors. We need to build at a faster rate to combat the housing crisis, not just here in East New York, but everywhere. Every neighborhood in our borough needs to do its part in lifting up Brooklyn's social and economic wellbeing, and I'm so grateful that the Brooklyn Developmental Center property is leading the way. Thank you to Governor Hochul and the many agencies and organizations that banded together to make this possible."
LaRay Brown, President and CEO of One Brooklyn Health, said, "Stable, safe and affordable housing and accessible health care are intrinsically linked to creating equity. We are excited to participate in the realization of the Governor's vision."
Dr. Jorge R. Petit, President and CEO of Services for the UnderServed, said, "Home is not just a building. Home is stability, safety, community, and a sense of belonging. As a service provider for New Yorkers in need, it is essential to continue to provide homes and foster safe communities with access to green spaces and needed community amenities. We're excited that Alafia will bring affordable and supportive housing with abundant green spaces to East New York. S:US could not be more proud to be a part of this revolutionary development."
L+M Development Partners CEO Lisa Gomez said, "This groundbreaking project will offer more than affordable housing – it will set the standard for how future housing developments in high-need communities should be constructed, prioritizing health outcomes and sustainability at every step. Building affordable housing designed to promote healthy living in neighborhoods that need it, from the construction materials used to the services provided, is critically important. We are grateful to Governor Hochulfor her leadership on this issue, and all of our partners who are helping to make this project possible."
Apex Building Group CEO Lee Brathwaite said, "There are few times in life that a project comes along that can help transform a neighborhood and the lives of the people in the community. Alafia is one of those once in a lifetime projects and Apex is extremely proud to be a part of it. This project allows Apex to continue to fulfill its mission of creating quality affordable housing while also creating an environment where people of East New York can live healthy and happy lives."
RiseBoro Community Partnerships CEO Scott Short said, "For over 50 years, RiseBoro has worked with community partners, local government and private investors to help New Yorkers access quality affordable housing regardless of their zip code. I am excited that Alafia can grow to be another example of RiseBoro's community-centered mission to foster healthy and thriving neighborhoods through affordable and supportive housing."
Yarojin Robinson, Managing Director in the Urban Investment Group within Goldman Sachs Asset Management said, "The creation and preservation of quality affordable housing is a key tenet of the Urban Investment Group. We're excited to engage with a strong cohort of partners, championed with support from Governor Hochul, as we believe the project is vital in creating economic value and opportunities for many within the East New York community."
Page Travelstead, Managing Director at Wells Fargo said, "The first phase of the Alafia project perfectly embodies the vision of the revitalization of East New York- a place with affordable homes, healthcare, community-oriented retail, and space for work and recreation. Now more than ever, our goal is to prioritize investments that expand housing opportunities and projects that help to build a better, more sustainable city for all New Yorkers. With many key partners, Wells Fargo is proud to have financed the creation of the first building, encompassing 452 units of affordable housing, which will help to provide a critical connection to the economic and cultural opportunities that will make up this vibrant, mixed-use community in Spring Creek."
Revitalizing Central Brooklyn
Central Brooklyn has long suffered from disinvestment and marginalization that hinder the wellbeing of its residents. Residents experience measurably higher rates of health problems; limited access to healthy foods or opportunities for physical activity; and high rates of violence and crime. Central Brooklyn is also affected by wide economic disparities due to unemployment, high poverty levels, and inadequate access to high quality health care.
Ten development projects currently underway or completed and chosen through a competitive process are the keys to advancing the Vital Brooklyn initiative's commitment to creating 4,000 affordable homes in Central Brooklyn, incorporating social, medical, and community services; recreational and educational opportunities; family housing; and apartments with supportive services.
About the Vital Brooklyn Initiative
The Vital Brooklyn Initiative was launched in spring 2017 to address the range of disparities that affect residents of Brooklyn and to create a new model for community development and wellness in Brooklyn's most vulnerable communities. Each Assembly Member in Central Brooklyn convened a Community Advisory Council consisting of community leaders, local experts, advocates, and other stakeholders to consider the unique needs and opportunities in their districts, and to develop long-term solutions. State Senators representing parts of Central Brooklyn were also actively engaged in the process. A total of 25 community meetings brought together nearly 100 key community stakeholders. RFPs for the ten sites were released in 2018 and 2019, with development partners selected through 2020. Five projects have begun construction, with the remaining projects and phases beginning over the next few years.