"I Love My Job!"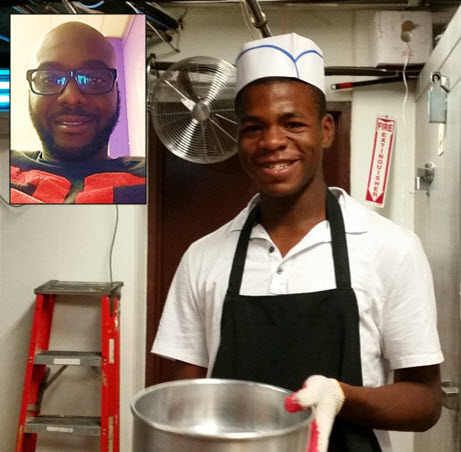 Daymont working in the Pizzeria near the Lydig Day Habilitation Program, Bronx. St. Clair Knowles is inset (top left).
The week of September 13 has been designated Direct Support Professionals (DSP) Recognition Week, which gives us an opportunity to thank the men and women at Services for the UnderServed for their tireless efforts to support individuals with intellectual and developmental disabilities. And it is with DSP Recognition Week in mind that we are introducing someone who is proud to wear the title DSP.
For more than ten years, St. Clair Knowles has worked with S:US' Developmental Disabilities team, first as a cook in a residence and now as a Habilitation Specialist at the Lydig Day Habilitation Program in the Bronx.
Every day, St. Clair enriches the lives of the people he serves by helping them become more independent and a deeper part of their local community. St. Clair works with people like Daymont (pictured), to help build skills, work ethic and self-esteem. Daymont works in a local pizzeria as a valued member of the kitchen staff. St. Clair's goal is to support each individual to lead as engaged, interesting and enriching a life as possible.
When asked what he likes about his job, St. Clair does not hold back
…I don't like my job, I LOVE my job! There is no greater feeling than seeing the pride and sense of accomplishment when an individual is able to do tasks on their own.
St. Clair is so committed to his work that he taught himself sign language so he could bridge the communication gap between non-verbal individuals and the world around them. He places great importance on the individuals learning their rights and strives to help them become stronger self-advocates.
For these reasons, we shine a spotlight on St. Clair Knowles for his commitment and passion as he embodies the role of DSP.