Individuals Served by S:US Help Keep Brooklyn Clean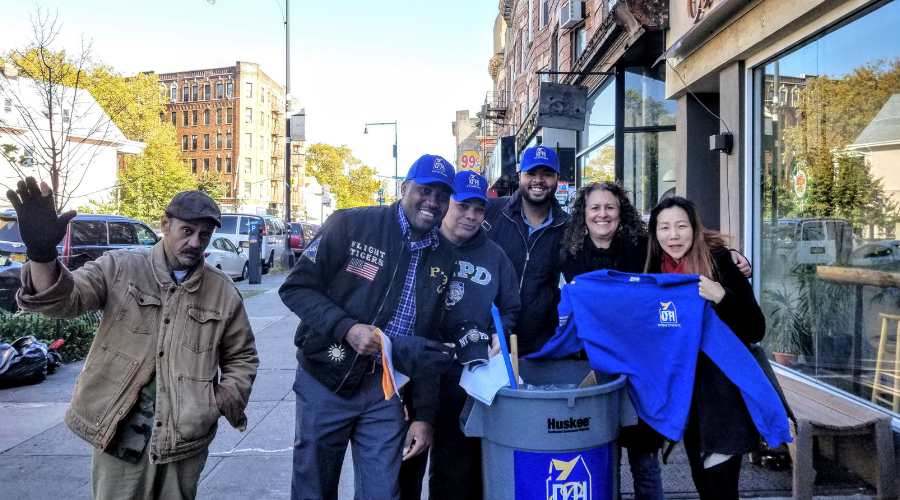 Photo credit: Bklyner.
Individuals served by S:US' Developmental Disabilities Services were recently hired to help clean Brooklyn's Cortelyou Road shopping strip as employees of Domestic Personal Helpers. Helping New Yorkers find new opportunities and ways to be involved in their communities is central to our work to build a better New York for all.
---
Bklyner.
October 29, 2018
By Liena Zagare
The busy commercial stretch of Cortelyou road has been the cause for many a Facebook post lamenting the sorry state of affairs – overgrown tree pits, litter everywhere. Merchants were accused of not taking pride in their storefronts, neighbors blamed for littering, sanitation – for doing a terrible job emptying litter baskets, the list goes on. The merchants have stepped up.
We are happy to announce, that starting today, October 29, DPH (originally stood for Ditmas Park Helpers) will be helping keep the street shipshape. The Cortelyou Road Merchants Association (CORMA) as part of their new "Clean Cortelyou Campaign" have hired DPH Property Maintenance Service to keep Cortelyou road clean – from Coney Island Avenue to East 17th Street, three days a week.
[…]
DPH has partnered with Services for the UnderServed, a New York City-based nonprofit organization that provides opportunities and employment for adults with autism and other developmental disabilities in New York City, and will work together on this project.
So what exactly will they do?
Sweep the sidewalks and clean curbside gutters and catch basins
Clean up tree pits and benches
Remove posters, flyers, stickers, and all other solicitations wallpapering public lamp-posts, mailboxes, etc. – it is illegal to post them!
All graffiti issues will be noted and reported to the Community Board 14 for further remedial action
Bag and re-line all litter bins along Cortelyou Road. DSNY have provided the heavy duty garbage bags as well as the crew's rolling trash bins