Join Us on Veterans Day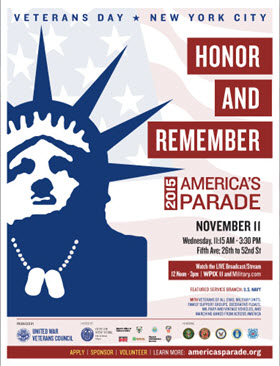 What is the one day a year that Services for the UnderServed (S:US) gives a giant salute and marches side-by-side with those that it serves and who have served?  Answer:  Veterans Day!

This November 11 Parade is the largest celebration of veterans in the country and will be the fourth year that S:US has participated.
If you want to show your support to S:US and the veterans it serves there are three ways to do so (and we are fine if you choose to do all three):
Make a donation in support of our programs
Be present in person on Wednesday, November 11 at 12:30 pm at Fifth Avenue at 26th Street.  The parade continues down Fifth Avenue and ends at 52nd Street.
S:US is the largest veterans service provider in the greater New York City area serving close to 3,000 veterans and their families through permanent housing, rapid rehousing, long and short-term social services. Ninety percent of the veterans we serve are homeless, seventy percent live with co-occurring chronic mental illness, substance use disorders, and/or serious health conditions, forty percent have a history of involvement with the criminal justice system, while nearly all qualify as "very low income" per federal guidelines.  Approximately twenty-five percent of the veterans we serve have served in the Iraq and Afghanistan conflicts.  S:US Veterans Services actively targets those veterans at highest risk for death due to the effects of chronic homelessness, unemployment, untreated medical, psychiatric, and substance use disorders as well as disconnection from family, social and other natural supports.
Join us as we honor and remember on November 11.