July is National Minority Mental Health Awareness Month

National Minority Mental Health Awareness Month is observed annually in July to bring awareness to the unique struggles that racial and ethnic communities of color face as it pertains to mental illness in this country. According to a recently published Rand Research Report: Availability and Accessibility of Mental Health Services in New York City, non-Hispanic Black or Hispanic individuals are less likely to use mental health services than non-Hispanic Whites. This is a pattern across the U.S., based on national surveys conducted by SAMHSA (Substance Abuse and Mental Health Services Administration), where only 66% of people with a serious mental illness had received mental health services in the past year. We also know, and recent studies have demonstrated, that utilization of mental health services is very low in relation to the level of need in the community and it is also inequitably distributed, see figure below. COVID-19 has further exacerbated these trends in availability and accessibility for our communities of color, which were hardest hit.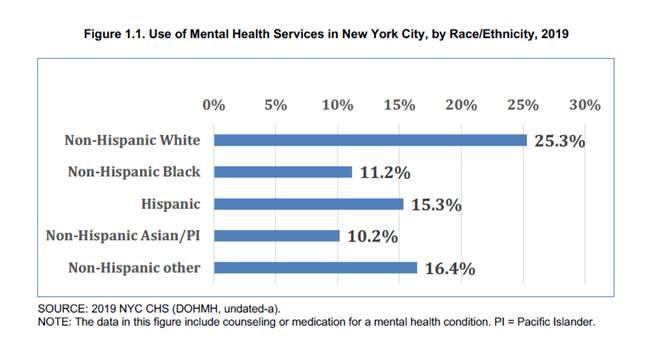 As a community psychiatrist, a person's mental health is very important because it affects every facet of our lives—how we think, feel, act and experience the world. Our mental health and wellbeing help determine how we handle stress, relate to others, and make healthy choices. Access to timely, high-quality supports and services is an important aspect of S:US' social justice framework—ensuring that everyone has the ability to access care and lead healthy, productive lives.
As a fitting tribute to National Minority Mental Health Awareness Month, a national 3-digit mental health crisis number goes live on July 16. With the launch of 988, the hope is that this will change how crisis response happens as well as facilitate accessing supports, services and treatments to those that need them. Join NAMI-NYC as they discuss with experts what this three-digit crisis number means for community members, as well as the work still needed to build a crisis response system that addresses the needs of New Yorkers, especially those living in historically marginalized areas.
Thursday, July 14 6-7 PM on Zoom
CLICK HERE TO RSVP
Mental Health Resources:
Call 1-888-NYC-WELL, text "WELL" to 65173, or click HERE to chat with a professional. This 24/7 service is free of charge and completely confidential.

Mental Health for All is a new comprehensive hub with helplines and services that offer a range of free, direct support to meet the needs of all New Yorkers, including young people, communities of color, and people with serious mental illness.

NAMI-NYC Helpline 212-375-3101 or email [email protected]. Services are offered in English and Spanish, Monday-Friday 10am to 6pm.

National Suicide Prevention Lifeline 1-800-273-8255 or 988 Free 24/7 confidential support for people in distress, prevention and crisis resources for you or your loved ones, and best practices for professionals.

A NY State of Mind (Headspace)

HelpGuide helps you help yourself and others with empowering, evidence-based information about mental health and wellness.

How People of Color Can Experience Grief Differently Than White People (Huffington Post)

The Garrison Institute's Virtual Sanctuary offers virtual meditations, retreats, and workshops.
---