Landscape Design & Employment Readiness Trainings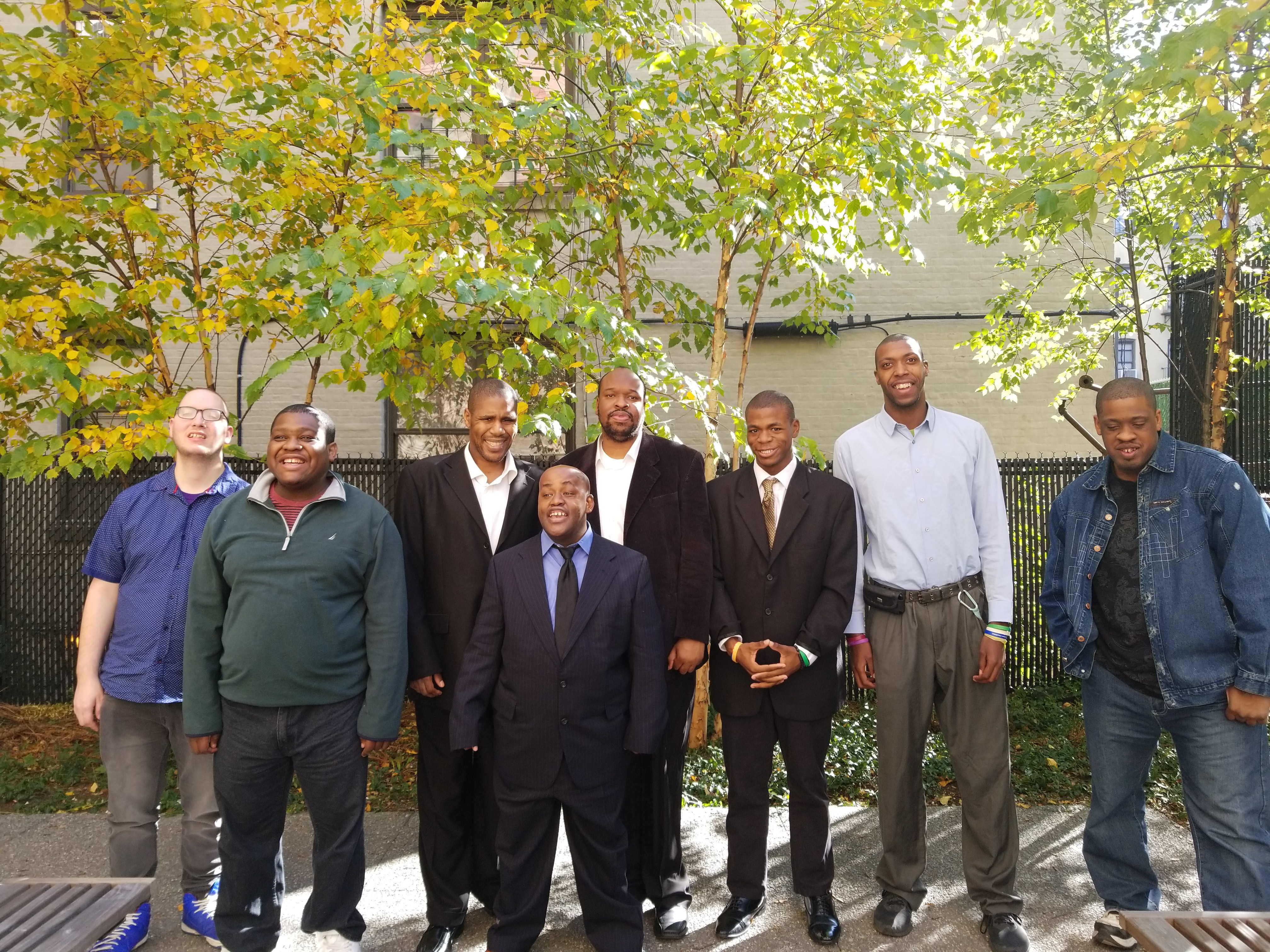 Pictured: Justin, Darwin, Tyrone, Sy, Bryan, Daymont, Darren and Corey
Photo credit: S:US
The S:US Urban Farms and Day Habilitation Services were recently awarded the L+M Development Partners Project Support Grant. This generous grant enabled Michael Hollis, S:US' Urban Farms Director and Jajaida Gonzalez, S:US' Vice President of Day Habilitation Services, to provide training for individuals who attend some of S:US' day habs in the art of landscape design and in soft skills training for successful employment endeavors.
Over 16 weeks during the summer and fall, the individuals who attend S:US' day habs including Justin, Darren, Daymont, Corey, Octavia, Sy, Sydney, Bryan and Tyrone had the opportunity to take part in landscape architecture training. The training goals were to teach these individuals how to use tools to care for lawns, trees, flowers and shrubs, and to build gardening skills. The group met once a week for three hours on Wednesdays to learn about horticulture and what plants and trees need to thrive. Justin liked learning how to use the different equipment like the lawn mower and the edge cutter. Octavia mentioned, "It was a good (experience). I learned how to use the tablet computer and I loved working with flowers, especially roses." Sy shared, "I liked using hammers, tools, nails and screw drivers. I liked the noise, mowing the grass and working in the gardens in the back of the homes in the Bronx. I also liked reading books about gardening to help me learn. Mike Hollis is a good teacher!" Not only did they build skills as budding gardeners, they also forged relationships as they leaned on and learned from each other in their pursuit of the art of landscape design.
In the fall, the same group met for four consecutive weeks on Wednesdays for two and a half hour sessions to develop and enhance employment soft skills. These skills are abilities which help secure, manage and maintain employment successfully which included job interviewing tips and tricks, communication skills, and positive attitude in the work place. Guest presenters including staff from S:US' Employment Development and Quality Assurance Departments presented on a variety of topics such as managing the social environment of a job; maintaining professionalism through body language, eye contact and hand shaking; communication techniques such as phone etiquette, positive skills in preparing for and having a successful job interview; and cultivating enthusiasm in the professional environment. Role modeling and role play techniques were also utilized to give the individuals real life situations and practice for the workforce that they would like to enter or stay in.
Both training components through this grant were quite successful in preparing these individuals to enhance their gardening and landscape design skills, and increase their job readiness skills as prospective employees. They also learned how to help nature flourish, deepened relationships with their peers and trainers, set goals and worked on achieving them, and increased their self-esteem in order to maximize their full potential.
---
S:US' Developmental Disabilities Services serves approximately 800 individuals who have been diagnosed with an intellectual and/or developmental disability, as well as autism spectrum disorders and other psychiatric disorders. S:US is an integral part of the communities that host our programs and services in every borough of New York City.