Learning To Farm: An Idyllic Way To Cope With Drug Addiction
S:US Urban Farms touches over 300 individuals each year, providing therapeutic horticulture, nutritional programming, and employment opportunities to the individuals we serve.  While S:US operates in and around New York City this story comes to us from the west coast about farming on a slightly larger scale that is also proving to be therapeutic for participating farmers.
---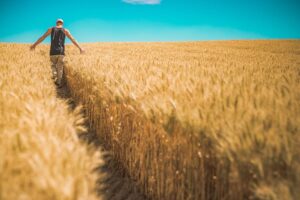 Source:  Takepart.com
by Sarah McColl
Growing crops in rural Oregon is helping some addicts work through recovery and maintain sobriety.
Two years ago at Hanley Farm in Central Point, Oregon, a group of novice farmers planted purple corn. They saved the seeds from the harvest for the following year, when a new group of farmers would plant another crop. As part of the Farm and Food Program, the majority of these soil aficionados come to this idyllic slice of the rural Rogue Valley from residential treatment programs for alcohol and drug addiction in towns like nearby Medford. Last week, the latest crop of harvested and dried corn was milled into cornmeal before taking new form.
Growing, milling, and baking heirloom corn may seem like a far cry from talk-centered addiction-treatment programs. But Lofdahl, who works with the Family Nurturing Center—a child-abuse- and neglect-prevention nonprofit—isn't exactly treating addiction. Rather, the focus is on building strong families that can survive addiction, withstand recovery, and maintain sobriety. He created the program in 2011 based on a hypothesis of sorts. His father had grown up on a Nebraska farm in a family that had weathered the depression and the dust bowl. What if farm life was what made it so tight-knit?
"Maybe these kinds of traditional skills—being part of a community, growing their own food, preserving, canning—maybe if people were able to experience that, it would help people go through hard things gracefully and together," he said. So he tried.
With Kristin Galabrun as comanager, the Farm and Food Program runs a group for dads, a group for moms, and a group for the whole family. At Hanley Farm, they grow potatoes, beans, peas, rye, tomatoes, cucumbers, peppers, kale, chard, squash, corn, onions, plums, and strawberries. Last winter, some women from the program started a three-acre farm at their inpatient treatment facility. A crowdfunding campaign launched Tuesday will raise money for additional infrastructure, including an irrigation system, a greenhouse, a chicken coop, and a covered area for preparing and processing food.
The program is largely directed by the interests of the participants—from how the greenhouse beds will be allocated to what seeds to plant and what to cook. Lofdahl and Galabrun provide a framework. During our interview, they said they were perched together on the edge of the greenhouse bed, the same spot where they begin each farm session with a tea ceremony. Each session ends with a shared meal.
"Really what we're trying to do is create joyful, pleasant experiences where families are able to be part of a group, connect with each other, and connect with their children. When people have pleasant experiences, that's when change can happen," Lofdahl said. "Going toward what feels good is much more powerful than avoiding what feels negative."
In its cooking component, the program addresses issues of food insecurity for families who often have very limited resources and little experience cooking and may rely heavily on fast and convenience foods. But the program doesn't rely on recipes or cookbooks. Instead, it takes what's in the field or has been donated—in fall, that means getting creative with lots and lots of butternut squash and apples—open the cupboard doors, and figure it out.
"What we're aiming is for people to connect with a more traditional way of cooking. This is how you take these materials and these people and turn it into this experience. The vast majority of families we work with missed on that completely," Lofdahl said.
Even those who have a family history of cooking can benefit. Aaran Linhart was a participant in the program in 2014. After graduation, he volunteered with the Farm and Food Program and now works as a peer mentor. His time at the farm—where he ate the best apple of his life and picked blackberries with his kids while they explored a creek together—was "invaluable," he said.
"My mother and my dad and their parents—everybody cooked or baked. So for me, being in the kitchen is therapeutic. Getting in the kitchen and preparing a meal gives me time to slow down, think logically, and alleviate a lot of stress. Accomplishing something, even something small, gives me a sense of relief. Maybe my whole day was bad, but this meal came out beautiful," he said.
The connection between growing and feeling good isn't just back-to-the-land lip service. Galabrun pointed to research by the American Horticultural Therapy Association that has studied the connection, and gardening programs have been enlisted in a variety of settings, including juvenile rehabilitation centers, prisons, and hospitals. Gardening has also been folded into treatment regimens for various mental health conditions, including anxiety, depression, and post-traumatic stress disorder.
"One of the dads last Thursday said, 'I've never had this kind of joyful experience with my family before,'" Galabrun said. "As adults it's not an experience they've had yet in their lives. Many of us take a lot of these simple pleasures in life for granted."
Growing and cooking become lessons in getting to the other side—of a bad day, a bad mood, an addiction. After years of bringing fathers to the fields, Lofdahl has seen men overcome initial resistance to getting out of the house and onto the bus that takes them to the farm. When they leave the farm hours later, they feel better, and when they feel better, they do better, he said.
"There's a peacock. You get out of the house. It's awesome. The experience feels good, and then they're motivated."
Linhart agreed. "You get a taste of what being sober is going to be like once you're out of inpatient," he said. "We're gonna be with awesome people, eat great food, and be with our families. That could be a very important block of the week for a family."