Local Volunteer Honored this National Volunteer Month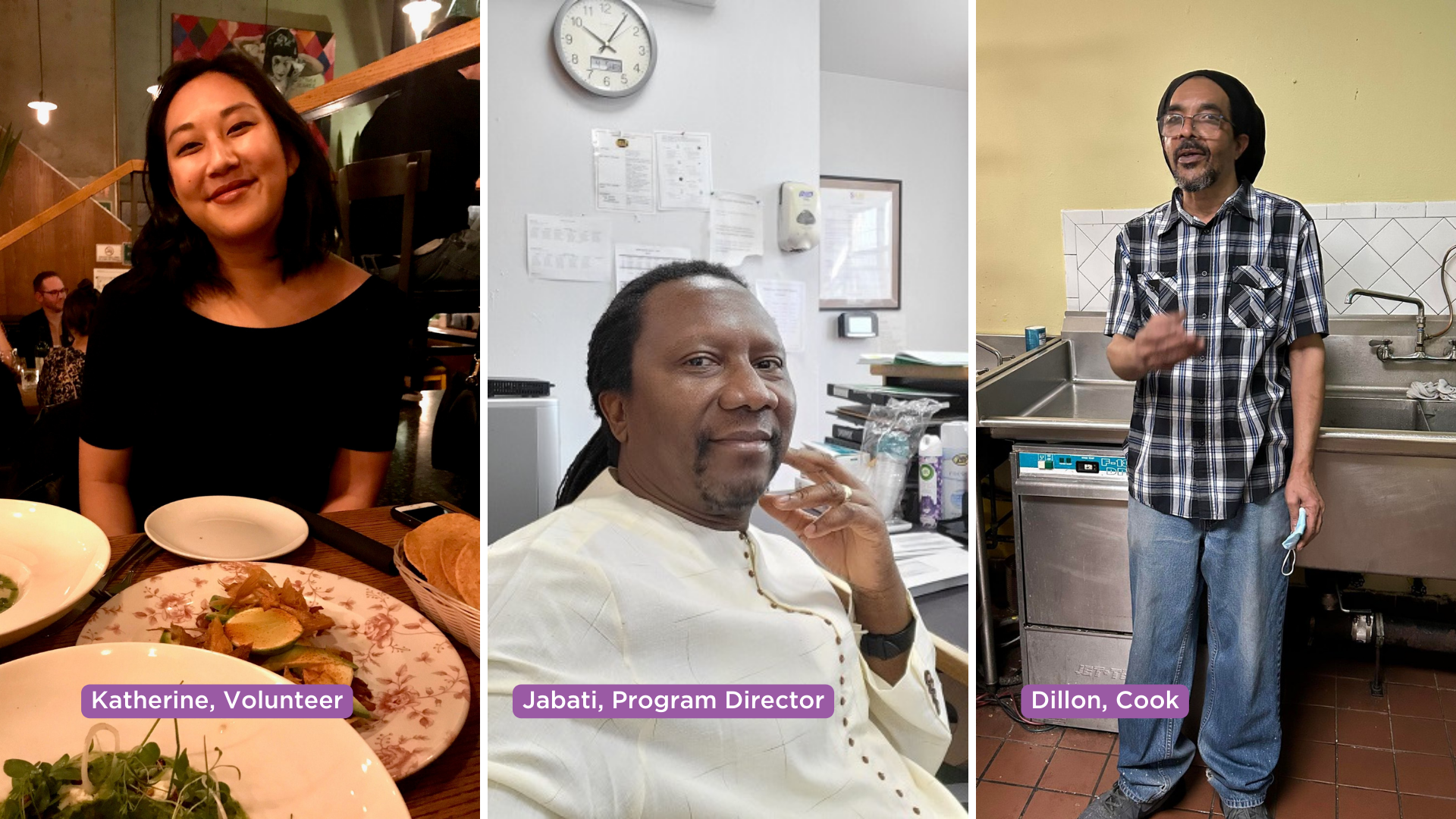 National Volunteer Month is an inspiring month that encourages people to give back to their community. This month is dedicated to honoring S:US volunteers as well as promoting volunteerism all month long. Nonprofits and mission-driven organizations can increase impact and visibility in their communities because of the generous assistance of volunteers who believe in helping others and working towards a cause. S:US has the special honor of recognizing, Katherine, who volunteers at S:US' Montrose Community Residence.
Katherine works for a direct-to-consumer furniture company based in New York City. She moved to Williamsburg, Brooklyn two years ago near Montrose and would often see people hanging around the building and wanted to know more. She walked inside of Montrose, asked for information on how she could volunteer and has now been volunteering for a year. "Williamsburg has gentrified a lot." Says Katherine, "My neighborhood has a lot of new stores and restaurants. I wanted to ensure that people like me who have corporate jobs are giving back directly into the community." Katherine volunteers at Montrose on weekends every 2-3 weeks. "I serve lunch on Saturdays. I help the staff with anything that they need. I clean up, organize, serve meals, and help out in the kitchen. When I can, I also play games with some of the residents." Montrose is a 24-hour supervised residence that provides housing and meals for individuals 18 and over who are diagnosed with a serious mental illness or substance use disorder. Case management is available 24/7. One of Katherine's goals is to learn everyone's name who lives and works at Montrose. She is now able to greet and engage the residents which is very important to her. "One of the most rewarding feelings is making the residents smile which gives them a sense of normalcy. Being able to say hi to them makes me grateful to know them because not a lot of people stop to speak to them," she explains.
Another highlight for Katherine when volunteering at Montrose is the culture and staff. Montrose staff are diverse and come from all different walks of life and generations like the Program Director, Jabati and the kitchen cook, Dillon. "I go to Montrose because the staff is awesome," Katherine exclaims. "The culture is fascinating and uplifting to me— the staff is doing God's work. Montrose is a hard place to work in, but all of the staff are trained to de-escalate situations and not take things personally, and it's incredibly inspirational. They all choose to work there because they care about the residents."
The Montrose staff have very similar sentiments for Katherine as well. Program Director Jabati is so grateful for Katherine's time and the energy she devotes to Montrose. "When Katherine came on, it was very timely because we were very short-staffed," Jabati explained. "We love her. She comes on the weekends when I'm not there and helps manage areas. She is very helpful, especially when we need coverage. She loves the residents; she engages with them and even plays games. She listens to them, and sometimes that's what they need. It makes them feel human."
Jabati joined S:US seven years ago. He started as a volunteer and now works as a Program Director. "I love what I do. It's a very tough environment, but everyone is resilient," Jabati explains. As Program Director, Jabati is in charge of the welfare of the program. "We have a collaborative culture. We encourage everyone to work and engage as a team because teamwork makes the dream work. The environment at Montrose is challenging because people are dealing with substance use and mental abuse so fights can happen at any time. We are a transitional program. Folks are coming from hospitals, jails, etc.," Jabati goes on. "We support each other because we need each other."
The people who move on from Montrose into a more independent setting and back to their communities are the success stories that inspire him. "It is important to volunteer; if you can give back to society it comes back to you. Giving back is what you are giving. It's not just a mom and dad who raise kids. It's a community who invests in people," Jabati explains. S:US Manager of Volunteer and Community Relations, Minjung Park, understands the need for volunteers and the impact that they can make for nonprofits and communities. "Volunteers make a huge difference in the way S:US is able to serve our community. Volunteers provide a link between the individuals we serve and other New Yorkers, creating an inclusive community where all participants can learn, grow, and benefit from one another through their interactions."
Another staff who is appreciative of volunteers, is Dillon, Montrose's Cook. Dillon describes himself as a people person and enjoys working with the diverse culture at Montrose because everyone is working to make a difference. "These facilities are a lot of work, and we are often understaffed. It's appreciated when people from the outside can come in to help." He spoke with gratitude when asked about S:US volunteer Katherine. "She could stay at home, she could be on her bike, she could be anywhere, but she chooses to help us here. I can tell that the work she does comes from her heart." Dillon explains, "Every day is memorable because we all are trying to make a difference in someone's life, and everyday counts. If we can get more volunteers in our programs not just for case management but also for maintenance, that would be amazing."
Volunteering is often expressed as giving to others, but volunteers also receive a lot in return. When asked why Katherine volunteers, "Volunteering has always been super beneficial for me, in particular volunteering at Montrose reminds me of how diverse NYC is and helps me give back to the community that I benefit so much from. Even on days when I'm not feeling well when I go volunteer at Montrose, it inspires me and makes me feel grateful." Katherine expressed that she has already received so much from S:US. She is meeting new people, learning about other cultures, building new connections that she may not have ever made, and getting to hear a lot of inspiring stories of people who live their lives with dignity despite the mental health challenges that they face. "Whenever I have a long work week one of the best ways to start the weekend is by volunteering on Saturdays, and I appreciate things a little differently. I've learned a lot about relationships— seeing how people engage with residents and the personal relationships the staff have developed because they have been working together for a very long time. I've seen many residents have flare-ups from past traumatic experiences and underlining conditions but many of them used to lead lives similar to yours or mine. Their stories can happen to anyone and it's a reminder to be compassionate." Some skills that Katherine has developed throughout her experiences are life skills that she can hold on to forever. "I've learned about de-escalation techniques from highly intense situations. I see every time that I work there how important it is to have mental fortitude and resilience, teamwork, and how to be present."
When asked if Katherine would leave any words of encouragement for people who are interested in volunteering, she quickly stated, "For working professionals, volunteering doesn't take up that much time. There are so many accessible ways you can volunteer in New York City. Even if it's just an hour a couple of times a year you will remember that hour much more than an extra hour you spent at work or at the gym. It doesn't take that much time but makes a huge impact for you and the people you help. A lot of people who move here for educational and career opportunities are gaining so much from the City. The City is giving us so much it's only fair that we give back. If we don't give back, it's a tragedy. We have to make sure the City grows and benefits with us otherwise it won't be sustainable."
For more information on how you can volunteer at S:US, please visit our Volunteer page or contact [email protected].
---