Long Island Community Foundation Awards $15,000 to S:US to Reduce Hunger for Long Island Families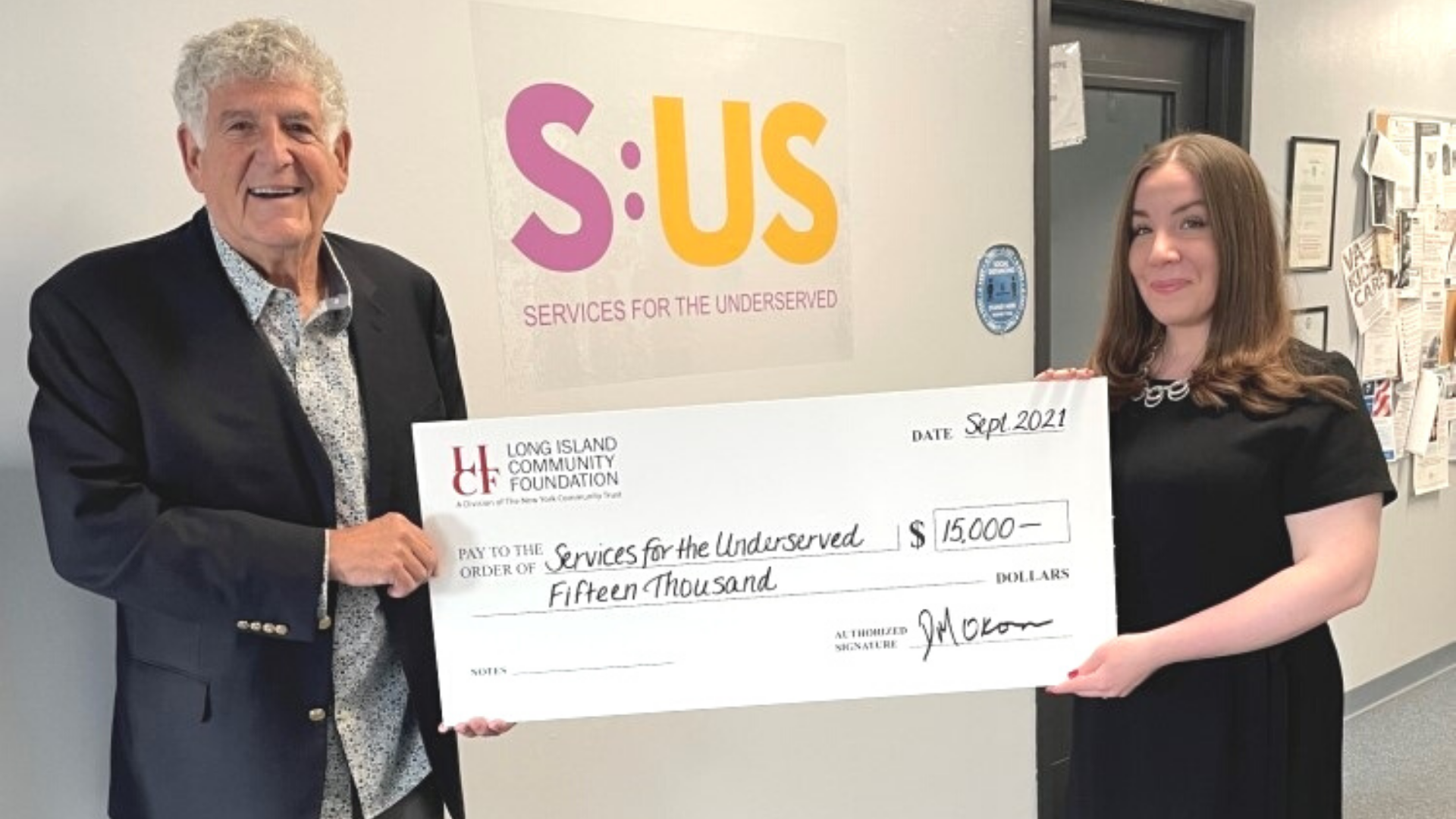 In photo: Jim Meyer, LICF Board Member & Gabrielle Fasano, S:US Regional Director
Photo credit: LICF
For Immediate Release:
September 17, 2021
Contact:
Alexis Geslani, S:US Marketing and Communications Director
[email protected]
---
(Amityville, NY): The Long Island Community Foundation (LICF) has awarded a grant of $15,000 to Services for the UnderServed (S:US) to provide supplemental assistance for individuals and families in Nassau and Suffolk Counties to help reduce hunger among those experiencing food insecurity.
Food insecurity among residents of Long Island, especially for low-income households and people of color, continues to rise at an alarming rate. Many of the families S:US serves are exhausting their Supplemental Nutrition Assistance Program (SNAP) benefits more rapidly than before.
"LICF is addressing the urgent food needs of the most vulnerable Long Islanders. We are committed to supporting the work of community-based organizations and value our partnership with Services for the UnderServed, especially during these very challenging times," said David M. Okorn, LICF Executive Director.
With the support from LICF, S:US will provide families with gift cards to purchase groceries that best meet their unique needs, especially items for family members with dietary restrictions or allergies, religious and culturally-specific foods, and baby food. In addition to offering greater flexibility, convenience, and independence, the use of gift cards will allow recipients to preserve a larger degree of dignity that can otherwise be lost when one is faced with waiting in line at a food pantry.
"As housing prices on Long Island have risen dramatically, individuals and families are facing a challenging reality that results in increased food insecurity for many of the people we serve. We're grateful to LICF for supporting S:US as we help Long Islanders live with dignity," said Donna Colonna, S:US CEO.
S:US Service Coordinators will identify households with a specific need for supplemental food assistance and will work with each household to help assess other resources available and link them to sources for longer-term support. S:US employment and benefits staff members will also provide assistance in identifying ongoing benefit options and navigating enrollment/ongoing qualification issues.
S:US' Long Island division serves individuals (both civilian and veterans) and their families living in Nassau and Suffolk Counties. All those served live at 50% or below Area Median Income (AMI). Participants include homeless and formerly homeless individuals with disabilities, including those with behavioral health diagnoses, substance use disorders, and chronic illnesses such as diabetes, heart conditions, and HIV/AIDS.
LICF previously provided a grant to S:US to train their Long Island staff to assess veterans for suicide risk and provide effective interventions.
###
About Services for the UnderServed
Services for the UnderServed (S:US) drives scalable solutions to transform the lives of people with disabilities, people in poverty and people facing homelessness: solutions that contribute to righting societal imbalances. Founded in 1978, S:US works with over 37,000 individuals and their families every year to create pathways to rich and productive lives by offering housing, employment, skills-building, treatment, and rehabilitation services. Learn more at sus.org.
About Long Island Community Foundation
Since 1978, the Long Island Community Foundation has been the home of charitable Long Islanders who share a passion and commitment to improve their communities. LICF supports an array of effective nonprofits that help make Long Island a vital and secure place to live, learn, work, and play, while building permanent resources for the future. The Foundation has made more than $200 million in grants from hundreds of funds established by individuals, families, and businesses. LICF is a division of The New York Community Trust, one of the country's oldest and largest community foundations. Learn more at licf.org.