Lottery Opens for Affordable Units in S:US' Co-Developed Henry Apartments in Brooklyn
Photo credit: Cate Corcoran
Source: Brownstoner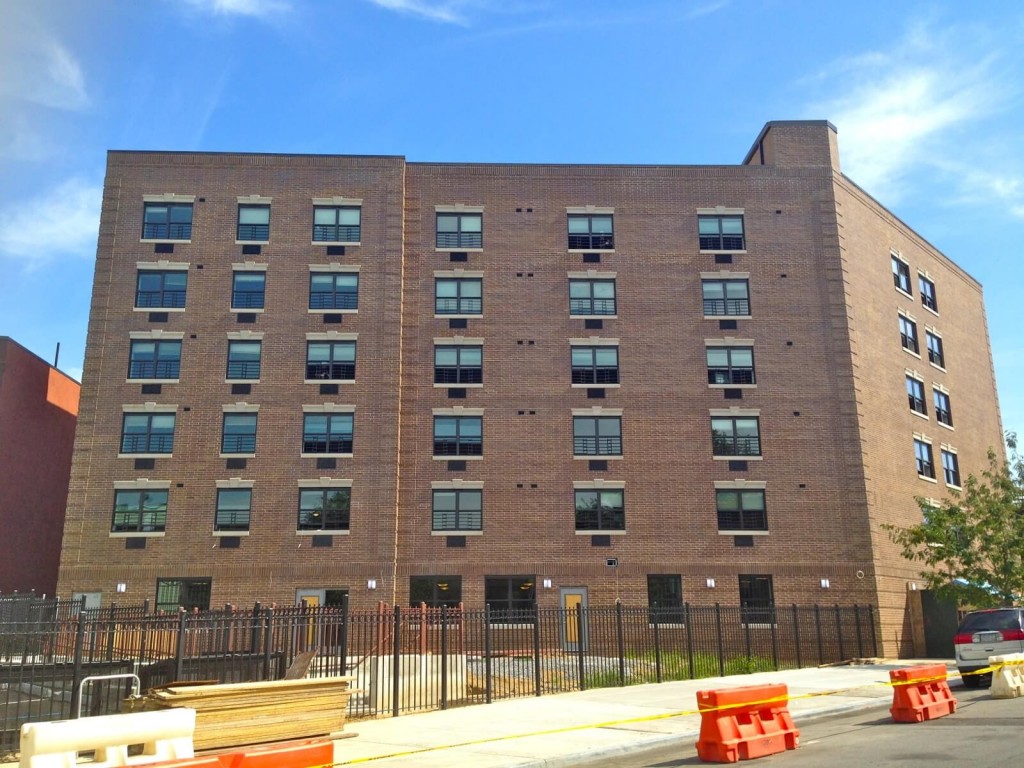 By Hannah Frishberg
Aug 25, 2016
A lottery has opened for 27 units at Ocean Hill's long in-the-works affordable housing complex the Henry Apartments, located at 1676 Broadway and 8 Rockaway Avenue.
The apartments consist of one one-bedroom, 20 two-bedrooms and six three-bedrooms. The one-bedroom units are renting for $834 a month, the two-bedrooms for $1,009 and the three-bedrooms for $1,163.
Households with one to six members with an annual income between $29,966 and $63,060 are eligible.
Amenities at the buildings include a computer lounge, community room, bicycle storage, laundry room, 24-hour security and social services tailored to households with formerly homeless or special needs members.
When complete, the complex will have a total of 134 units, all affordable. Construction is still going on; the interiors are being built out, and today workers were laying a sidewalk along the Broadway side of 8 Rockaway Avenue.
The architect of record is Peter Woll, which specializes in affordable and supportive housing. The complex's developers are S:US and Alembic Community Development. S:US, which stands for Services for the UnderServed, is a nonprofit social services agency that supports veterans, families and the disabled.
The two six-story buildings are located directly under the elevated train tracks, in a formerly sleepy corner of Ocean Hill, which is full of small, two-family row houses and was until recently dotted with empty lots and plenty of visible sky.
Site B at 1696-1712 Broadway was a vacant, City-owned lot for decades. Originally a row of stores with apartments above, it likely burned down in the arson fires that devastated the area in the 1970s.
New development in the area has taken off in the last year, erasing the last traces of those fires.
Site A at 1674-1684 Broadway housed building supply shop Henry's Distributors, which since 1970 operated out of an old theater called People's Pleasure Palace and employed many local residents. The apartments are named after its proprietor, Stan Henry.
A new, unrelated hardware store opened just down the block on Broadway a few months ago. Henry's intends to open another hardware store in one of the new buildings.
A percentage of units will be set aside for mobility- and vision- or hearing-disabled applicants. Preference will be given to residents of Community Board 16 as well as municipal employees.
For more information and details on how to apply, see the development's profile[PDF] at NYC Housing Connect and Brownstoner's comprehensive guide to applying for affordable housing.