Mary Shatters Stereotypes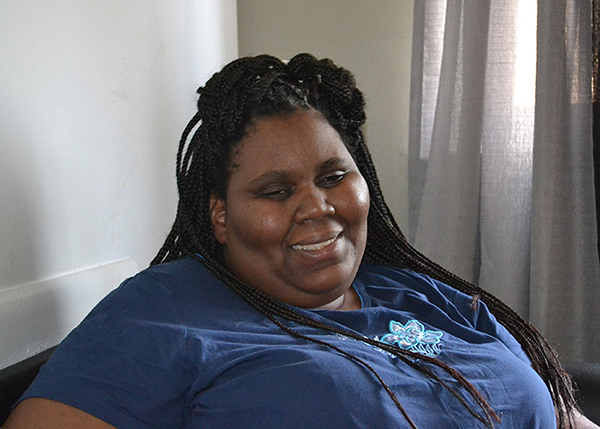 Photo credit: S:US
Mary has lived at an S:US residence for people with intellectual/developmental disabilities (I/DD) for over ten years. For Black History Month, Mary addresses common stereotypes of people with disabilities and explains how living in an S:US residence has transformed her life.
"Not all disabled people can't do things for themselves. I'm disabled myself and I can do a lot for myself. Just because you're disabled doesn't mean you can't write or you can't read. I don't know why some of these people on this earth, especially kids, make fun of people that have disabilities. It's not right and it's not fair. You don't know if your kids will grow up and be the same way that we are."
"Being disabled, I get teased a lot. I get called names, but I totally ignore them. Sticks and stones will break my bones, but words will never harm me. So, whatever they say, I don't reply to that."
Mary first moved into an S:US residence after a negative experience living in another non-S:US residence.
"I was scared and I was nervous because when I first moved into S:US, I thought that what happened to me at the first residence would happen to me here. I was a bit uneasy. I was scared someone was going to hurt me, but after a while I started to know the people."
"A lot of staff were telling me, 'Mary, we aren't going to hurt you. We are just here to protect you.' They kept on saying that to me, over and over until I started to feel more relaxed and comfortable."
"I'm close with a lot of staff here, but Tracy (a direct support professional) is the one who I am really close with. I always talk to her when I have a problem. She's like a mother to me. There is another staff member named Johanna (Director of Individualized Supports). I've known her for over ten years. I love that lady so much! I talk to her when I need help or when I'm concerned about something. I tell her about everything."
"Living in S:US has made me very independent. When I first moved here, the stuff that I'm doing now I wasn't doing before. Like taking my own medication, taking the bus and subway by myself, cooking by myself. I wasn't doing stuff like that. I was doing it with my mom's assistance. Living here has helped me a lot."
Mary is the president of S:US' self-advocacy group for people with I/DD. She is also a co-facilitator of person-centered thinking workshops at S:US. Self-advocacy allows individuals to voice their choices and preferences, have a role in decision-making that affects them, and exercise their rights. Self-advocacy allows people to use their experiences living as people with disabilities to affect change, and helps build confidence in their abilities and contributions.
"Self-advocacy means that, if you have any problems or anything you need to work on, you advocate for yourself and say 'I want this or I want that. I want this to happen to me, I want that to happen to me.' Stuff like that. I love doing that work. I like to help people."
Self-advocacy also involves individuals with I/DD speaking out about public policies and laws that affect them. As part of her leadership as a self-advocate, in February 2017 Mary spoke to lawmakers in Albany to support a wage increase for direct support professionals like those who work with her.
"When I went to Albany, I was so nervous! I had to speak in front of 250 people. But I took a deep breath and I said what I had to say. I talked about how the staff needs a raise. If it wasn't for the staff, we wouldn't be here. All the staff have patience with me. There are times when I give them a hard time, and they take time to sit down and listen to what I have to say and talk to me."
The things Mary would like people to know about her, and her plans for her future:
"I like to go out with my family and spend time with my friends. I'm very friendly, very sociable, and very lovable. And I'm very sweet and kind…sometimes. Sometimes I get on people's nerves."
"In the future, when I have my life together, I'm looking forward to having my own place, my own apartment, and having a job. My job is going to be working with people that have disabilities that need help. Or being a camp counselor."
Mary's final message on how we should all interact with people with disabilities:
"This is for all the mothers out there who have a child with disabilities — never give up on your child. Always go forward and try to help them and get your child the help that they need."
"If you see somebody that's disabled that needs help, help them. Say, 'May I help you? Do you need assistance with anything?' Don't just look at them and start laughing because it makes them feel bad."
"I'm the only one in my family that has a disability. And my family always tells me, 'No matter what happens, I still love you regardless. If you have a disability or don't have a disability, you're still perfect.'"