New Housing Project Gives Homeless New Yorkers Somewhere To Live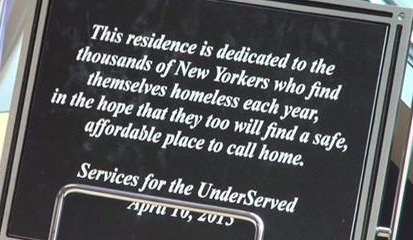 (PIX11) Until two months ago Patrick Johnson was one of the estimated 60,000 homeless people living in New York.
"I've been bouncing around from shelter to shelter, so it was kind of rough and hectic," said Johnson.
But thanks to the new Truxton Residence in Ocean Hill, Johnson and dozens of other residents now have a place to call home.
"I was tired of surviving," said Johnson. "Now I can live, instead of surviving, because there is a difference."
The $12 million building was possible thanks to a public-private partnership between Services for the UnderServed, the Department of Housing Preservation and Development, Enterprise Community Partners and several other organizations.
Most of the units in the building are reserved for formerly homeless residents with mental health challenges.
The residence is dedicated to thousands of New Yorkers who find themselves homeless each year.
"Where we now stand was previously a vacant lot, a blighted area," said District Manager Viola Greene-Walker of Community Board 16. "And to have a building that provides 48-units of affordable housing to the most vulnerable population of our community is just wonderful."
The new building isn't just a roof over the heads of the new residents. It's also an exit from the shelter system, with services to ensure they don't have to return there.
"You think now you have a home, everything's okay, but most of the folks who live here, we help them navigate whether it's getting employment, getting jobs, getting services," said Donna Colonna of Services for the UnderServed.
To celebrate the building's opening, the partners planted a blueberry bush in the landscaped back yard Friday. Supporters say helping the residents create a home will help them succeed in the future.
"It makes a difference in people's lives, it keeps them off the street, and it's more economical," said Judi Kende of Enterprise Community Partners.
And now knowing where he will sleep every night, Johnson says he can focus on finding and keeping a job.
"Basically, I'm just overwhelmed," said Johnson.
Read more:
Ocean Hill Building Providing Homes For Homeless [via News 12 Brooklyn]