New Training Program Graduates Nine Chefs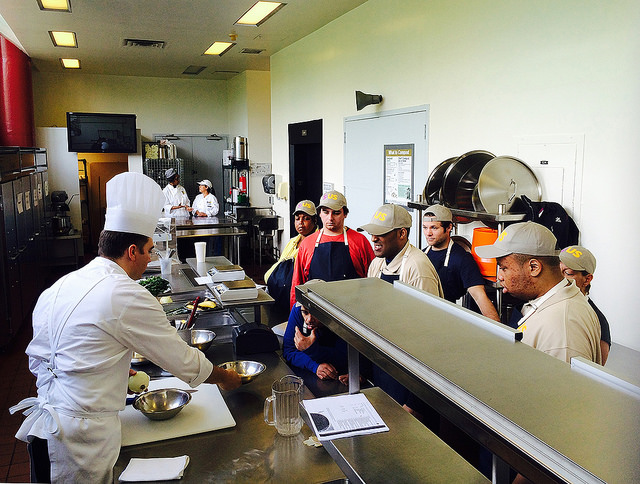 S:US is proud to graduate our first class of students from a new Food and Farms Employment Preparation Program (FFEPP), funded by a Balancing Incentive Program (BIP) grant. The program teaches practical, job-oriented skills to adults with intellectual/developmental disabilities while allowing participants to move through training modules and apprenticeship periods in real-world settings.
Our first training module was a 60-day Culinary Arts course, offered in partnership with Kingsborough Community College. Nine individuals participated in the course, taught by Chef Mark D'Alessandro, and learned cooking terminology, theories and techniques – including preparing vegetable cuts, stocks and sauces for entrees. Upon completing the class, students were able to execute full recipes and meals, with entrees and side dishes. D'Alessandro says he also saw a noticeable change in the student's confidence.
You could see at the beginning they were very timid, but throughout those seven weeks the class bought into the lessons more and more and they were excited about the next lesson and eager to participate, In classes like this I think a lot of what they're learning stems from social skills. By making this a cohesive group, by having them come and see the same people interact in the same way, listen to me in the same way, through those skills, through that togetherness and community they opened up and learned a lot about food.
On graduation day, students were presented with a certificate for their training by D'Alessandro and Christine Beckner, Dean of Continuing Education.
"I was excited about the partnership with Kingsborough because it was an actual college class that comes with certified training, Our guys were thinking it might just be an observational course in a residential kitchen or something, but it offered so much more. Now, I believe that when they add this training to their resume and sit down with an employer and say 'I finished this course, I got the training at S:US, I'm ready to work!' it makes them a competitive candidate."
After the ceremony, family members, S:US staff and Kingsborough staff were treated to an impressive lunch spread inspired by recipes that were learned in class, including Caesar salad, salmon burgers, sweet cornbread, chili with chocolate mousse, sugar cookies and carrot cake for dessert.
"The food was delicious, I'm so proud of my son! He's been so excited to cook at home, he said he wanted to take this class to cook for me. The best move I ever made was bringing him to S:US. I see such a change in him; I'm so grateful he can participate in opportunities like this."
The Culinary Arts course was a one-off pilot program that S:US hopes to secure funding to continue next year, and beyond. Additional training modules are planned for the Food and Farms Employment Preparation Program in 2015, including a partnership with Rooftop Reds, a vineyard in Brooklyn that will offer S:US participants training in viticulture.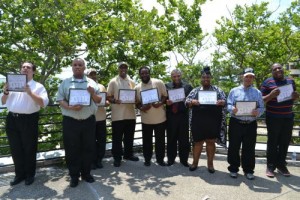 Graduates (from left): Daniel D. (Lefferts Day Hab); Kenny P., (5th Ave/ Hull St.); Daqiuan F., (5th Ave/ Ave J); Kevin B. (5th Ave); Jesse W. (5th Ave DH/Ave J); Anthon R. (Lefferts Day Hab); Nedra C. (Lefferts Day Hab); Ronald R., (5th Ave/ Fountain ICF); Andre H. (Lefferts DH)