Partners Celebrate Affordable & Supported Housing Construction in the Bronx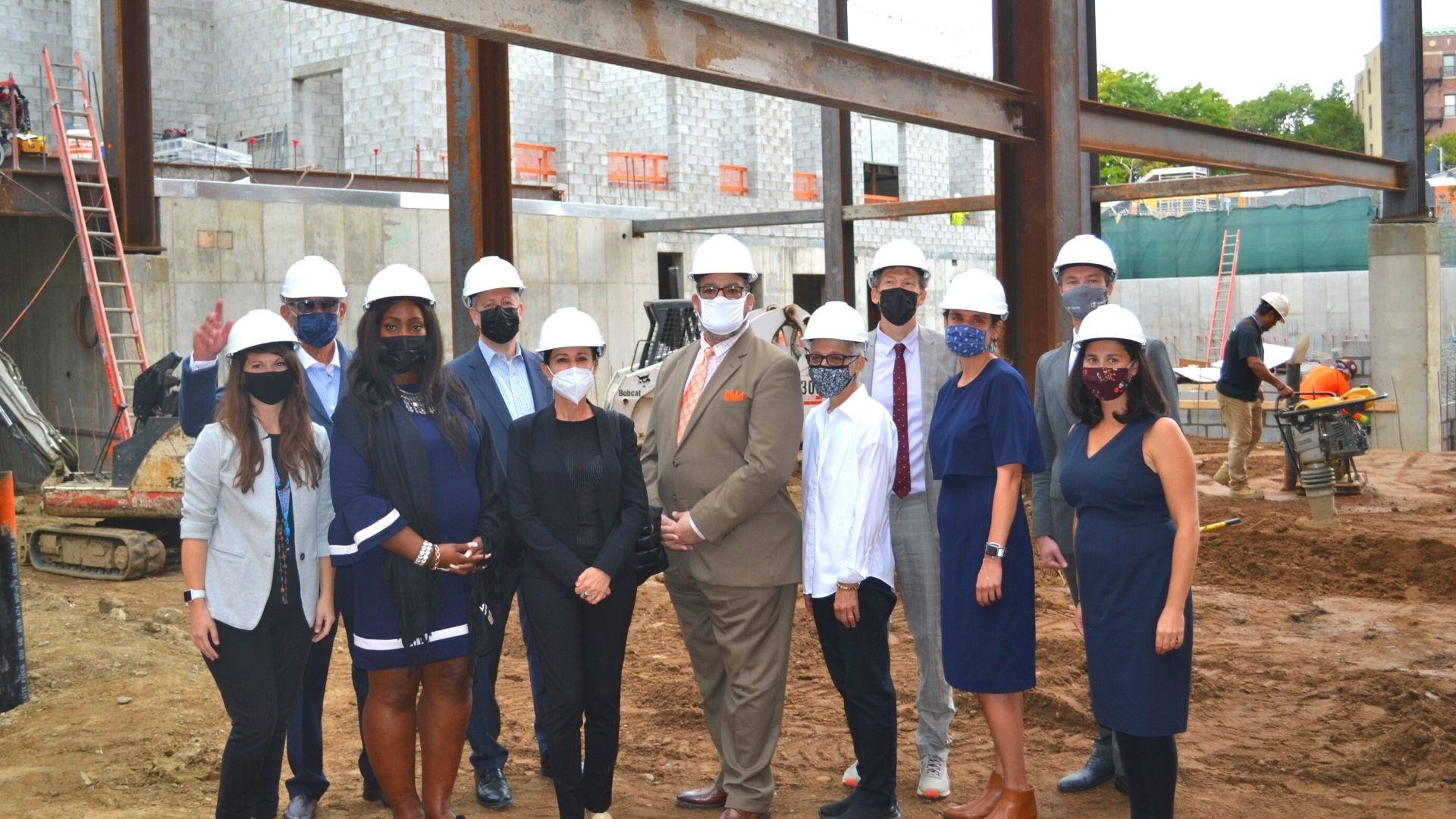 In photo (from left): Heather Beck, NYCHA; Peter Magistro, Bronx Pro Group; Council Member Vanessa L. Gibson; Dan Magidson, Enterprise Community Partners; Jane Silverman, Chase Bank; Rev. Dr. Bruce Rivera, Bronx Community Board #3; Donna Colonna, S:US; Arlo Chase, S:US; Samantha Magistro, Bronx Pro Group; Ross Clarke, CSH; Emily Lehman, HPD
Photo credit: S:US
For more photos, visit https://flic.kr/s/aHsmWM7ySD
For Immediate Release:
September 28, 2021
Contact:
Alexis Geslani, Marketing & Communications Director
[email protected] | 646-315-3475
---
Melrose North Will Provide 171 Units of Affordable and Supported Housing for People with Low-Income, Homeless Individuals with Mental Health or Substance Use Disorders, and Domestic Violence Survivors
BRONX, NY—On September 28, Services for the UnderServed (S:US), Bronx Pro Group, and other development partners hosted a construction celebration for the Melrose North project, which will provide 171 units of affordable and supported housing in the South Bronx.
Melrose North will support economic diversity in the Bronx, serving households earning a range of incomes between 40% and 80% of area median income (AMI). Of the total 171 units in the development, 103 will be supported housing units set aside for formerly homeless individuals with mental health or substance use disorders, as well as individuals and families who have experienced domestic violence. S:US will be the service provider for the supported housing units and residents will have access to on-site supportive services.
"I would like to commend S:US for the great work they have accomplished with the addition of the Melrose North project. Affordable and supported housing for vulnerable New Yorkers is urgently needed to stem the economic hardships brought by life circumstances and exacerbated by the pandemic," said State Senator Luis Sepulveda.
"With this project, we make a dent in the unjust circumstances that, by design, have prevented opportunities for low-income families, people experiencing homelessness, and survivors of domestic violence," said Council Member Vanessa L. Gibson. "I commend S:US, Bronx Pro Group, and our partners for providing vulnerable New Yorkers with the tools they need to get back on their feet."
"Where a trash compactor once stood will now be home to 103 individuals who were formerly homeless with mental health or substance use challenges, and survivors of domestic violence, and 68 community units for low-income families," said Rev. Dr. Bruce C. Rivera, Chair of Bronx Community Board Three. "By creating a space of stability for residents, S:US will ensure all residents have the necessary supportive services and resources available to help them achieve their life goals."
"Every New Yorker deserves a safe and decent place to call home. This housing project in the Bronx will not only add a new building and residents to the neighborhood, it will also allow vulnerable New Yorkers to live securely and independently in their community," said Assembly Member Chantel Jackson.
"Melrose North shows us what is possible when we all work together to help New Yorkers find home. We are grateful to our partners for championing affordable and supported housing in the Bronx." said Donna Colonna, S:US CEO. "This is a place where individuals and families can heal and stabilize their lives. S:US is looking forward to welcoming the tenants of Melrose North."
"We are very excited about the Melrose North Project as it reflects our deep commitment to support low-income survivors of domestic violence and of chronic homelessness in the Bronx. Thank you to NYCHA and to all our partners for making our team's vision for this site a reality," said Samantha Magistro, Managing Director, Bronx Pro Group.
"Melrose North is providing a critical resource for vulnerable New Yorkers at a time when it's needed the most. Once an underutilized lot, this project will now provide 171 households, more than half of which have experienced homelessness, with a safe, affordable home to call their own and supportive services to help them thrive, " said HPD Commissioner Louise Carroll. "I applaud our development partners for their ongoing work, and thank our colleagues in government for their support and dedication to create a more equitable New York City."
"Melrose North will bring much needed affordable housing with onsite supportive services to the Bronx," said HDC President Eric Enderlin. "As we emerge from the extraordinary challenges of the pandemic, HDC is proud to contribute critical financing to support the creation of affordable housing that is essential to New York City's recovery."
"Melrose North represents the Authority's guiding principles around incorporating community goals and priorities in our new construction projects," said NYCHA EVP of Real Estate Development Jonathan Gouveia. "We are excited to see the responsive and sustainable design practices being utilized in this project and hope this development will have a positive impact on the surrounding community."
"As the crisis of homelessness and housing instability continues to plague New York, it is critical now more than ever to increase affordable housing and supportive services for low-income New Yorkers," said Baaba Halm, Vice President and New York Market Leader, Enterprise Community Partners. "Melrose North will do just that, while also bolstering the broader Morrisania community. We are proud to partner with S:US, Bronx Pro Group, and all of the organizations that helped make this project happen."
"CSH is proud to partner with S:US and Bronx Pro Group by providing pre-development lending for the construction of Melrose North, an important project that will serve a wide spectrum of people in the Bronx needing affordable housing and offer life-enhancing supportive services," said Deborah De Santis, President and CEO at Corporation for Supportive Housing. "We are pleased to see S:US, one of the most respected supportive housing providers, continue to advance their commitment to providing housing and services so that people can thrive."
"Providing an affordable and supportive place to live is vital to building sustainable communities, and Melrose North will have a positive impact in the Bronx. We're honored to work with key industry players and continue our support in the local community," said Jane E. Silverman, Executive Director of Community Development Banking, Chase.
Melrose North is located at 341 E 162nd Street in the South Bronx neighborhood of Morrisania. This project will bring much needed housing and services to a currently underutilized plot of land. The site used to house a trash compactor serving the neighboring NYCHA properties, which the development team temporarily relocated for the duration of construction. For the first time, a new trash compactor space will be included in the building footprint on the ground floor.
The project is designed and will be constructed to a Passive House standard that will significantly reduce the development's environmental impact as well as ensure the project's long-term financial viability. The building was designed by Curtis + Ginsberg Architects and the General Contractor is Home Builders. Common areas will include community and computer rooms, outdoor gym, laundry, play area, and community garden. The building will include 24-hour security. Construction is expected to be completed by June 2023.
Melrose North will also benefit the neighboring community. The building will feature approximately 5,000 square feet of community facility space on the 162nd Street side of the building to be used as a youth arts education facility operated by the DreamYard Project. This community arts organization will teach Bronx youth professional development, design, and marketing skills for the burgeoning gaming industry. The project will also include the construction of a new accessible ramp serving the Northbound Melrose Metro North Station.
This construction project is financed through HDC tax-exempt bonds and subsidy, HPD financing through the Supportive Housing Loan Program (SHLP), tax credit equity syndicated by Enterprise, a construction loan provided by JP Morgan Chase and $1.9M from the Federal Home Loan Bank of New York. Fifty-two of the supported housing units will receive NYC 15/15 HRA subsidy for the social services and matching rental assistance from NYC Housing Preservation & Development to cover operating expenses. The remaining 51 supported housing units are funded by the Empire State Supportive Housing Initiative (ESSHI) through the Office of Temporary and Disability Assistance.
###
Services for the UnderServed (S:US)
Services for the UnderServed (S:US) drives scalable solutions to transform the lives of people with disabilities, people in poverty and people facing homelessness: solutions that contribute to righting societal imbalances. Founded in 1978, S:US works with over 37,000 individuals and their families every year to create pathways to rich and productive lives by offering housing, employment, skills-building, treatment, and rehabilitation services. Learn more at sus.org.
Bronx Pro Group
Bronx Pro Group is a neighborhood-based firm that employs approximately 100 professional and support staff engaged in real estate development, construction, property management, and residential services. The company began as a property manager in 1988 and in 1998 it expanded its business activities to include the development of low and moderate-income housing. Beginning first with the rehabilitation of occupied, city-owned buildings, the company has since broadened its scope to include the development of new construction projects that contain both residential and commercial / community facility spaces. To date, Bronx Pro has developed over 2,200 units through various City and State programs.  The subject property is adjacent to Bronx Pro's Davidson Avenue Cluster, which includes 185 units of moderate income housing developed through HPD's Third Party Transfer Program.
New York City Department of Housing Preservation and Development (NYC HPD)
The New York City Department of Housing Preservation and Development (HPD) is the nation's largest municipal housing preservation and development agency. Its mission is to promote quality housing and diverse, thriving neighborhoods for New Yorkers through loan and development programs for new affordable housing, preservation of the affordability of the existing housing stock, enforcement of housing quality standards, and educational programs for tenants and building owners. HPD is tasked advancing the goals of the City's housing plan – a critical pillar of Your Home NYC, Mayor de Blasio's comprehensive approach to helping New Yorkers get, afford, and keep housing in these challenging times. For full details visit nyc.gov/hpd and for regular updates on HPD news and services, connect with us on Facebook, Twitter, and Instagram @NYCHousing.
New York City Housing Development Corporation (NYC HDC)
The New York City Housing Development Corporation (HDC) is the nation's largest municipal Housing Finance Agency and is charged with helping to finance the creation or preservation of affordable housing under Mayor Bill de Blasio's Housing New York plan. Since 2003, HDC has financed more than 180,000 housing units using over $23.5 billion in bonds and other debt obligations, and provided in excess of $2.9 billion in subsidy. HDC ranks among the nation's top issuers of mortgage revenue bonds for affordable multi-family housing on Thomson Reuter's annual list of multi-family bond issuers. In each of the last seven consecutive years, HDC's annual bond issuance has surpassed $1 billion. For additional information, visit: nychdc.com.

New York City Housing Authority (NYCHA)
NYCHA provides affordable housing to 380,299 authorized residents in over 177,611 apartments within 335 housing developments. NYCHA serves 359,593 authorized residents in over 168,100 apartments within 285 housing developments through the conventional public housing program (Section 9) and 20,706 authorized residents in 9,511 units within 50 developments that have been converted to PACT/RAD. Through federal rent subsidies (Section 8 Leased Housing Program), NYCHA also assists approximately 77,663 families in locating and renting units. In addition, NYCHA facilitates access to social services through a variety of programs. For more information, visit www.nyc.gov/nycha, and for regular updates on NYCHA news and services, connect with us via www.facebook.com/NYCHA and www.twitter.com/NYCHA.
Enterprise Community Partners
Enterprise works with partners nationwide to build opportunity. We bring together the nationwide know-how, partners, policy leadership and investments to multiply the impact of local affordable housing development. Over more than 35 years, Enterprise has created nearly 585,000 homes, invested $43.6 billion and touched millions of lives. Join us at www.EnterpriseCommunity.org.
Corporation for Supportive Housing (CSH)
CSH is the national champion for supportive housing, demonstrating its potential to improve the lives of very vulnerable individuals and families by helping communities create over 335,000 real homes for people who desperately need them. CSH funding, expertise and advocacy have provided nearly $1 billion in direct loans and grants for supportive housing across the country. Building on nearly 30 years of success developing multi and cross-sector partnerships, CSH engages broader systems to fully invest in solutions that drive equity, help people thrive, and harness data to generate concrete and sustainable results. By aligning affordable housing with services and other sectors, CSH helps communities move away from crisis, optimize their public resources, and ensure a better future for everyone. Visit us at www.csh.org.
About Chase Bank
Chase is the U.S. consumer and commercial banking business of JPMorgan Chase & Co. (NYSE: JPM), a leading global financial services firm with assets of $2.4 trillion and operations worldwide. Chase serves nearly half of America's households with a broad range of financial services, including personal banking, credit cards, mortgages, auto financing, investment advice, small business loans and payment processing. Customers can choose how and where they want to bank: 5,300 branches, 15,500 ATMs, mobile, online and by phone. For more information, go to Chase.com.