Urban Farms Food & Farm Vocational Training Program Graduates Nine New Students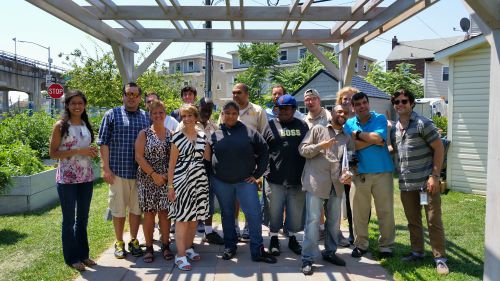 A backyard that was once decimated by Hurricane Sandy, is now brimming with life and color, thanks to nine new graduates of the S:US Food and Farms Employment Preparation Program (FFEPP). On August 4, 2015, the pupils celebrated their hard work and success alongside friends and family in at a graduation ceremony in Brooklyn.
The program, which was broken up into three different training modules, including a previous Culinary Arts course, saw four individuals graduate from an Agriculture Program, while five graduated from the Landscaping Program. FFEPP's newest students worked together to rebuild, revitalize and enliven the backyard of S:US' Beach 85th Facility. Weeks of hard work and extensive training transformed a desolate yard into a lush, green and aesthetically beautiful outdoor area. Complete with a gazebo, stepping stones and delicately planted vegetation, the yard truly appears to be the work of future professionals.
The end goal is to find employment for people with developmental disabilities, preferably in agriculture and landscaping. We're a third of the way there, the first phase is training, second is apprenticeship, and the third is jobs
Apprenticeships should not be difficult to find for these graduates, as their exceptional work was on display for everyone in attendance.
The impressive garden features tomato plants, dill plants and an assortment of flowers that attract the local Far Rockaway bumble bee population. As each graduate stood up individually to accept their certificate, their pride in their work was evident. Along with their certificates, each graduate received a binder full of landscaping and agricultural information and methods. The binders will help the graduates work more independently in the future and, hopefully, prepare them for apprenticeships and employment.
Click here to see more pictures of graduation and the new Beach 85th backyard!