PSA Launches On 2,994 NY Elevator Screens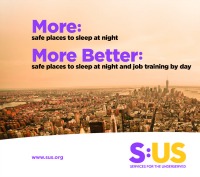 Getting lucky means having over 8 million New Yorkers view 15 seconds of messaging from S:US – for 30 days – for free.  That's exactly what's starting today, through a PSA campaign on Captivate Network.
In office buildings all over Manhattan, on 2,994 screens, our message is about S:US doing More. and doing it Better. – in this case for veterans, for people with mental health challenges and for people in need of housing.
Keep an eye out for it! Or click here to view the campaign now.
About Captivate Network
Known for its vast network of 12,000 elevator and lobby displays located in 1,800 premier office buildings across North America, Captivate Network connects advertisers with 12 million unique monthly viewers through creative, research-driven and Nielsen-measured advertising and marketing programs. Its programming is a mix of business, sports, entertainment, local and world news that leverages content partnerships with 100 media companies, from Forbes, Wired, CNN, Harvard Business, and the AP, to Crain's, Boston.com, and PopSci.com. By engaging its viewers with timely news and actionable information that helps balance the personal and professional demands of the workday, Captivate provides advertisers with a highly desirable and difficult-to-reach audience of affluent and influential business professionals. Founded in 1997, Captivate is owned by Generation Partners and Gannett. For more information, visit www.captivate.com.