RiseBoro Community Partnership and Services for the UnderServed Break Ground on Alafia Phase I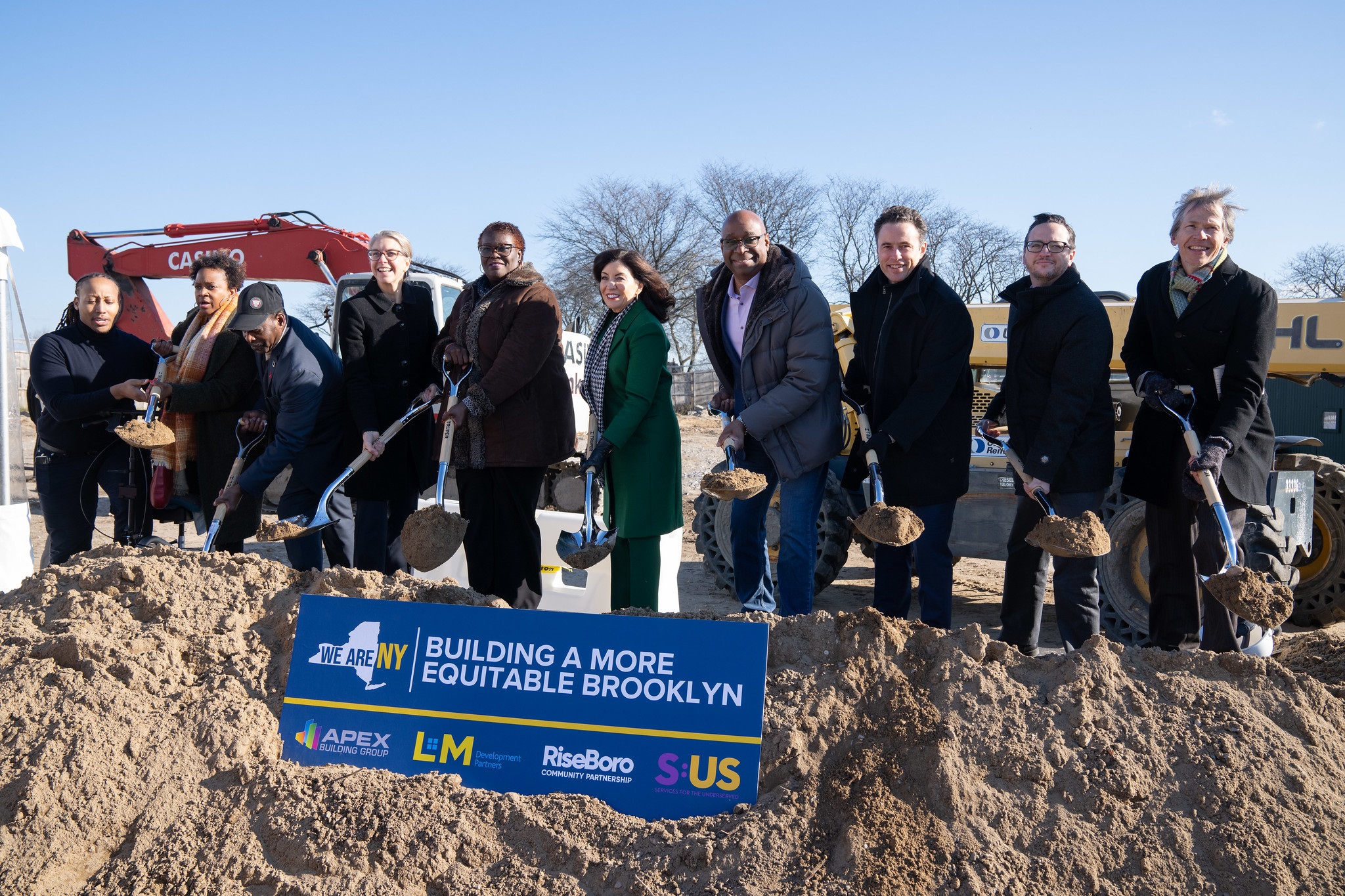 Photo credit: NYS Governor's Office
Supportive Housing Network of New York
January 20, 2023
On December 19th, RiseBoro Community Partnership and Services for the UnderServed (S:US) joined development partners and elected officials to celebrate the groundbreaking of Alafia Phase I in East New York, Brooklyn. Phase I of Alafia will create 452 affordable apartments, including 136 supportive housing units. On-site services are provided by S:US funded by the Empire State Supportive Housing Initiative (ESSHI) administered by the New York State Office of Mental Health and the New York State Office for People With Developmental Disabilities (OPDD).
Governor Kathy Hochul opened the program and remarked, "This truly transformative investment will put us on the path toward mending the societal cracks in the system to ensure all New Yorkers have a chance to prosper." She added, "We are not just building housing for the people of East New York, we're investing in a community so that generations of New Yorkers can flourish and thrive."
New York State Homes and Community Renewal (NYS HCR) Commissioner RuthAnne Visnauskas said, "The redevelopment of the Brooklyn Developmental Center property is a once-in-a-lifetime opportunity to build an inclusive, sustainable, and active affordable housing community that will improve health outcomes and expand opportunities for thousands of New Yorkers living in Central Brooklyn."
Assemblymember Nikki Lucas remarked, "The Alafia development is an important step for our community. We desperately need affordable housing and an additional medical center."
Services for the UnderServed Senior Vice President of Real Estate Development Arlo Chase remarked, "Every New Yorker deserves a safe and affordable place to live. New York only thrives when all New Yorkers thrive."
New York State Senator Roxanne Persaud and Apex Building Group CEO Lee Brathwaite also gave remarks.
Alafia Phase I will also create a new outpatient medical clinic as well as ground floor retail space. Building amenities include shared laundry facilities, bike storage, outdoor recreational spaces, and communal lounge areas.
Funding for the project comes from New York State Housing Finance Agency (FHA) Low Income Housing Tax Credits, NYS HCR's Supportive Housing Opportunity Program (SHOP) and New York State Energy Research and Development Authority (NYSERDA).
The architect is Dattner Architects and the general contractor is L&M Builders Group LLC .
Press:
https://newyorkyimby.com/2022/12/renderings-reveal-1-2b-mixed-use-alafia-campus-in-east-new-york-brooklyn.html
https://www.governor.ny.gov/news/governor-hochul-announces-transformative-12-billion-development-create-2400-affordable-homes
---