Applauding A Rising Star

Photo credit: S:US and NYN Media
We are hugely proud of our Urban Farms Manager, Mike Hollis, for winning a coveted 40-Under-40 Rising Star award in recognition of his outstanding influence in the urban farming sector.  Mike received his award at a special breakfast on July 21 hosted by New York Nonprofit Media where his achievements were recognized alongside 39 other under 40-year olds in the nonprofit sector.
It's not often you meet a young man who is equally comfortable working in t-shirt and jeans under a blistering sun, or speaking before a large audience as an expert panelist.
Only two months ago, New York University (NYU) asked Mike to represent S:US as a keynote panelist for the Fair Food Festival speaking on the social challenges of urban agriculture.  We are honored that a major New York university recognized Mike as an expert in urban farming and showed appreciation for his ongoing use of horticulture as a tool to improve wellness outcomes of the individuals we serve, helping them to achieve their personal and professional goals.
Here is what Mike had to say when NYNMedia interviewed him for the 40-Under-40 Rising Star Award: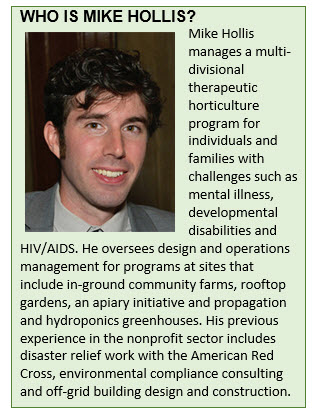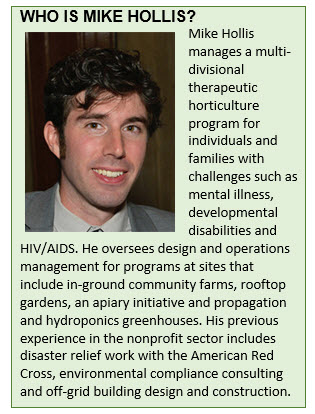 NYN: DESCRIBE AN ACCOMPLISHMENT YOU ARE MOST PROUD OF.
MH: At S:US I'm very excited just in terms of the growth of the program over the last few years. Since I've started, we've gone from just nine recreational gardens to over 30 sites citywide. Last year we received (a grant) that allowed us to pilot a vocational training program. Overall, the growth of the program, the increasing recognition of the program is definitely an accomplishment that I'm proud of.
NYN: WHAT CHANGE WOULD MOST HELP THE INDIVIDUALS YOUR ORGANIZATION SERVES?
MH: Funding is always a big one. There's just very little in terms of grant money and really any funding whatsoever for therapeutic horticulture at the moment – even though there's a lot of momentum behind food systems, the mobile food movement, urban agriculture. That means a lot of our funding at the moment is from the private sector. To really grow the program and to make it something that's sustainable in the long term, it would be lovely to see those private-sector dollars really matched by greater public interventions to food security, healthy eating, nutritional education, vocations through involvement in the green sector. A greater financial commitment would be something that would be really nice to see.
NYN: WHAT IS THE ONE THING YOU'D LIKE TO ACCOMPLISH BEFORE YOU RETIRE?
MH: A medium-term goal perhaps. We're currently exploring some ways of transforming some aspects of the program into for-profit or low-profit subsidiaries. We've been taking some of these landscaping activities that we're doing right now and turning that into for-profit landscaping subsidiaries. Currently a lot of the product development that we do – doing honey pickles, selling that through farmers markets – to be able to transform that from a very supported environment with the nonprofit sector to something that's able to stand alone would be I think a really neat way of taking something in the nonprofit world and transforming it into a much more diverse offering for our clients.
NYN: WHAT DO YOU WISH PEOPLE KNEW ABOUT YOUR JOB?
MH: Just in general, greater awareness of therapeutic horticulture, just the benefit that participating in horticultural activities has for individuals with either developmental disabilities or with mental illness. I think it's just not something that people may instinctively be aware of. It will kind of click when you bring it up in discussion. People will usually kind of say of the program, "oh that's incredibly innovative," which it is, but it would be wonderful for people to have that as a given.
Congratulations Mike!  So proud to call you one of our own!
The photo at the top right of this story is from the New York Nonprofit Media Flickr site.  To see more photos taken by that news agency please CLICK HERE.