Services for the UnderServed Breaks Ground on Starhill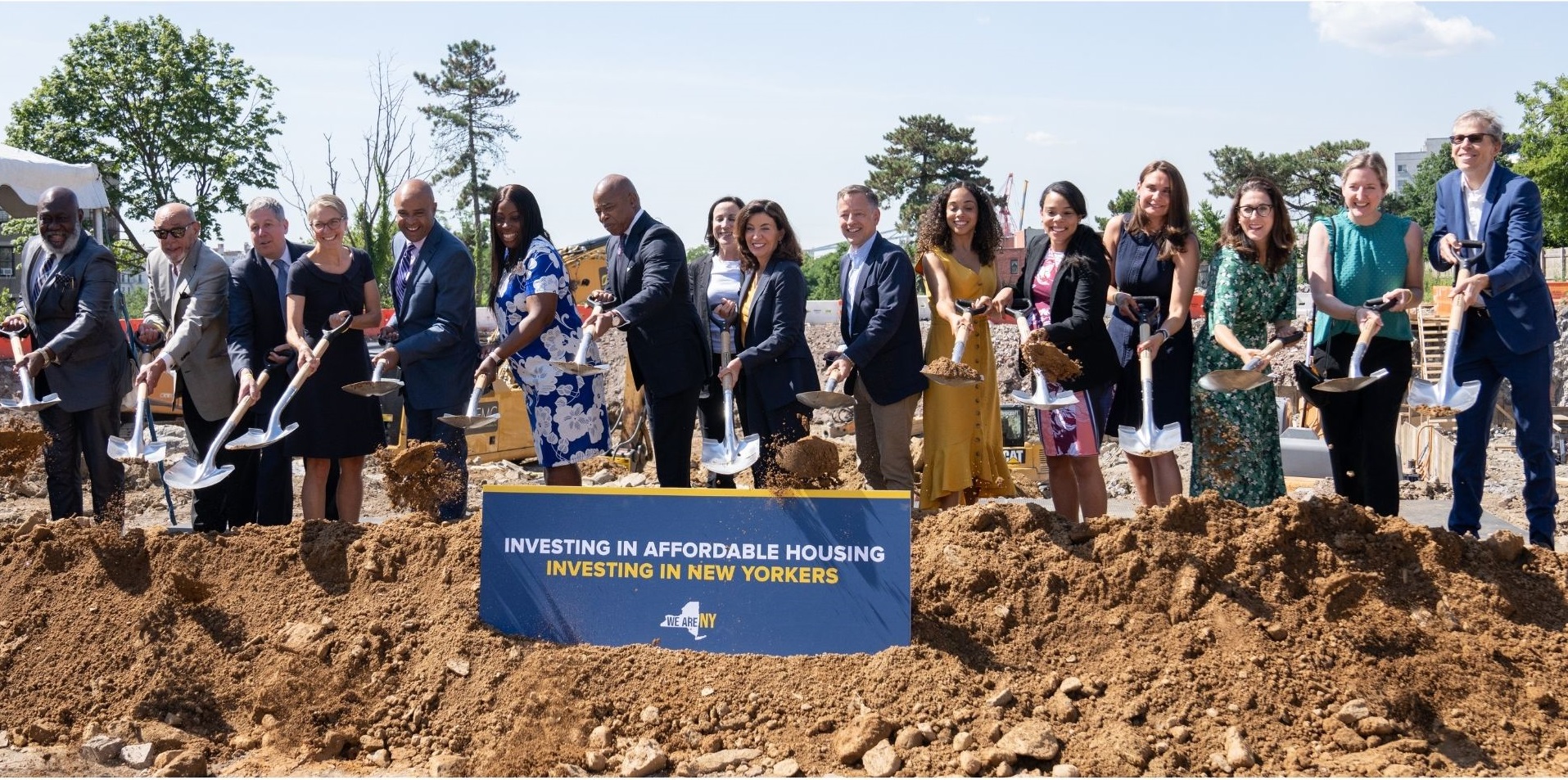 In photo (from left): CB #5 Bronx Chair Dr. Bola Omotosho, Bronx Pro Founder Peter Magistro, Enterprise Community Partners Acquisitions VP Daniel Magidson, HCR Commissioner RuthAnne Visnauskas, HPD Commissioner Adolfo Carrión, Jr., Bronx Borough President Vanessa L. Gibson, NYC Mayor Eric Adams, Chase Community Banking ED Jane Silverman, NYS Governor Kathy Hochul, S:US CEO Dr. Jorge R. Petit, Assembly Member Latoya Joyner, Council Member Pierina Sanchez, Bronx Pro CEO Samantha Magistro, NYC Chief Housing Officer Jessica Katz, CSH Director of Loan Originations Jennifer Trepinski, S:US SVP Real Estate & Property Development Arlo Chase
Photo: Marvel Architects
Supportive Housing Network of New York
August 1, 2022
On July 27th Services for the UnderServed (S:US) and Bronx Pro Group joined Governor Kathy Hochul, Mayor Eric Adams, and project partners to celebrate the groundbreaking of Phase I of their new affordable/supportive housing residence, Starhill. When complete, the residence will create 326 new units of affordable and supportive housing, including 200 supportive units for formerly homeless individuals with substance use disorders. S:US will provide on-site services funded by the Empire State Supportive Housing Initiative (ESSHI) administered through the New York State Office of Addiction Services and Supports (OASAS).
Located in the Bronx' Morris Heights neighborhood, the residence is built on a site that was formerly home to a residential treatment center for people with substance use disorders. Starhill will feature numerous community rooms, a computer room, children's play area, laundry room, fitness room, 24-hour security, and outdoor space with planters, an urban farm, and a barbeque area.
S:US CEO Dr. Jorge Petit kicked off the program, stating, "Home is more than a roof. Home is stability, safety, community and a sense of belonging. Starhill will bring hope, possibility and opportunity to New Yorkers who have experienced homelessness, poverty, addiction, and mental health challenges."
Governor Kathy Hochul followed and said, "Projects like this are all geared toward the goal of hard working New Yorkers living with the dignity of a beautiful home and allowing them to stay there."
New York City Mayor Eric Adams then spoke, "Supportive housing just makes sense. Those in need of supportive housing end up using emergency rooms. It costs too much when we wait until they're going through a mental health crisis, instead of preventing that and it's not economically sound. This work is not just ethical, it's economical."
Bronx Borough President Vanessa Gibson then spoke, "These projects remind New Yorkers that all hope is never lost. Safe, quality, affordable housing and services is a fundamental human and basic right."
Bronx Pro Group CEO Samantha Magistro closed the program, "Starhill will always be a life-defining project for me."
Starhill Phase I is financed through HFA tax-exempt bonds and subsidy, HPD financing through the Supportive Housing Loan Program (SHLP), tax credit equity syndicated by Enterprise, a construction loan provided by JP Morgan Chase and a $1M in Reso A funds.
The architect is Marvel Architects and the General Contractor is Home Builders.
---