Services for the UnderServed, Bronx Pro Group Celebrate Housewarming for Residents of New Supportive & Affordable Housing Complex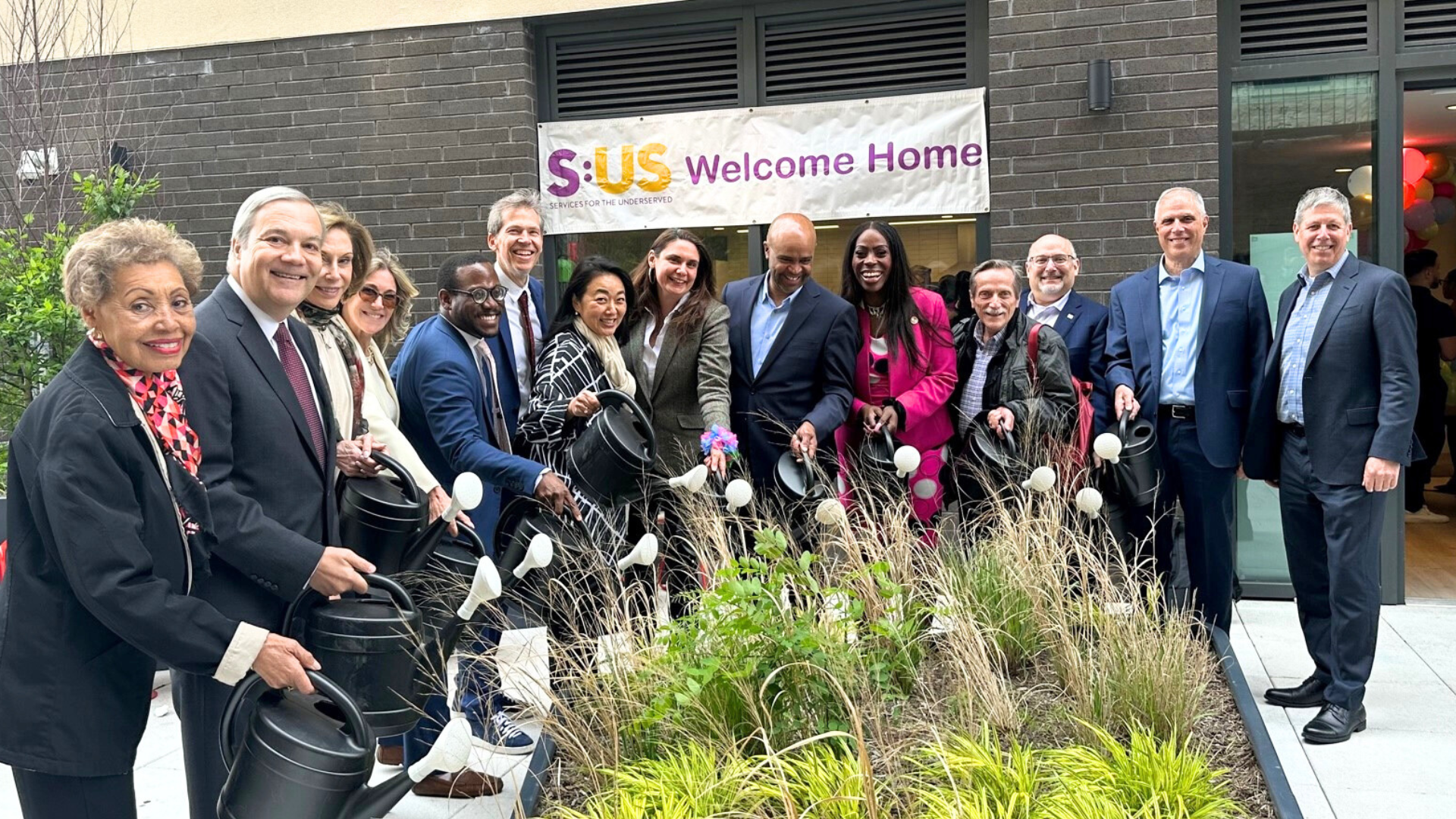 Photo caption: S:US Board Member Carolyn Powell, S:US Board Chair John McKesson, S:US Board Vice Chair Gail McCallion, S:US Board Member Jen Press Marden, HRA First Deputy Commissioner Ryan Murray, S:US SVP Real Estate Development Arlo Chase, Dept. of City Planning Executive Director Edith Hsu-Chen, Bronx Pro CEO Samantha Magistro, HPD Commissioner Adolfo Carrion Jr., Bronx Borough President Vanessa Gibson, Bronx Community Board 5 Chairperson Angel Caballero, TD Bank VP of Commercial Real Estate Matthew Schatz, S:US Interim President & CEO Perry Perlmutter, and Enterprise VP of Acquistions Dan Magidson.
FOR IMMEDIATE RELEASE:
Wednesday, May 24, 2023
MEDIA CONTACT:
Jack Lynch
[email protected] | 908-487-1756
---
Recently completed construction brings 177 total units, including 105 units designated for formerly homeless individuals and families leaving shelters 
(Bronx, NY) – Today, Services for the UnderServed (S:US) and Bronx Pro Group LLC (BPG) celebrated a housewarming for residents at the newly opened supportive and affordable housing complex at 1769 Jerome Avenue in The Bronx. A joint venture between S:US and BPG, the Jerome Court redevelopment marks the transformation of an old, two-story Single Room Occupancy (SRO) building into a brand-new 16-story, 144,000 square-foot mixed-use building. The building includes 175 total units, consisting of 105 supportive housing units, 69 affordable housing units and 1 superintendent's unit. The supportive housing units will be home to a mix of households, including formerly homeless individuals and families leaving shelters who experience behavioral health challenges.
Photos of the housewarming can be viewed HERE.
"S:US' core mission is to continuously advance measures for social justice. Our model is rooted in creating opportunities for all and investing in the communities we live and work in. It is the foundation of everything we do," said Perry Perlmutter, Interim President & CEO, Services for the UnderServed. "This project is a model of collaboration between private, public, and non-profit sectors to change the housing opportunities of New Yorkers in a meaningful way and invest in communities and neighborhoods. We are so grateful to all of our partners involved in this project and are thrilled to welcome these residents home."
Along with the new apartments, Jerome Court includes a large community lounge and landscaped patio, laundry space and fitness room. S:US will have office space to provide social services and housing support for residents as well as 24-hour security. The building will incorporate the use of solar panels and is built to meet Enterprise Green Communities Criteria for reduced use of fossil fuels and superior indoor air quality for the residents. The mixed-use building will also include approximately 7,000 square-feet of ground-floor retail space which is leased to several convenience and food-based operators.
The redevelopment at Jerome Court is a testament to the long-standing partnership between S:US and BPG and is one of many projects that the two organizations partner on in the Bronx. The former motel was originally converted into 40 efficiency studios by Palladia for tenants with HIV/AIDS. From 2001 to 2016, Palladia – and then S:US – provided supportive housing services for all tenants in the building. However, the building was underbuilt and unsuitable for permanent housing and had significant deferred maintenance needs in poor condition. After the tax credit investor exited in 2016 and S:US acquired Palladia, S:US became the owner of the property and immediately began to plan their vision for the development of the site in partnership with Bronx Pro Group.
"We are so proud to be celebrating the opening of Jerome Court today with our long-time partners at S:US," said Samantha Magistro, Chief Executive Officer, Bronx Pro Group. "This project reflects our deep commitment to community development and providing safe and beautiful homes for individuals and families in need right here in The Bronx."
"Today we're celebrating life-changing opportunities for New York City families. Jerome Court provides 175 affordable and supportive homes for families and individuals, including formerly homeless households with special needs," said Adolfo Carrión Jr, Commissioner, New York City Housing Preservation & Development. "I applaud S:US and Bronx Pro Group for delivering another terrific project in the Bronx and thank our colleagues in government for their dedication in creating a more equitable New York City."
"Today we celebrate the completion of much-needed affordable housing, alongside comprehensive social services that residents need to thrive," said Eric Enderlin, President, New York City Housing Development Corporation. "Thanks to S:US and Bronx Pro Group, and our many other dedicated partners, for helping to ensure the successful redevelopment of the Jerome Court supportive and affordable housing complex."
"We are committed to connecting more of our neighbors in need to stable, high-quality permanent housing options, and with 175 supportive and affordable units, the Jerome Avenue Apartments project exemplifies the type of development the city needs to ensure that vulnerable families and individuals have the opportunity to find stability, access critical resources, and thrive," said Molly Wasow Park, Commissioner, Department of Social Services. "This project is a testament to the power of collaboration, and we thank S:US, HPD, Bronx Pro Group and every other partner that made this incredible development a reality. We look forward to continuing our work together to make this city a more just, equitable, and compassionate place."
"The Jerome Avenue Neighborhood Plan continues to pay dividends for the Bronx. With income-restricted, transit-oriented projects like this welcoming new tenants, we're seeing in real-time how long-term planning with the community directly leads to positive results for New Yorkers," said Dan Garodnick, Department of City Planning Director and Chair of the City Planning Commission.
"We congratulate Services for the UnderServed, Bronx Pro Group, and the many partners, private and public, who helped create this life-changing development," said Baaba Halm, Vice President and New York Market Leader at Enterprise Community Partners. "In the midst of our city's affordable housing crisis, the Jerome Avenue apartments will give New Yorkers who have experienced homelessness a supportive and affordable home in which to grow and build their lives. We are so proud to have supported this development, and we look forward to seeing its impact on residents and the Bronx community for years to come."
The development was financed through a combination of capital subsidy through New York City's HDC's Extremely Low and Low-Income Affordability (ELLA) program, HPD's Supportive Housing Loan Program (SHLP), 4% Tax Exempt Bonds, the Federal LIHTC program, as well as financing by TD Bank and Enterprise. The supportive housing units will receive NYC 15/15 HRA subsidy for social services and matching rental assistance from HPD to cover operating expenses. To make the project viable, Bronx Pro Group was able to transfer development rights from an adjacent site that they own. S:US worked closely with the NYC Department of City Planning to play a role in helping shape the details of the new R8-A rezoning that was part of the Jerome Avenue Neighborhood Plan that finally made the vision for the site possible. The Jerome Court Redevelopment would not have been financially feasible without the Jerome Corridor Rezoning.
All residents who were relocated from the previous building were offered an opportunity to return to the new development if they chose, which they were happy to do. In addition, the project will be providing new affordable homes, new supportive services, high-quality amenities, and streetscape and landscape improvements. 1769 Jerome Avenue is a beacon of community investment that will have a lasting impact for the residents and the wider neighborhood for decades to come.
###
About Services for the UnderServed
S:US plays a critical role in the health and wellbeing of more than 37,000 of New York City's most vulnerable individuals and families each year, helping them overcome complex and challenging life circumstances. At S:US, we understand that for there to be long-term social change, we must invest in people and communities. We work to eliminate the root causes of inequity and poverty, while addressing people's unique needs—needs that are compounded by the challenges people face due to a lack of opportunity. We give people hope, providing a path to a bright future for themselves, their families, and communities, a future that is not defined by challenges, but by opportunity for all. Learn more at sus.org.
About Bronx Pro Group
Bronx Pro Group is a women-owned, neighborhood-based firm dedicated to community development through affordable housing investments. Bronx Pro's mission is to develop high quality affordable housing that is sustainable and builds thriving communities. The company and its affiliates employ full-time professionals and support staff engaged in Real Estate Development, Construction, Property Management, and Resident Services. Since 1998, Bronx Pro completed the development of over 2,900 affordable housing units along with commercial and community spaces. These projects have a total development cost of $800 million. Currently, the company has $315 million of development under construction and approximately $190 million in pre-development. The Bronx Pro portfolio is primarily owned by the Magistro family who is proud to build beautiful homes as well as create permanent employment opportunities through their participation in New York City affordable housing programs.