Services for the UnderServed, Celebrity Chefs Raise More Than $1.2 Million to Benefit New Yorkers in Need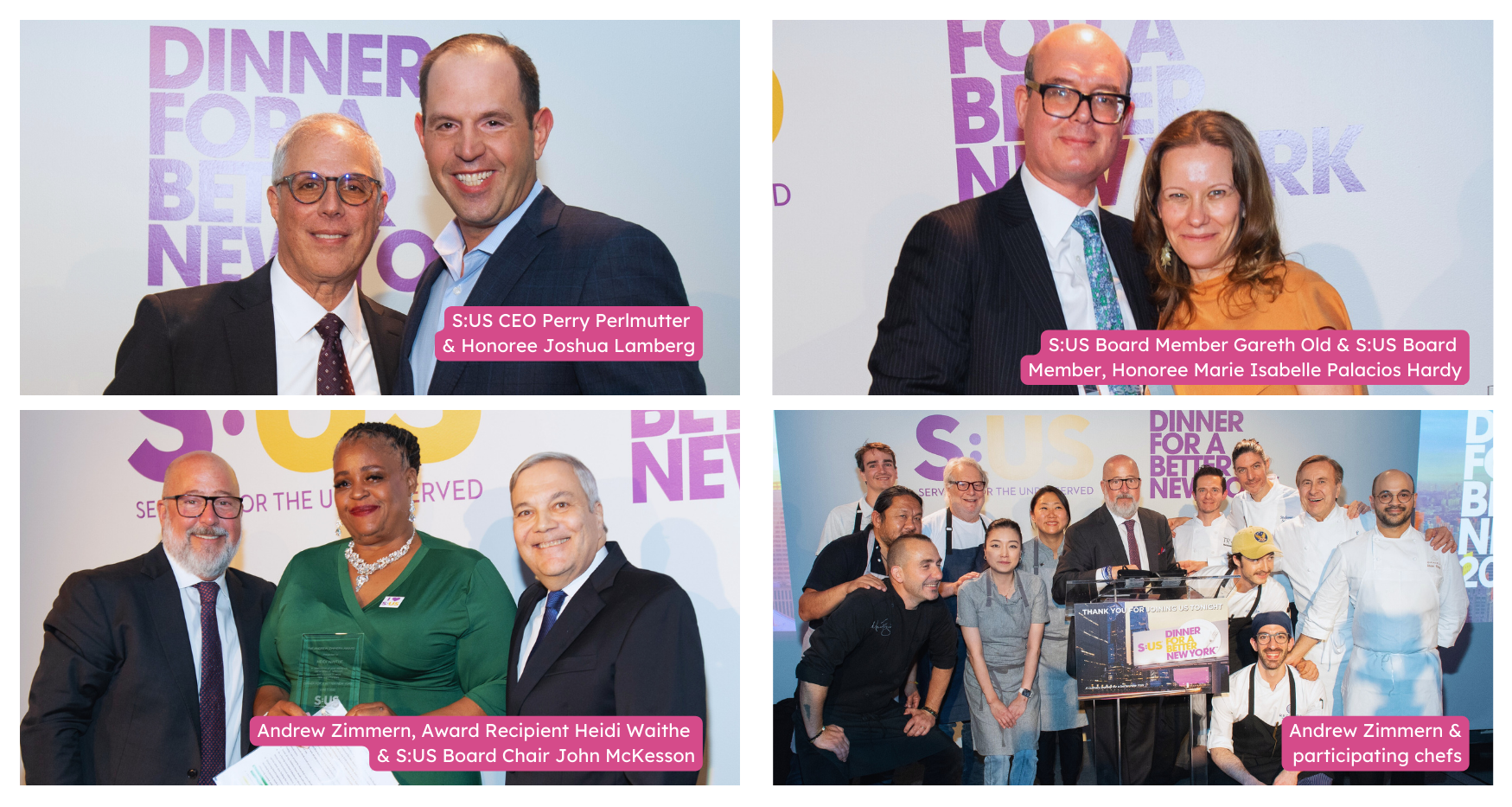 FOR IMMEDIATE RELEASE:
June 12, 2023
MEDIA CONTACT:
Jack Lynch
[email protected] | 908-487-1756
---
The funds will support the most vulnerable New Yorkers in need of housing, treatment, and crisis services
Video and photos of VIPS, Andrew Zimmern, chefs, and more can be found HERE

(New York, NY) – On June 7, 2023, Emmy-winning and four-time James Beard Award-winning chef Andrew Zimmern curated the Dinner for a Better New York, a culinary celebration to benefit Services for the UnderServed (S:US), a nonprofit organization founded in 1978, that is transforming the lives of New Yorkers with disabilities, people in poverty, and people facing homelessness. Zimmern, who also serves as a member of the S:US board, was joined by 14 of the city's top chefs for a night celebrating S:US' life-changing work to build a better New York where opportunities are available to all.
The evening raised more than $1.2 million to benefit New Yorkers in need of housing, shelter, treatment and rehabilitative services, employment and skills-building, therapeutic horticulture, and crisis services.
Chefs who prepared the evening's world-class menu included:
Daniel Boulud and Shaun Velez of DANIEL

Esther Choi of Mokbar

Leah Cohen of Pig & Khao

Josh Capon and Conor Hanlon of Flyfish Club

Marc Forgione of Forgione 

Alex Guarnaschelli and Michael Jenkins of Butter

Nobuyuki Matsuhisa of Nobu

Stefano Secchi of Rezdôra

David Shim of Cote

Michael Solomonov of K'Far Brooklyn

Jonathan Waxman of Barbuto
Guests enjoyed tasting stations, each presented by a chef in-person, and a multi-course menu curated by Zimmern. The Dinner for a Better New York also honored Joshua Lamberg, CEO & Founder, Lamb Insurance Services; and Marie Isabelle Palacios Hardy, General Counsel & CCO, Firmament, and Member, Board of Directors, S:US. 
"The core of what we do here at S:US is ensuring that we are continuously advancing measures for social justice and creating opportunities for the most vulnerable among us. Our model is rooted in investing in the communities we live and work in and serves as the foundation of everything we do," said Perry Perlmutter, Interim President & CEO, Services for the UnderServed. "We are at a critical point in the history of this city where a growing number of people are facing homelessness, food insecurity, and mental health crises more now than ever before. We are so grateful for all of our wonderful partners and supporters who gather together to help us advance the important work we do."
The 2023 Andrew Zimmern Award, which recognizes individuals who exemplify the values and characteristics that Zimmern lives by, was awarded to Heidi Waithe. Waithe, who immigrated to Brooklyn from Trinidad as a child, survived sexual trauma and multiple suicide attempts in her youth. Today, she is a Certified Peer Recovery Specialist at S:US' Wellness Works Clinic in Brooklyn where she provides a unique perspective on healing and recovery. 
"Working at S:US' Clinic has given me an extended family.  I don't yet see it in myself fully, but the staff at the clinic and others at S:US see my strengths, and that has given me confidence," said Heidi Waithe, accepting her award. "I believe in what I do. I believe in how we help each other. I believe that I can and will keep going and keep growing. I want to give a huge thank you to S:US and Andrew Zimmern for having demonstrated care, concern, compassion, action, and change. I will take this in for myself.  I am a courageous, strong, resilient woman. For myself, my family, my participants, and my community."
In addition to being a mother of four, Heidi is the Corresponding Secretary of the 75th Precinct Council Board in East New York, Brooklyn; is Chaplain and Evangelist in her community; and she is pursuing her certificate as a Family Peer Advocate. She is a proud member of S:US' Brooklyn Clubhouse, where she participates in member-driven comprehensive recovery and treatment services while developing a community with fellow members in recovery. Heidi presents at S:US' New Hire Orientation on a regular basis where she imparts her knowledge to peer specialists.
The Dinner for a Better New York took place at Tribeca 360.
###
About Services for the UnderServed
S:US plays a critical role in the health and wellbeing of more than 37,000 of New York City's most vulnerable individuals and families each year, helping them overcome complex and challenging life circumstances. At S:US, we understand that for there to be long-term social change, we must invest in people and communities. We work to eliminate the root causes of inequity and poverty, while addressing people's unique needs—needs that are compounded by the challenges people face due to a lack of opportunity. We give people hope, providing a path to a bright future for themselves, their families, and communities, a future that is not defined by challenges, but by opportunity for all. Learn more at sus.org.