Services for the UnderServed, NYC Housing Preservation & Development and CB-Emmanuel Celebrate Housewarming for Residents of New Brooklyn Supportive Housing Complex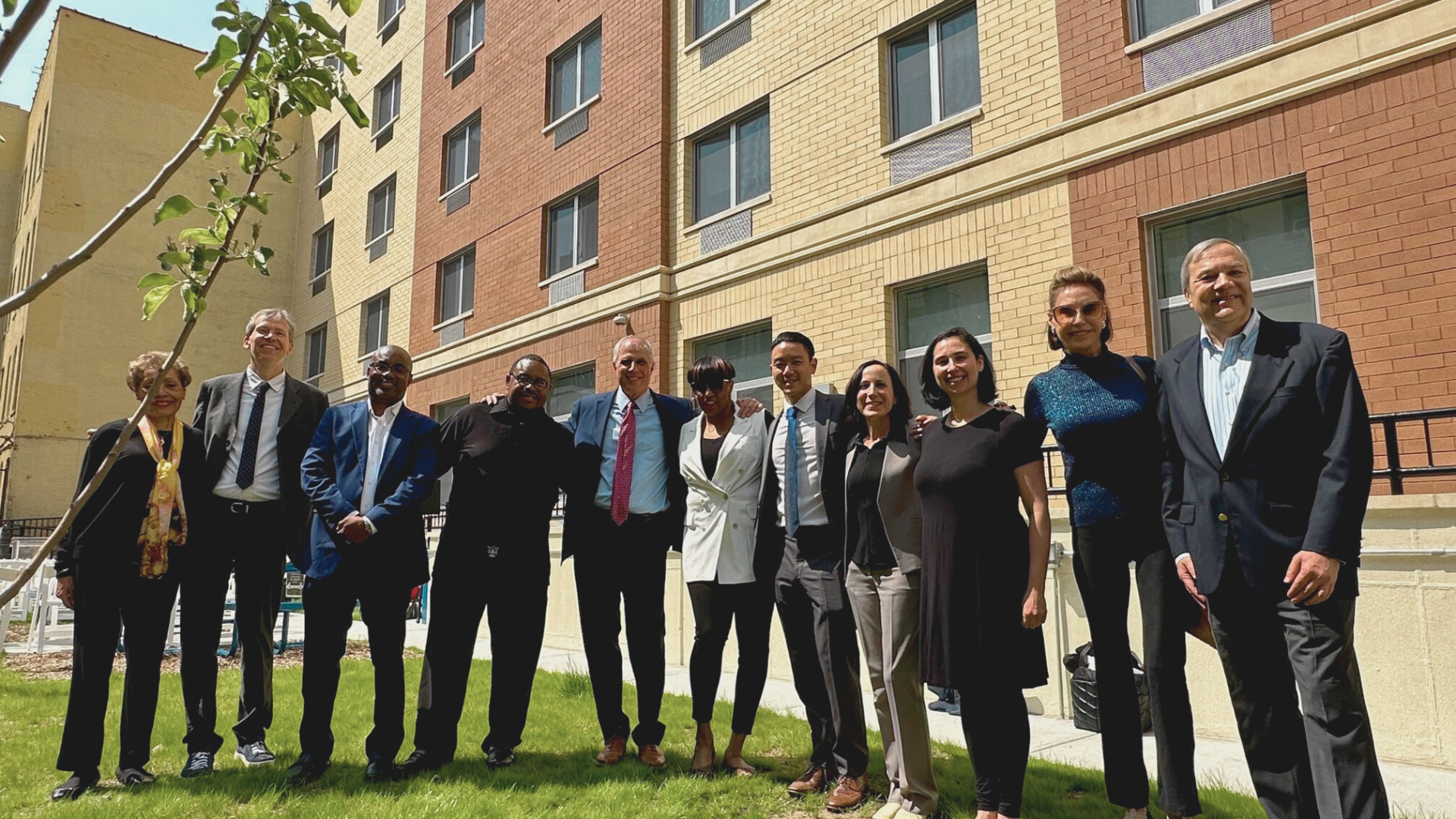 Photo caption: S:US Board Member Carolyn Powell, S:US SVP Real Estate Development Arlo Chase, CB-Emmanuel Managing Partner Chris Bramwell, Mount Ararat Church Rev. Steven Carter, S:US Interim President & CEO Perry Perlmutter, Senator Roxanne Persaud's Chief of Staff Tanequa Strong, Richman Housing Resources AVP Sigmund Ting, Chase Executive Director Jane Silverman, HPD Asst. Commissioner for Special Needs Housing Emily Lehman, S:US Board Vice Chair Gail McCallion, and S:US Board Chair John McKesson.
FOR IMMEDIATE RELEASE:
Wednesday, May 10, 2023
MEDIA CONTACT:
Jack Lynch
[email protected] | 908-487-1756
---
Recently completed construction brings 71 total units, including 43 units designated for formerly homeless adults and 27 units for low-income residents to the East New York neighborhood of Brooklyn
Once a vacant lot, the City designated the site for CB-Emmanuel and S:US to develop affordable housing through HPD's first Minority and Women-owned Business Enterprises Building Opportunity RFP
(Brooklyn, NY) –  Today, Services for the UnderServed (S:US), CB-Emmanuel and the New York City Department of Housing Preservation and Development (HPD) celebrated a housewarming for residents at the newly opened supportive housing complex at 461 Alabama Avenue in Brooklyn. CB-Emmanuel will operate the building with S:US providing social services via an NYC 15/15 award.  The building offers 71 total homes, with 43 supportive homes for formerly homeless single adults living with a severe mental illness or substance use disorder and 27 affordable homes set aside for low-income New Yorkers. Photos of the housewarming can be viewed HERE.
"As an organization advancing social justice, S:US' model is rooted in creating opportunities for all and investing in the communities we live and work in. It is fundamental to everything we do," said Perry Perlmutter, Interim President & CEO, Services for the UnderServed. "This project shows what is possible when we all work together to help New Yorkers find a home. This milestone achievement would not have been possible without the collaboration and support of our public partners at the City and State, as well as our private lenders, and our excellent design and construction teams."
The newly constructed community features a landscaped courtyard, a recreation room, a computer lab, a 24-hour front desk attendant/security, and a live-in superintendent. S:US will be providing full wraparound services for the residents of the 43 supportive homes, including case management, substance use counseling, recovery counseling, medical and symptom management, leisure and recreation support, and will be facilitating meaningful connections with the surrounding community.
Once a vacant city-owned lot, the site at 461 Alabama Avenue was included in HPD's first Building Opportunity RFP for Minority and Women-owned Business Enterprises (M/WBE) developers in 2015. The new development reflects the City's Housing our Neighbors goal to develop affordable housing and community assets on under-utilized city-owned land and to provide inclusive, equitable development opportunities for M/WBEs and non-profit developers.
"I'm delighted to see Services for the UnderServed and CB-Emmanuel Realty partnering to provide 43 new units of safe and permanent supportive housing," said Roxanne J. Persaud, Chair of the NYS Senate Social Services Committee.  "This project is a shining example of the work that HRA and HPD are doing through the NYC 15/15 program."
"Welcome home to the new residents at 461 Alabama Avenue! HPD is thrilled to partner with non-profit Services for the UnderServed and minority-owned business enterprise CB-Emmanuel to deliver 71 affordable and supportive homes to East New York," said HPD Commissioner Adolfo Carrión Jr. "This project is the result of our first Building Opportunity RFP for M/WBEs in 2015, and since then, we've continued to push the envelope to ensure non-profits and M/WBEs can access economic opportunities created by the City's multi-billion-dollar affordable housing pipeline."
"CB-Emmanuel is proud to have been provided the opportunity to develop this building through HPD's MWBE Building Opportunity RFP. Having been awarded in the first round of the program and allowing us to serve as stewards of formerly city-owned land is a great honor and we thank NYC HPD as well as our design and construction team, Newman Design and The Penta Group, financing partners NYC HPD, JPM, The Richman Group, Bellwether Enterprise, and our development and social service provider partner S:US for the collaboration provided on this project," said Chris Bramwell, Managing Partner of CB-Emmanuel Realty LLC.  "In addition, we acknowledge the hard work and contribution our local electeds played, especially Councilwoman Inez Barron, in designing this property to be a great example of supportive housing."
"Through the Alabama Avenue development, S:US and CB-Emmanuel provide households with more than just housing, but rather a stable base of operations to thrive in all aspects of their lives," said Jane Silverman, Executive Director of Community Development Banking for Chase. "We're proud to collaborate with these committed partners to bring high-quality, affordable homes with supportive services to the community."
Referrals for the supportive units come from New York City shelters through the NYC Department of Homeless Services (DHS). The supportive units are funded through NYC 15/15 service funding from the Human Resources Administration (HRA) and the corresponding rental assistance from the NYC Department of Housing Preservation and Development (HPD).
S:US housing services provide residents access to additional support services to help meet their goals. They offer transitional and permanent housing in single-site residences, apartment buildings and scattered-site apartments for adults in recovery from mental illness, adults with substance use challenges, and adults living with HIV/AIDS.
###
About Services for the UnderServed
S:US plays a critical role in the health and well-being of more than 37,000 of New York City's most vulnerable individuals and families each year, helping them overcome complex and challenging life circumstances. At S:US, we understand that for there to be long-term social change, we must invest in people and communities. We work to eliminate the root causes of inequity and poverty, while addressing people's unique needs—needs that are compounded by the challenges people face due to a lack of opportunity. We give people hope, providing a path to a bright future for themselves, their families, and communities, a future that is not defined by challenges, but by opportunity for all. Learn more at sus.org.
About the New York City Department of Housing Preservation and Development
HPD promotes quality and affordability in the City's housing, and diversity and strength in the City's neighborhoods – because every New Yorker deserves a safe, affordable place to live in a neighborhood they love. We maintain building and resident safety and health, create opportunities for New Yorkers through housing affordability, and engage New Yorkers to build and sustain neighborhood strength and diversity. HPD is entrusted with fulfilling these objectives through the goals and strategies of Housing Our Neighbors: A Blueprint for Housing and Homelessness, Mayor Adams' comprehensive housing framework. To learn more about what we do, visit nyc.gov/hpd and connect with us on Facebook, Twitter, and Instagram @NYCHousing.
About CB-Emmanuel
CBE was founded by R. Christopher Bramwell Jr and Benathan Upshaw in 2005. Our mission is to create housing and community assets which provide the highest standards of excellence and exemplify best practices in community development services in such a fashion as to uplift residents and create positive community outcomes for the towns and cities that it serves. Our team is composed of diverse professionals with expertise in real estate finance, construction management, architecture, urban planning, and property management consulting. Since our founding we have worked to increase affordable housing opportunities in transitioning communities. CBE is a City and State certified MBE with a development portfolio of over 3,000 units of affordable housing.