Services for the UnderServed Launches Community Fridge Project in Brooklyn with State Senator Salazar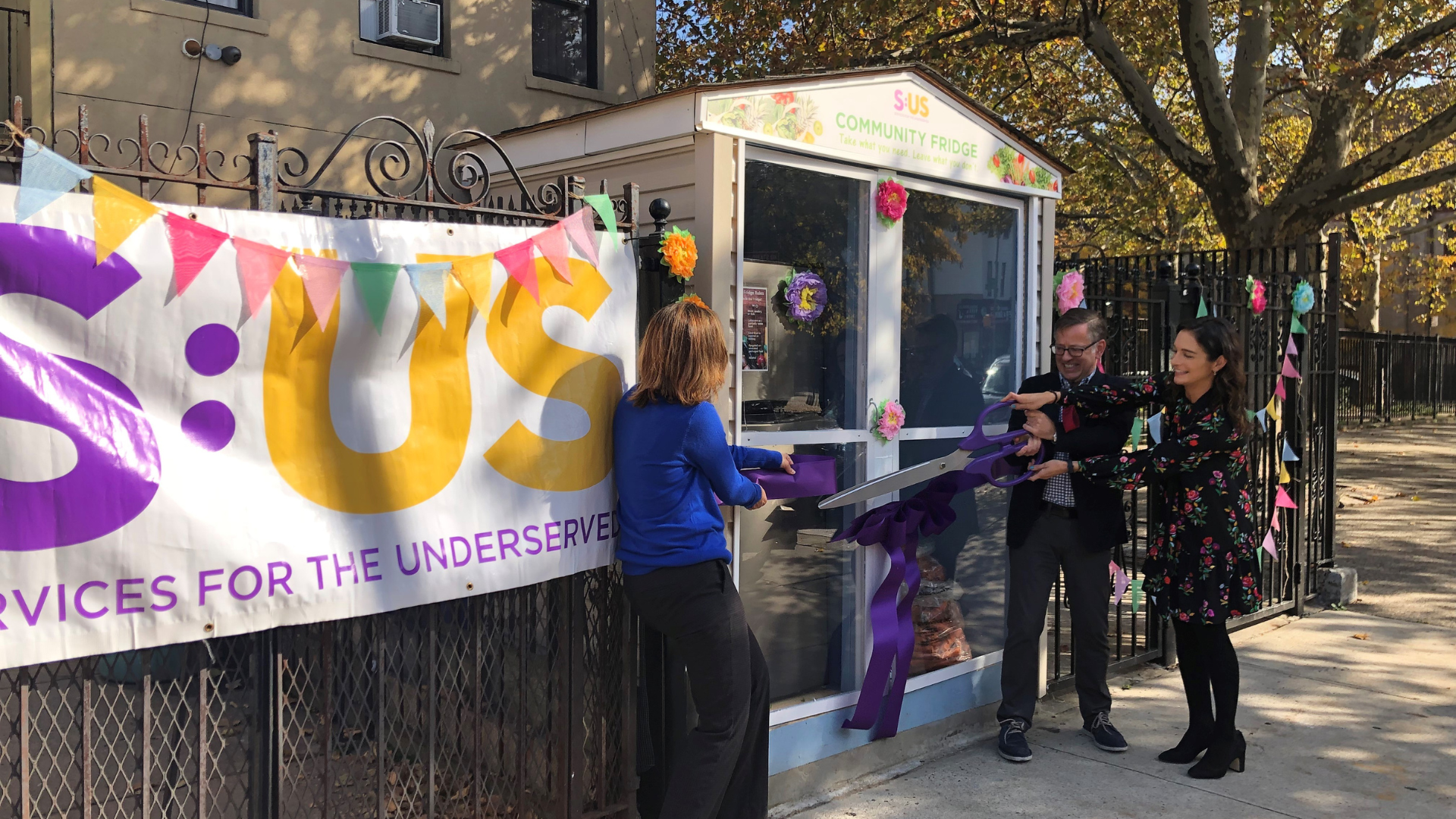 For Immediate Release:
November 4, 2022
Media contact:
Jahad Carter, (336)-912-3423, [email protected]
---
Creating Opportunities for All While Tackling Food Insecurity in New York
New York, NY – Today, Senator Julia Salazar joined Services for the UnderServed (S:US) to officially announce the opening of a new community fridge located at 1109 Bushwick Avenue in Brooklyn in partnership with two local food pantries, Let Your Heart Not Be Troubled and 9 Million Reasons. As part of a more extensive community fridge program by S:US, which will have fridges located in Bushwick and Fordham Heights, fridges will be replenished with fresh fruits and vegetables three times per week and cared for by individuals with intellectual/developmental disabilities (I/DD) as part of S:US' Day Habilitation programming. The S:US Day Habilitation Programs reduce the barriers to community inclusion for New Yorkers with I/DD through local volunteer opportunities.
S:US works with communities and individuals in all corners of the city to make sure every New Yorker has the chance to find a home. The organization drives scalable solutions to transform the lives of people with disabilities, people in poverty, and people facing homelessness: solutions that contribute to righting societal imbalances. In the midst of rising food insecurity during the pandemic, the organization began organizing to help those experiencing hunger and ultimately settle on the community fridges project to meet the community where they are.
"The Community Fridge Project offers people with I/DD meaningful opportunities to support and engage with their local community, which is proven to improve the quality of their life and mental health. It also allows our organization to help fight hunger amid surging food prices and rising rates of food insecurity in our city," said Dr. Jorge Petit, CEO of S:US. "We thank Senator Salazar and the community food pantries — Heart Not Be Troubled and 9 Million Reasons — for partnering with our organization to feed our community and serve our neighbors in need."
At the community fridge launch in Brooklyn, State Senator Julia Salazar joined S:US in the ribbon cutting of the Bushwick location site, which is in her state senate district.
"As the number of people facing poverty and food insecurity rises across our city, we need community initiatives that work closely with the people whose needs are most often overlooked," said State Senator Julia Salazar. "Services for the UnderServed's launch of these community fridges is an important step toward building our communities and creating opportunities for all."
S:US plans to expand the program in more neighborhoods across the five boroughs pending additional funding and fill fridges with produce grown through the organization's gardening programs, Urban Farms.
"We are thrilled to launch the Community Fridge Project alongside State Senator Salazar and Let your Heart Not Be Troubled and 9 Million Reasons food pantries," said Monica Santos, Chief Operations Officer for S:US. "These fridges will not only benefit surrounding communities but also provide the people in our day programs with a meaningful opportunity to serve at the local level."
###
S:US envisions a city where everyone has a roof over their head, is healthy, productive, and can enjoy the social connections that create a life of purpose. We're a nonprofit with a staff of 1,800 that provides $245 million in services. Our efforts are supported by various local, state, and federal government entities as well as foundations, corporations, and individual donors. Most importantly, our vision allows us to deliver the same quality of services to one individual or to thousands.