Spotlighting Mental Health Stories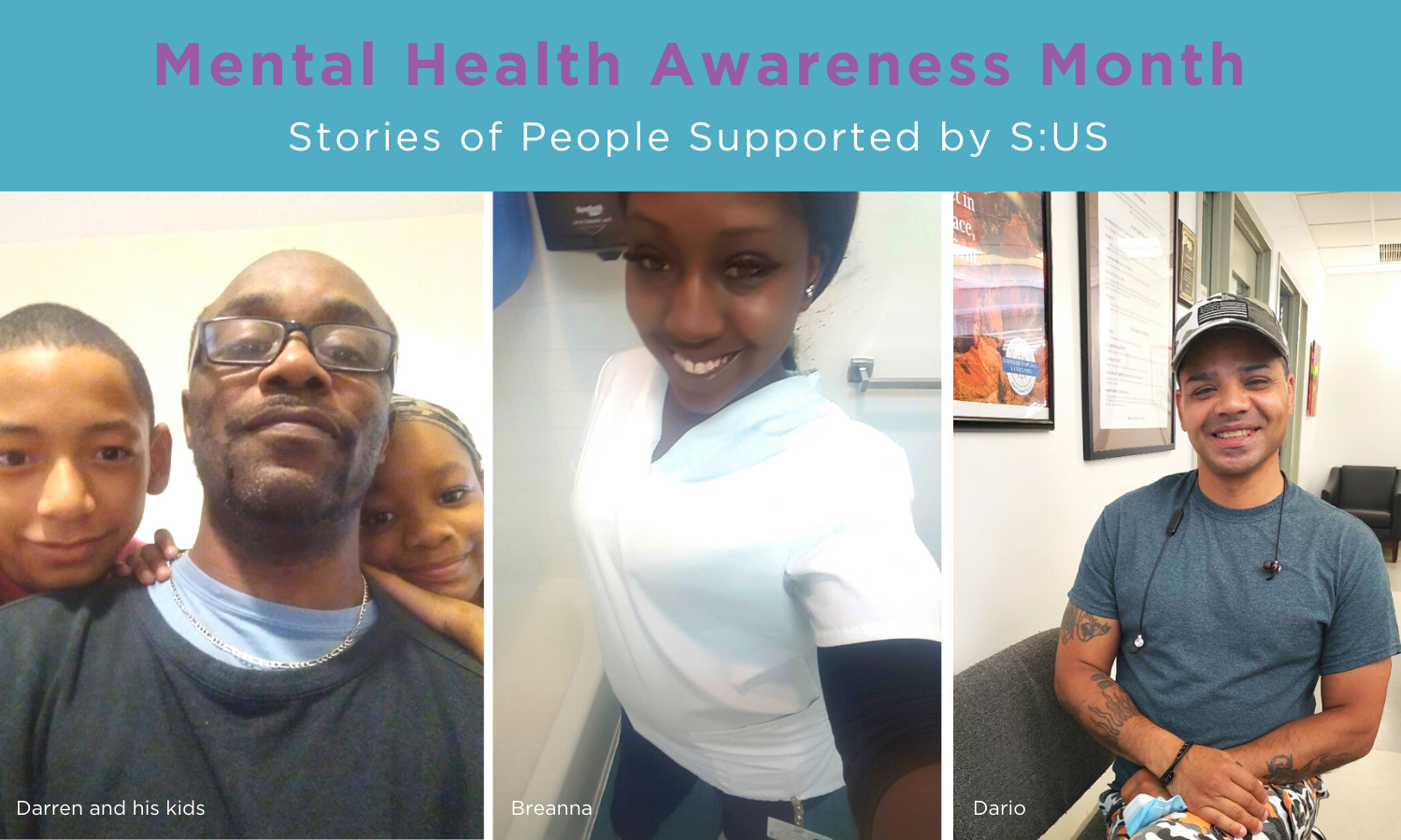 Photo credit: People served by S:US
May is Mental Health Awareness Month. S:US supports New Yorkers with mental and behavioral health challenges all year long.
No family is unaffected by mental illness and substance use. Mental illness is the leading cause of disability worldwide and only 9% of the 22.7 million Americans with drug or alcohol addiction challenges are receiving treatment. S:US is breaking down barriers and opening new doors. With the right set of supports and working together, people can recover, lead productive lives and move past their challenges. 
Here are stories from some of the people with mental health and substance use challenges who we serve:
Darren (pictured above) was placed in the Families United Supportive Housing (FUSH) program in 2009 by his wife before she passed away. He met Sabrina in the program, and moved in with her and her son for 11 years. They had more children and when their daughter was two-months-old and their son five-years-old, Sabrina died. Darren lost himself to substance use and prayed for help to overcome the pain. S:US helped Darren and his kids move. They are now all doing well. Darren attends Narcotics Anonymous, which he says has been the best decision in his life. "Thank you, S:US, for everything you have done for me; I am ever so grateful."
Jason has been on his journey of recovery from mental health challenges and substance use for the past seven years. He has utilized the support of his family, children, the Brooklyn Clubhouse, and self-care practices to cope with these challenges. The Clubhouse supports people living with mental illness, offers GED and basic computer training and skills development in food service, facilities management, computer applications, and office work. The Clubhouse also provides valuable social and vocational opportunities, support from peer advocates, and assistance in developing critical life coping skills and employment readiness. As a member of the Clubhouse, Jason is part of our Transitional Employment Program. At the beginning of the pandemic, he expressed struggling with temptation and symptoms that could have stunted his progress. However, Jason soon began working a supportive employment placement doing maintenance work and has been employed for a year now. Keeping busy with meaningful work supported his goal of maintaining his sobriety. Jason has also worked diligently towards his goal of obtaining his GED since joining the Clubhouse. It took him two years, but his GED finally arrived in the mail! Jason is looking forward to going to college and hopes to one day open his own fireproofing business.
Breanna (pictured above) is 31 years old and highly autonomous, ambitious and efficient when it comes to work and handling business. She is a single mom of three and ensures their wellbeing is primary, despite the consistent challenges she faces during the COVID-19 pandemic. Breanna is an essential worker as a home health aide working through the pandemic, maintains the cleanliness of her home, and provides weekly care to her ill father who currently lives in another state. Moreover, Breanna obtained SSI benefits and established paternity for her youngest child, all while grieving the death of her daughters' father. Perseverance is one of the words that can fully describe Breanna's eagerness to excel and thrive. She is currently slated to begin online schooling at Riseboro to obtain her GED, from there she plans to solidify her career path and possibly continue her education. It is commendable to honor this young parenting woman, as she exhibits strength and assertiveness to keep pushing through life's mishaps.
Devon is a success story due to his determination to accomplish his goals, thanks to the support of S:US staff. Devon was referred to S:US in January after being treated at a psychiatric center. His diagnosis of schizoaffective disorder had made it difficult in the past to stay motivated with following up on treatment services. Devon also had a history of substance use, but has been free of substances for a long period of time. Devon has managed to stay on track with completing some of his life goals. A peer specialist traveled with Devon to a mental health outpatient clinic to show Devon how to get there on his own for future visits. Devon's sobriety is a major accomplishment and it was important for him to learn how to build coping skills in the community. The staff also connected Devon to Samaritan Village for group sobriety services. Devon attends his group sessions regularly. Another recent major event in Devon's life is that he was able to secure employment and earn an income doing maintenance work. However, Devon does not want to stop there. He has ambitions to return to school to further his education and achieve higher goals. Devon's progress within a short amount of time is a testament to what one can achieve with motivation and proper support. We are so proud of Devon for his hard work and we continue to support him to get him on a path toward stability. 
Herman was very thankful for the ACT team. Ten years ago, he was depressed and wasn't doing well mentally. Herman has a mental illness diagnosis, but he was not taking his medication. One day his depression became severe and he attempted to take his life. He was taken to a hospital and was admitted for three weeks. The hospital social worker introduced Herman to the ACT team and he says that was the best thing that happened to him. The ACT team helped him get into therapy and they remind Herman about his doctor's appointments. The nurses and doctors check on him on a regular basis and "they even come to my house." Herman takes his medication every day now, thanks to the help and support from the ACT team. (S:US' ACT teams deliver comprehensive mental health treatment to individuals who have a mental illness that seriously impairs their functioning in the community. Serving those whose needs have not been met by traditional clinic-based approaches, this innovative, recovery-oriented, 'best practice' intervention delivers treatment to people in their homes, shelters, parks and anywhere else they happen to be living, engaging them in a sustained relationship that leads to recovery. ACT Teams are a mobile interdisciplinary team of professionals (psychiatry, nursing, social work, rehabilitation) and peers.)
Dario (pictured above) is Puerto Rican, openly gay, and very involved in the LGBTQ+ community. Dario was addicted to crack cocaine in his younger years, he is also a domestic violence survivor. He was incarcerated for a time in his life. Dario decided that he wanted a better life and pursued housing and assistance from S:US. Dario lost his younger brother to COVID-19, which was devastating for him and his family. Dario knew that he needed to be strong. He has strived to get things done and has made sure that his life is fulfilling. Recently, Dario moved into his own scattered-site apartment in the Bronx and continues to work on obtaining his GED. Dario says he is a happy soul now that he has his own apartment.
Adele is a resident who has mobility issues. She is motivated to engage in social activities after attending a New York State Supportive Housing Program (NYSSHP) bingo tournament. Now, Adele makes a point to go for walks and check out free local events. Adele says these walks and other events facilitated by NYSSHP help her through hard times when she is feeling down.
Glenn's employment as a peer worker was suspended during the pandemic. However, he continued to receive medical services from his primary care doctor. Thankfully, Glenn was able to adapt to these changes mentally and financially. He thanks S:US for providing meals to his housing building, which allowed him to save his money for other necessary household items. As the COVID-19 restrictions have lifted, Glenn has re-engaged in attending substance use groups. He also plans to attend a mental health and relapse prevention group in the future. In addition, Glenn has played his part in decreasing the spread of COVID-19 and is fully vaccinated. He is looking forward to returning to work soon.
We also talked to the people we support with intellectual/developmental disabilities and asked them what they would do if a friend was feeling sad, if they know how to ask for help, and what types of self-care activities they practice. 
"If a friend was feeling sad, I'd tell them to talk to someone. I'd also try to talk to them. I want to be nice, be positive for my friend."
– Richard at Bronx group home
"When I feel down, I talk to my sister Desiree. I am happy that I have her."
– David at Bronx group home
"I know how to ask for help. I call someone or say 'I need help.'"
– Jose at Queens group home
"I meditate, I go 'hum.' It's helpful. I do it when I get angry, it helps me calm down."
– Noel at Brooklyn group home
Mental Health Resources
Resources for Grief, Death, and Loss
How to Start Healing During a Season of Grief (New York Times)
LetsReimagine.org: this organization's mission is to spark a community-wide exploration of death and celebration of life through creativity and conversation. Their resources include a guide on virtual memorials and they host virtual candlelight vigil for people who died from COVID-19.
Managing Bereavement around the Coronavirus (COVID-19) (Columbia University) 
Loss Bereavement and Death (British Institute of Learning Disabilities) Please note that the use of the term "learning" disability in this British resource applies to intellectual disability.
Managing Grief Better-People With Intellectual Disabilities (University of Hertfordshire)
Loss and Grief within Intellectual Disability (University of Limerick)
COVID Toolkit Grief Resources from NADSP (National Alliance for Direct Support Professionals) Grief and Loss for Direct Support Professionals: This 24 min webinar discusses DSPs grieving  the persons supported, not their own family or coworkers, and the different types of grief. The webinar contains relevant information tailored to DSP's. It is not COVID specific. Let's Talk with Dave: When Death Happens at Work: This webinar is 55:23 mins. The webinar offers a more personal discussion regarding death in the workplace. The moderators discuss their experience with death in the field.
How People of Color Can Experience Grief Differently Than White People (Huffington Post)
COVID-19: The Third Side of the Coin (Thrive Global)
Resources for Managing Stress, Anxiety, and Depression
New York State COVID-19 Emotional Support Helpline by NY Project Hope: 1-844-863-9314. This helpline is available 8:00am-10pm, 7 days a week. A program of the NYS Office of Mental Health and funded by FEMA.
Coronavirus Anxiety Workbook: A Tool to Help You Build Resilience During Difficult Times (The Wellness Society)
Managing Stress and Anxiety in the Context of COVID-19 (New York State Office of Mental Health)
Managing healthcare worker's stress associated with COVID-19 (National Center for PTSD)
COVID-19 Wellness Resources for Staff and People OPWDD Supports (New York State Office for People with Developmental Disabilities)
Stress Management Tip Sheet (Institute for Disaster Mental Health)
Coping as the Pandemic Continues Tip Sheet (Institute for Disaster Mental Health)
COVID Toolkit for DSPs (National Alliance for Direct Support Professionals)
Your 'Surge Capacity' is Depleted-It's Why You Feel Awful (Medium) 
Self-care advice for healthcare providers (American Psychological Association)
A NY State of Mind (Headspace)
There's a Name for the Blah You're Feeling: It's Called Languishing (New York Times)
HelpGuide helps you help yourself and others with empowering, evidence-based information about mental health and wellness.
The Garrison Institute's Virtual Sanctuary offers virtual meditations, retreats, and workshops.
myStrength is an online resource full of tools to help you live life to the fullest. myStrength offers proven activities and inspirations to manage stress and feel healthy and strong. Explore tons of wellness topics or work on guided programs at your own pace. This resource is not connected to S:US services and does not have access to any data or information that a person submits to myStrength. (Use access code SUScares to sign up.)
Additional Resources 
Through your employer's Employee Assistance Program (EAP)
Local mental health providers
---