Starhill Phase I Groundbreaking Media Coverage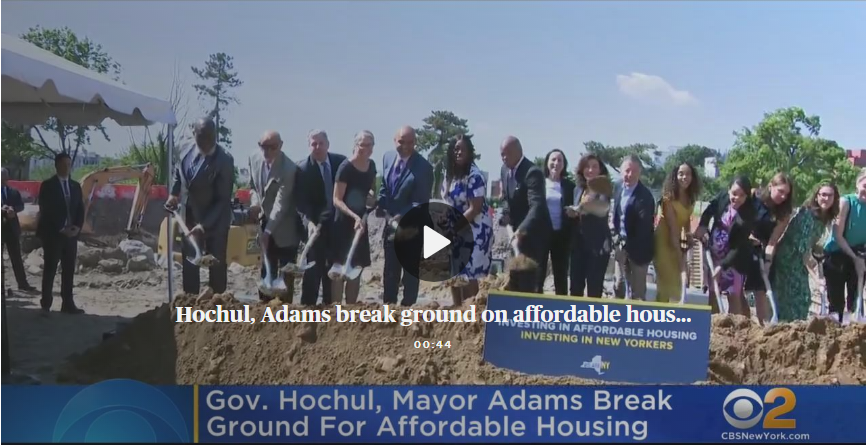 Yesterday, S:US, in partnership with Bronx Pro, broke ground on Starhill Phase I. This project will create 326 units of affordable and supportive housing in the Morris Heights section of the Bronx. Phase I construction will be completed in spring 2025.
We're grateful to Governor Kathy Hochul, Mayor Eric Adams, Bronx Borough President Vanessa L. Gibson, Senator Jose Serrano, Assembly Member Latoya Joyner, Council Member Pierina Sanchez, Community Board #5 Chair Dr. Bola Omotosho, government partners NYS Homes & Community Renewal (HCR), NYS Office of Addiction Services and Supports (OASAS), NYC Department of Housing Preservation & Development (HPD), and private lenders Enterprise Community Partners, Inc., Corporation for Supporting Housing, and Chase Bank for creating life-changing opportunities for New Yorkers.
Media Coverage
CBS New York, 7.27.22:
Broadcast Segment
ABC News, 7.27.22:
Broadcast Segment
FOX 5, 7.27.22:
Broadcast Segment
PIX 11, 7.27.22:
Broadcast Segment
News 12 Bronx, 7.27.22:
Broadcast Segment
Hochul, Mayor Adams announce groundbreaking on $189 million Bronx affordable housing development (news12.com)
News 12 New Jersey, 7.27.22:
Hochul, Mayor Adams announce groundbreaking on $189 million Bronx affordable housing development (news12.com)
Spectrum NY1, 7.27.22:
Broadcast Segment
Univision 41, 7.27.22:
Broadcast Segment
amNY, 7.27.22:
Adams, Hochul break ground on new affordable housing development in the Bronx
The City Life, 7.27.22:
Construction To Begin On $189 Million, Affordable, Supportive Housing Development In The Bronx
Multi-Housing News, 7.28.22:
$189M Bronx Affordable Housing Breaks Ground
Bronx Times, 7.28.22:
Ground breaks on Morris Heights affordable housing project, with units reserved for homeless adults – Bronx Times (bxtimes.com)
WINS News, 7.28.22:
Radio Segment
Connect CRE, 7.29.22:
Construction Underway on $189M Affordable Development in Morris Heights
Norwood News, 7.29.22:
Pierina Sanchez to Announce Community Investments at Block Party on Saturday, July 30
Press releases
NYS Governor's Office
Governor Hochul and Mayor Adams Announce Groundbreaking on $189 Million Affordable and Supportive Housing Development in the Bronx | Governor Kathy Hochul (ny.gov)
NYC Mayor's Office
Mayor Adams Announces Construction to Begin on $189 Million Housing Development in the Bronx | City of New York (nyc.gov)
NYS Homes & Community Renewal (HCR)
Governor Hochul And Mayor Adams Announce Groundbreaking On $189 Million Affordable And Supportive Housing Development In The Bronx | Homes and Community Renewal (ny.gov)
---