Supported and Affordable Housing Development for Formerly Homeless and Low-Income Families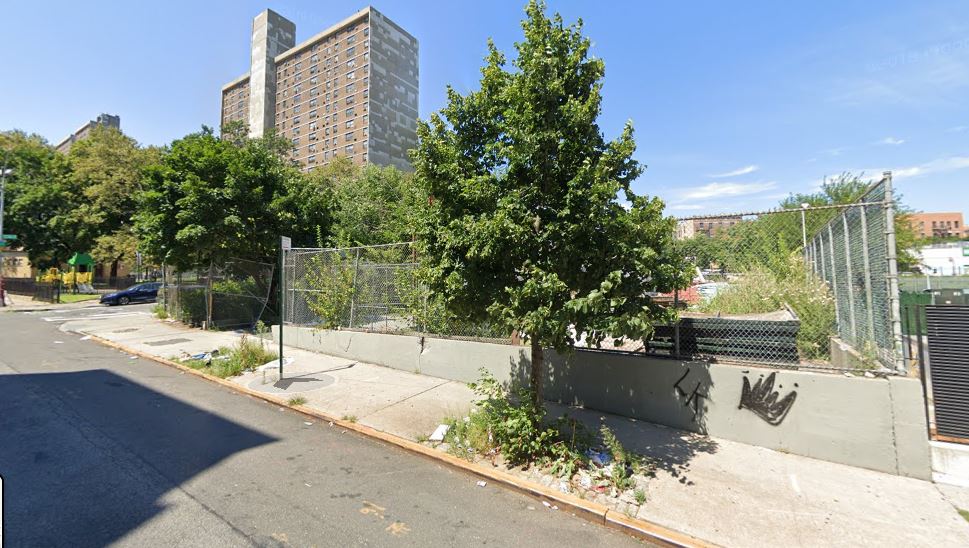 Photo credit: Google Street View
On December 17, 2020 Services for the UnderServed (S:US) and Bronx Pro Group closed on construction financing on the Melrose North project. This herculean effort was a result of over two years of creative and constructive partnership between a non-profit developer and social service provider, a for-profit developer and an array of City agencies, including NYCHA who provided the land for the development. Melrose North will create 171 units of supported and affordable housing units at 341 E162st in the Melrose section of the Bronx.
The project was awarded in July 2018 to S:US and Bronx Pro Group through a NYCHA RFP. The site used to house a trash compactor serving the neighboring NYCHA properties, which the development team temporarily relocated for the duration of construction. For the first time, a new trash compactor space will be included in the building footprint on the ground floor. The goal is to bring much needed housing and services to a currently underutilized plot of land.
Melrose North supports economic diversity in the Bronx serving households earning a range of incomes between 40% and 80% of AMI. Of the total 171 units in the development, 103 will be supported housing units set aside for formerly homeless individuals with mental health or substance use disorders, as well as individuals and families who have been victims of domestic violence. S:US will be the service provider for the supported housing units.
The project is designed and will be constructed to a Passive House standard that will significantly reduce the development's environmental impact as well as ensure the project's long-term financial viability. Common areas will include community and computer rooms, outdoor gym, laundry, play area, and community garden. The building will include 24-hour security. S:US' social service offices will be housed on the ground-floor along the Courtlandt Avenue (east) side of the building. In addition to the supportive services space, Melrose North will feature approximately 5,000 SF of community facility space on the 162nd Street side of the building to be used as a youth arts education facility operated by the DreamYard Project. They will teach Bronx youth professional development, design, and marketing skills for the burgeoning gaming industry. Finally, the project will include the construction of a new accessible ramp serving the Northbound Melrose Metro North Station.
"This complicated development demanded a lot of creative thinking. This project creates 171 beautiful supported and affordable housing apartments, and supports local community groups by providing affordable space for DreamYard, a wonderful youth arts organization, benefits for existing NYCHA residents, and a new accessible ramp to the Metro North station. I would like to thank our government and private partners, especially our longtime partners at Bronx Pro Group. And I must extend a special acknowledgment to my colleague Martha Masoero, S:US' Director of Housing Development, for all of her skilled work in getting the pieces to fit together for the closing," said Arlo Chase, S:US' SVP of Real Estate and Property Development.
The total development cost is $91.7 million. Melrose North is financed through HDC tax-exempt bonds and subsidy, HPD financing through the Supportive Housing Loan Program (SHLP), tax credit equity syndicated by Enterprise, a construction loan provided by JP Morgan Chase and $1.9M from the Federal Home Loan Bank of New York. Fifty-two of the supported housing units will receive NYC 15/15 HRA subsidy for the social services and matching rental assistance from HPD to cover operating expenses. The remaining 51 supported housing units are funded by the Empire State Supportive Housing Initiative (ESSHI) through the Office of Temporary and Disability Assistance.
The building was designed by Curtis + Ginsberg Architects and the General Contractor is Home Builders.
S:US is excited to embark on the construction of this new building and is grateful for its many long-term partnerships that made this deal possible. Construction is expected to be completed by June 2023.
---