S:US' Annual Benefit Raises Record $450,000 For Housing Services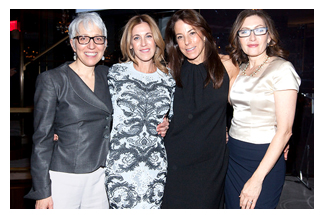 S:US is committed to creating affordable housing opportunities for the people who come to us for services, but we couldn't do the work without the support of our community. Last night we hosted our 2014 Annual Benefit and surpassed this year's fundraising goals with a record $450,000 donations that will help fund our services.
Held in New York's legendary Rainbow Room, this year's benefit was the first hosted by Women for S:US, an affiliate group uniting two generations of women, emerging and established businesses and philanthropic leaders with one mission: housing for all. With this mission in mind, S:US honored Peter Magistro and Samantha Magistro of Bronx Pro Real Estate Management, for their company's commitment to developing and building quality affordable housing.
Over 55,000 New Yorkers are currently experiencing homelessness, creating an increased demand for the housing services S:US provides. But S:US' work goes further than erecting buildings. With our partners and friends we create homes that provide a foundation for better lives, better communities and a better New York.
"I was amazed by the community when I had the opportunity to visit an S:US site," says actress and New York Times bestselling author Annabelle Gurwitch, who served as the Master of Ceremonies for this year's benefit. "There is a spirit of generosity and humility that I felt in every individual I met. I'm new to the S:US family, but already feel like I'm a part of it."
Guest speaker Gail K. McCallion, shared the story of how her family joined S:US 10 years ago, after her daughter, who has autism, came to live at one of our residences. McCallion's daughter, Meghan, cannot speak, and had experienced outbursts, weight gain, hair loss and a sensitivity to sound, but after coming to S:US, has flourished.
"S:US has provided Meghan with a home, which is a lot more than simply a place to live," says McCallion. "She shares an apartment with another woman with disabilities and they have 24 hour supervision. She is well known in the neighborhood, especially in the grocery store, pharmacy, laundry and beauty parlor where they know her on a first name basis. Because of S:US Meghan is living her life to the full potential that she was given. That is quite an incredible accomplishment and no parent can ask for more."
We know that success stories like Meghan's are more than possible when there is support. "Not everyone begins at the same starting line," noted Donna Colonna, CEO of S:US during her remarks. "Some people need a little more support than others. Some people have challenges that derailed their life plans. Some people are born into a life with challenges and never really get started. Enter S:US… here we are in real time trying to make the world a better place." In closing with the words "let's do it together" Colonna invited guests to join S:US on this continued mission.
Guests got even more of a taste of S:US programs and services and walked away with jars of honey produced through S:US' Urban Farms programs.
S:US thanks the benefactors, sponsors, patrons, supporters and friends who made this year's benefit a success!
See pictures from the 2014 S:US Annual Benefit here. 
DONATE or discover more ways to SUPPORT S:US.
CLICK TO BUY Glassybaby's custom S:US "Empower" candle holder that decorated tables at the benefit, and 10% of proceeds will benefit S:US.
WATCH how S:US is creating more opportunities for affordable housing in this video:
Services For The UnderServed: Housing Is A Human Right from Services for the UnderServed on Vimeo.