Celebrating Health, Opportunity, and Community Through Urban Farming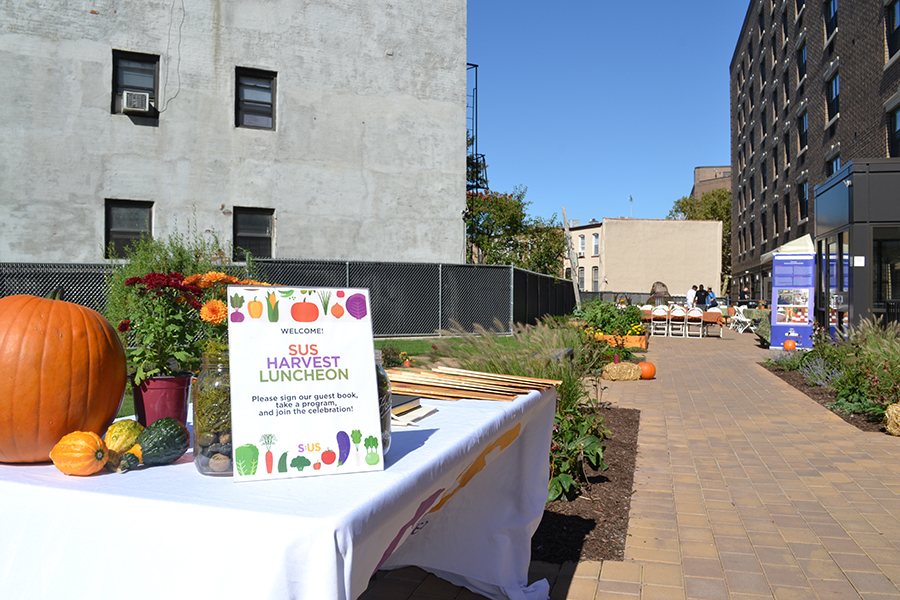 Photo credit: S:US
On September 15, 2017, S:US hosted its annual Luncheon to celebrate the harvest of our eight urban farms, which every year engage over 500 New Yorkers impacted by homelessness, poverty, addiction, and disability in New York City. Through their work on the urban farms and gardens, urban farmers gain employable skills, generate income, build self-esteem, and enjoy the nourishing health benefits of fresh, organic produce. At this festive event, the urban farmers shared their successful growing season through a meal, prepared and served by them, made from produce they grew on the farms.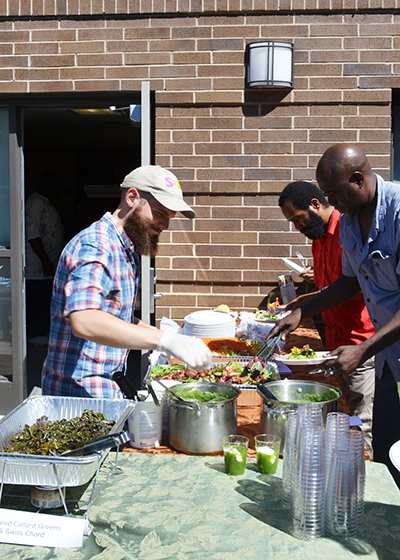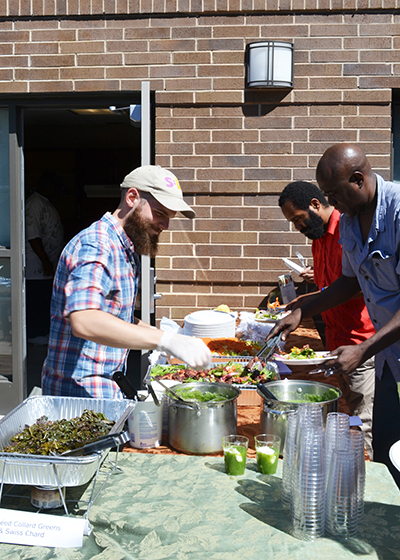 The event opened with heartfelt comments from one of the S:US urban farmers, Valerie, an individual with a developmental disability who has worked on the farms for nearly four years. "I thank God that I can be with the urban farms today," she said. "I really appreciate what they have done for me."
"S:US' urban farms go way beyond just creating food for the people that live in our residences," said S:US CEO Donna Colonna. "The farms have meant bringing together housing, access to good nutrition, health, learning about horticulture, jobs, and really engaging with the community."
The event took place at the newest S:US urban farm at the Henry Apartments, S:US' supported housing residence in the Ocean Hill/Brownsville neighborhood of Brooklyn. The Henry Apartments was developed through a close partnership between S:US, Alembic Community Development, and Brooklyn's Community Board 16.
Speaking about the close community engagement in S:US' urban farms across New York City, Colonna continued with, "I think that really represents S:US' philosophy – not just building housing for people with intellectual/developmental disabilities, or supported and low-income housing for communities, but being partners in a community that we live in. And that's something that we are very proud of."
Among the day's speakers was Bennett Baruch, Capital Director at the Office of the Brooklyn Borough President. "This is a beautiful building. It has a beautiful mission, and it's full of beautiful people," Baruch said. "Just what I've seen here today really falls right within the Borough President's wheelhouse when it comes to sustainability, urban farming, and affordable housing."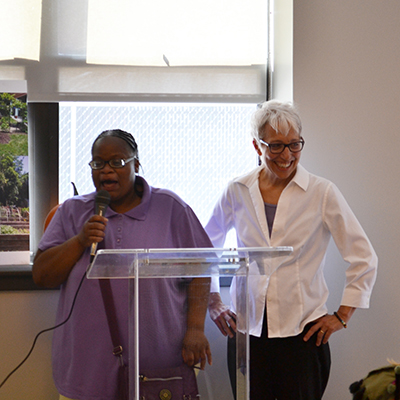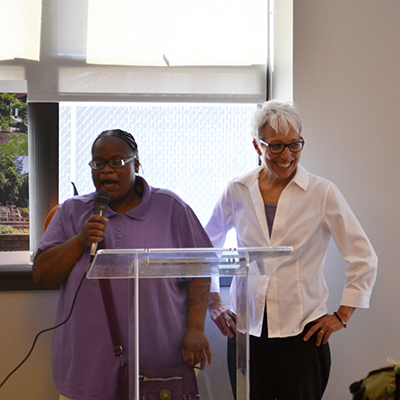 Michael Hollis, Director of S:US' Urban Farms Initiative, said, "At the heart of S:US Urban Farms are our participants, and I'm excited each year to celebrate the amazing work of our team of green thumbs across all of S:US. At the core of the urban farms' mission is creating opportunity. We are proud to advance that mission by creating opportunities that apply the skills and commitment of our urban farmers."
Hollis went on to introduce some of the urban farmers who harvested and prepared the afternoon's meal. "This is my first year with Urban Farms. I've learned a lot about healthy nutrition, eating, and how to grow, maintain, and finally harvest different vegetables in our backyard farm," said Walter, an urban farmer at S:US' Dewitt residence for people who have been challenged by mental illness and histories of homelessness.
Rhonda, who also works on the Dewitt farm, was the main chef of the day's meal. "I used to work at Chelsea Piers for Spirit Cruises, but I had to leave that job. But S:US Urban Farms has helped me stay involved in what I love to do, which is cooking."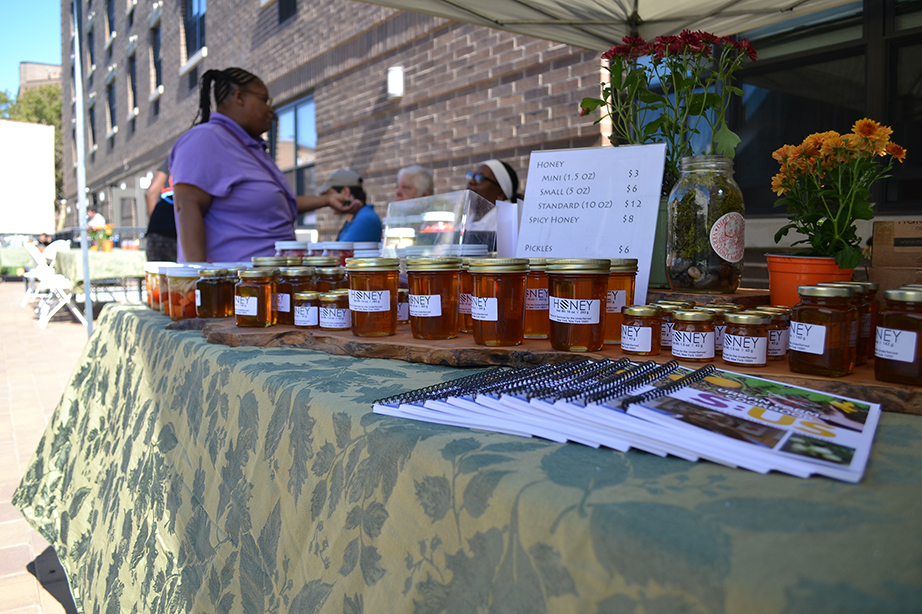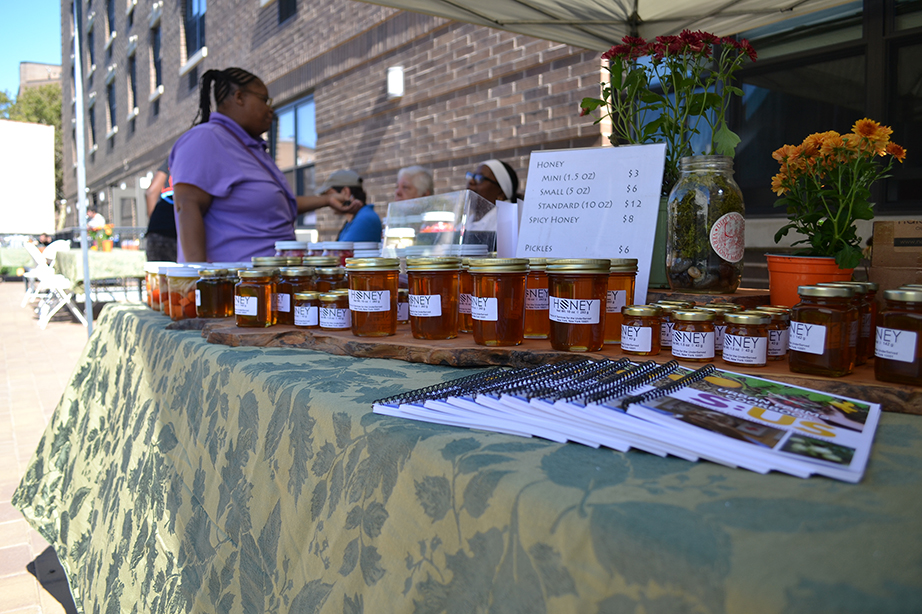 Among the delicious menu selections were chilled mint and melon soup, beet salad, eggplant parmesan, and sautéed collard greens. Attendees also enjoyed a market table of urban farm products, such as honey, pickles, coleslaw, and cookbooks.