S:US Hosts Annual Developmental Disabilities Championships & Family Fun Day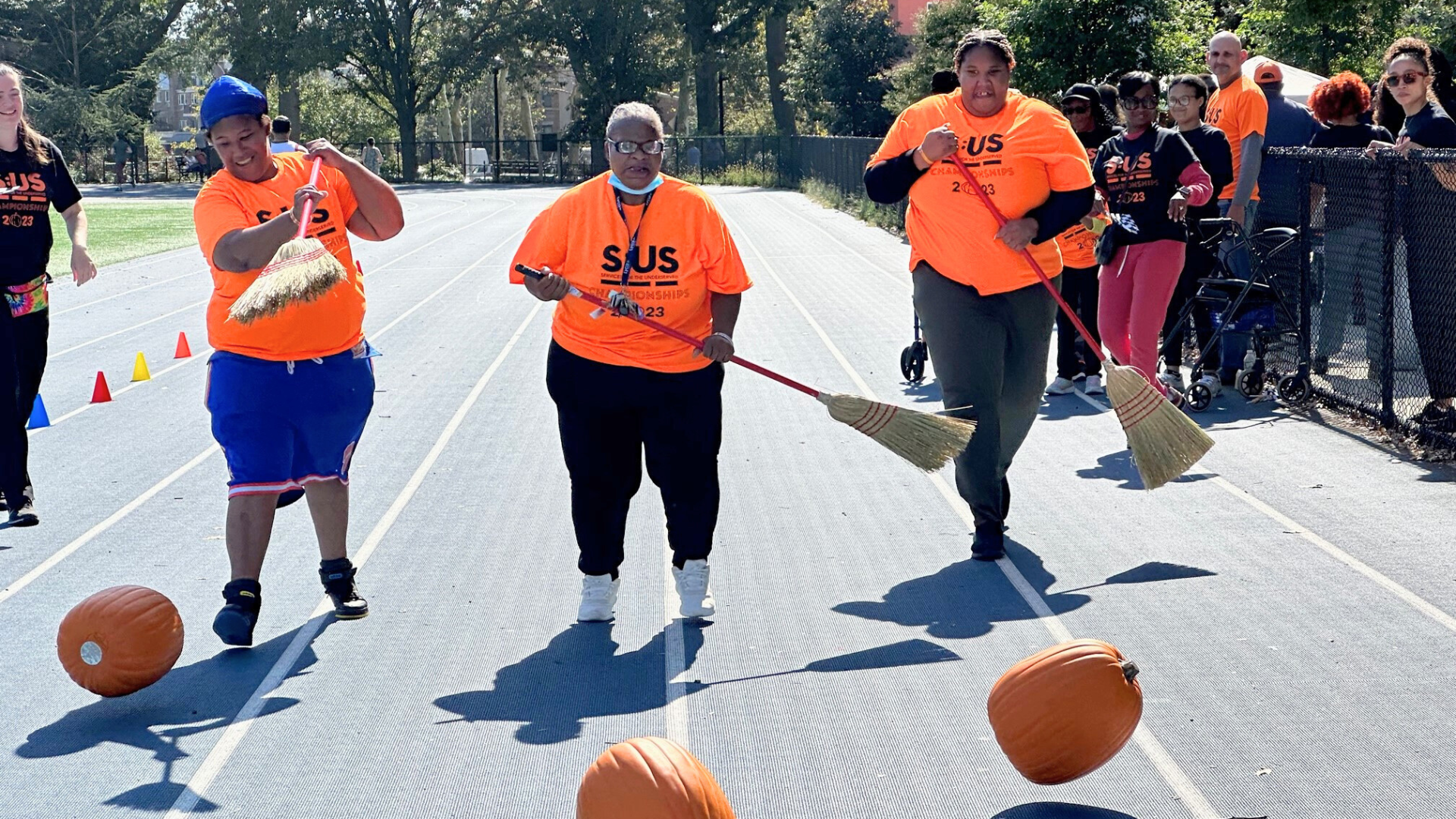 Photo: People served by S:US compete in a pumpkin race.
Click here to view all photos.
FOR IMMEDIATE RELEASE:
Thursday, October 5, 2023
MEDIA CONTACT:
Jack Lynch
[email protected] | 908-487-1756
---
S:US is New York City's Leading Organization Working to Help Adults with Intellectual/Developmental Disabilities Live, Work, And Participate in their Community
Queens, NY — Services for the UnderServed (S:US) hosted its annual Developmental Disabilities Championships and Family Fun Day on Thursday at Astoria Park in Queens. The once-a-year event celebrates people with intellectual/developmental disabilities (I/DD) that S:US serves across New York City.
"At Services for the UnderServed, we believe that with the right support, everyone can live a meaningful and fulfilling life within their community. This event is a celebration of that community and an opportunity for the people we serve to share time together with their families," said Perry Perlmutter, CEO of S:US.
Services for the UnderServed supports approximately 800 people with intellectual/developmental disabilities (I/DD), as well as neurologic and psychiatric disorders. The organization is guided by the belief that, with the right set of supports, people with I/DD can live, work, and participate in their community, deepen relationships with friends, family and others, direct their own lives, and experience life to their fullest potential.
"We are so grateful to be able to bring the people we serve together with their families and our staff to enjoy a day of friendly competition," said Jajaida Gonzalez, Vice President of Day Services at S:US. "Days like today are a joyful celebration of the work that they each put in year-round to build individual practical skills and deepen their social connections."
Thursday's event began with an opening ceremony and Olympic-style parade. Participants also competed in a variety of track races and field competitions. All competitors received medals, and trophies were awarded to first-place finishers. Arts and crafts and other activities followed, including a basketball tournament.
If you or a family member are interested in learning more about the services that S:US provides for people with intellectual/developmental disabilities, email [email protected] or call 877-583-5336.
###
S:US envisions a city where everyone has a roof over their head, is healthy, productive, and can enjoy the social connections that create a life of purpose. S:US has a staff of 1,800 that provides $273 million in services. Their efforts are supported by various local, state, and federal government entities, foundations, corporations, and individual donors. Most importantly, S:US' vision allows the organization to deliver the same quality of services to one individual or to thousands.