S:US Partners with Infinity Drain to Provide Hot Meals for Long Island Community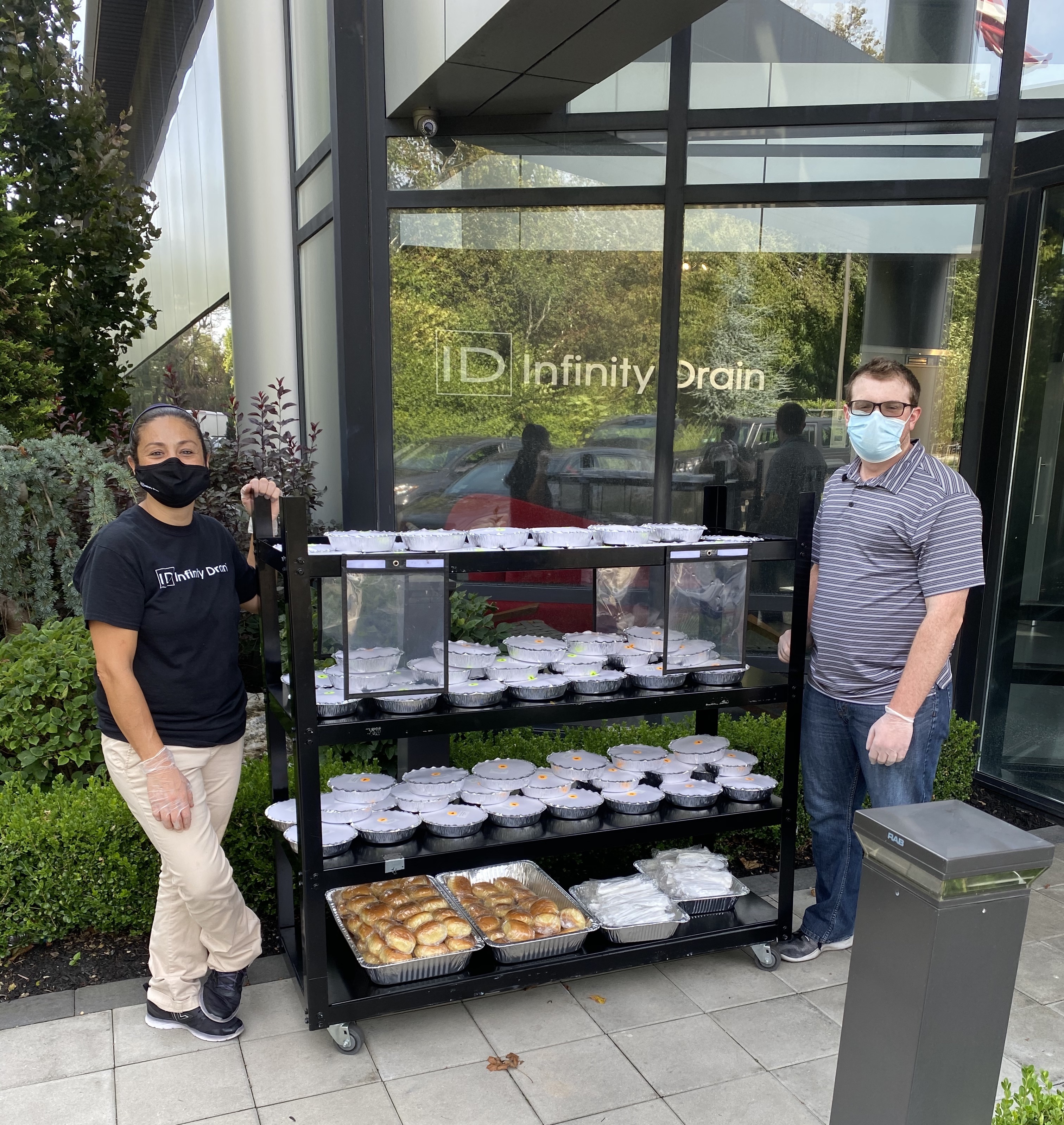 Photo credit: Infinity Drain
For immediate release
Contact:
Catherine Hoy
(609) 490-0999, ext. 25
[email protected]
In an effort to give back during these troubling times, Infinity Drain has partnered with Services for the UnderServed to provide home-cooked meals and dry goods for its local community.
Amityville, NY, November 2020 – Infinity Drain, the manufacturer at the forefront of architectural and decorative drains for both indoor and outdoor applications, has partnered with Services for the UnderServed (S:US) and Long Island Cares to prepare and serve hot meals as well as collect and donate dry goods for members of their local community.
"What began as an effort to provide personal protective equipment for our employees at the start of the pandemic, quickly transformed into a much larger endeavor to serve our community," states Jonathan Brill, Infinity Drain President. "We joined forces with other local businesses to order 40,000 masks, sold what we had leftover and donated those profits to local organizations."
Quickly recognizing a greater need in the surrounding neighborhoods, not only for PPE but for food and comfort as well, Infinity Drain partnered with S:US and Long Island Cares to give back in a much larger way.
"We're grateful for the generosity of Infinity Drain in providing hot homecooked meals to the most in need families served by S:US on Long Island. COVID-19 has weakened the safety net for vulnerable New Yorkers and these times are especially challenging for those who have lost their jobs. S:US is helping thousands of New Yorkers during this crisis, thanks to the support of partners like Infinity Drain. Jonathan Brill and his team have been absolutely wonderful and everyone is a pleasure to work with, including their kind and talented chef," said S:US Chief of Staff Judith Jackson.
"There's a lot of food insecurity happening right now on Long Island. Many people don't know when or where their next meal is going to come from," continues Brill. "We wanted to make life a little easier for folks during these hard times, so we began preparing boxed lunches in the BBQ truck we use for trade shows. And now, we cook three times a month in a commercial kitchen we established in our warehouse."
Since the start of the pandemic, Infinity Drain has prepared over 400 meals for churches, homeless shelters and veterans.
## 
About Services for the UnderServed
Services for the UnderServed (S:US) drives scalable solutions to transform the lives of people with disabilities, people in poverty, and people facing homelessness: solutions that contribute to righting societal imbalances. Founded in 1978, S:US works with more than 37,000 individuals and their families every year to create pathways to rich and productive lives by offering housing, employment, skills-building, treatment, and rehabilitation services. For more information, visit sus.org.
About Infinity Drain
For over a decade, Infinity Drain has established itself as a leader in design-centric decorative shower drains with a reputation of unsurpassed quality.  From hand polishing decorative grates to custom fabrication – all at the exacting specifications of customers, Infinity Drain offers the broadest selection of decorative choices and installation options. Its award-winning designs and innovations, including the Site Sizable® linear drain, continue to shape barrier-free bathroom design. Infinity Drain is revolutionizing bathroom installation with its completely waterproof Stainless Steel Shower Base backed with an original owner lifetime guarantee. Infinity Drain products are proudly fabricated in Long Island, NY, USA. For additional information, visit infinitydrain.com.