S:US Partners with KELLS to Advance Access to Oral Healthcare Screenings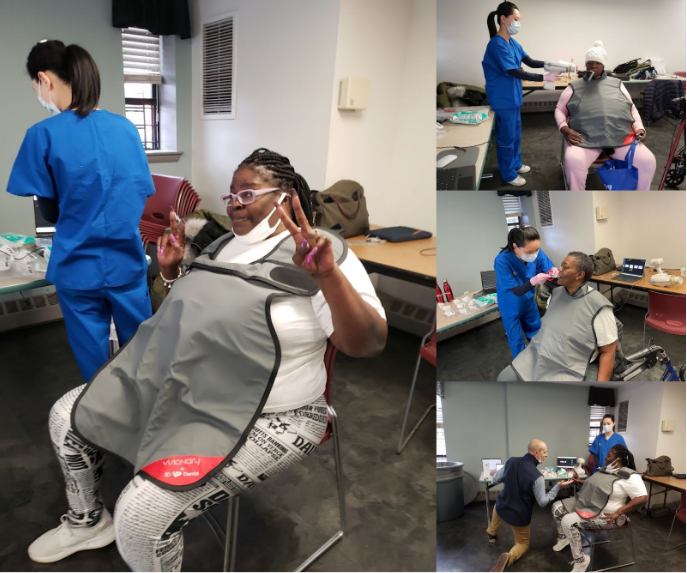 Photo credit: S:US
Bronx, NY, April 2022 — Services for the UnderServed (S:US) and KELLS, an AI-driven dental diagnostic platform, are working together to ensure individuals in underserved communities have access to oral health screenings to inform timely, effective healthcare decision-making.  
During a recent event at a supported housing in the Bronx managed by S:US, KELLS, and the Empire BlueCross BlueShield community outreach team provided oral screenings for children, adults, and seniors. Many of these individuals hadn't had an oral screening for some time.
KELLS provides a first-of-its-kind teledental screening that combines its proprietary AI technology, portable sensors and remote dentists to deliver accurate, fast evaluation of dental conditions without the need to visit a dental office. Dentists get help managing the diagnostic process, while patients get a simple, easy-to-interpret report about their oral health and potential need to seek out additional care at a community dentist.
At the event, the KELLS rapid screening process completed as many as 8 oral evaluations in an hour, or one every 7 minutes, and surfaced over 12 different cavities in varying stages of severity. The painless screenings also identified multiple high-risk individuals with potential periodontal disease.
"The success of this community event shows that it's entirely possible to democratize dental care. We're excited to be making better oral health a reality by combining the most effective elements of machine learning and telehealth with the clinical judgment of experienced dentists," said Dr. Jie Feng, CEO and Co-Founder of KELLS. "With this approach, we can address care disparities, achieve better health outcomes for at-risk individuals, and reduce costs for individuals, payers, employers, and others across the care continuum."
A healthy mouth and regular preventive care are important for everyone, but traditionally disadvantaged individuals are at significantly increased risk of pain, disfigurement, and broader complications from neglected oral health issues. For example, over 40 percent of low-income, non-Hispanic Black adults have untreated tooth decay, and low-income or uninsured adults are three times as likely to have multiple untreated cavities compared to insured individuals.  
"High-quality dental care is out of reach for too many people across all socioeconomic groups, but especially in middle and low-income communities," said Minjung Park, S:US Volunteer & Community Relations Manager. Companies like KELLS can help identify oral health concerns early in their development and help people connect with dentists in a timely manner, ensuring they get the care they need to stay healthy.
###
About Services for the UnderServed
Services for the UnderServed (S:US) drives scalable solutions to transform the lives of people with disabilities, people in poverty, and people facing homelessness: solutions that contribute to righting societal imbalances. Founded in 1978, S:US works with more than 37,000 individuals and their families every year to create pathways to rich and productive lives by offering housing, employment, skills-building, treatment, and rehabilitation services. For more information, visit sus.org.
About KELLS
At KELLS, we are obsessed with improving oral health for everyone powered by transformative technology. It starts with identifying problems early in the mouth. KELLS uniquely brings teledentistry and AI together in an on-demand oral screening service that increases patient awareness of oral health while empowering them to take preventative actions or seek treatments. KELLS is working with healthcare providers, payors and organizations to make dental care more efficient, accurate and accessible. For more information, visit getkells.com.
---