S:US' Positive Psychology Approach to Serving People in Crisis and Their Families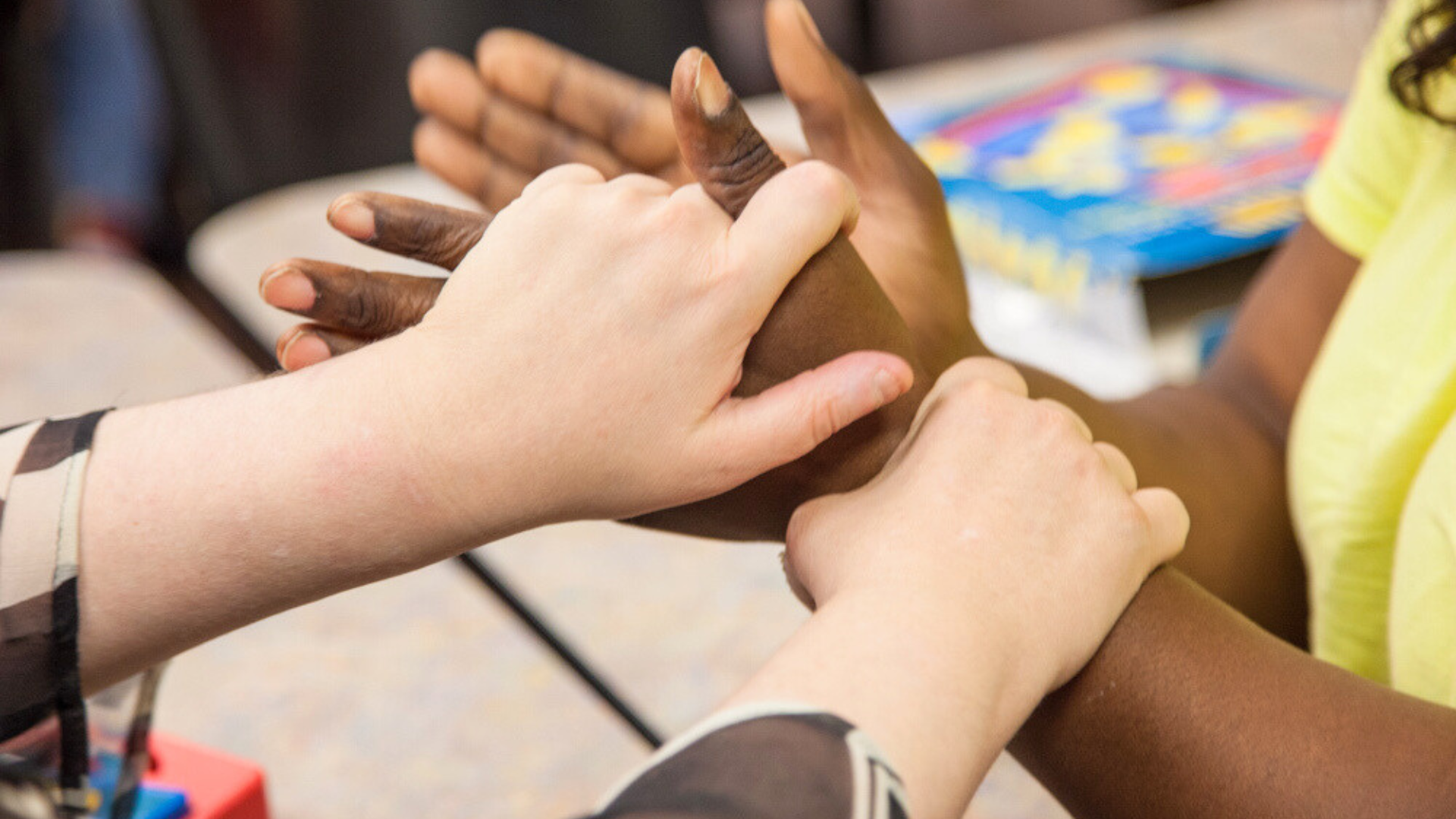 Photo: S:US.
By Lori Lerner, LMSW, RYT-200 hr., S:US Coordinator of Family and Wellness
Autism Spectrum News
Fall 2023
Since 2016, Service for the UnderServed's START/CSIDD (Systemic, Therapeutic, Assessment Resources and Treatment and Crisis Services for Individuals with Intellectual and/or Developmental Disabilities) Program offers crisis prevention and response services to people who have both developmental disabilities and complex behavioral needs and their families and support system. To participate in the program, the person must reside in Brooklyn or Staten Island in New York, either with family or in a group home; the person must be OPWDD-eligible and age 6 or over. The participant and their family or caregiver are assigned to work with a START Clinical Coordinator. The Clinical Coordinator works with the person's whole circle of support including family members, advocates, therapists, teachers, doctors, and day habilitation program staff along with additional resources as needed.
The goal of the program is to build relationships and supports across service systems to help people remain in their homes and communities as well as to enhance the ability of their social network and community to support them. Wraparound services are provided to promote stability and help participants stay at home, thereby minimizing hospitalization stay. A full assessment with a biopsychosocial approach, understanding their diagnoses and medication, is done with participants and their team to determine the best ways to provide support. Aminata Sesay, S:US' START Clinical Team Leader shared, "When working with the whole circle and family, staff ask themselves, 'What can we do to make the situation better to focus on their strengths and not challenges?'" In addition, communication resources are provided to promote ease among the family. Services are recommended based on observations made about the participant and their Care Manager helps the person obtain them.
START/CSIDD clinical coordination is provided for an average of 18 months to enhance the participant's wellbeing and promote stability. The Clinical Coordinator along with their Care Manager will work to get the participant any additional services such as psychotherapy, speech, occupational and/or physical therapy. Therapeutic coaching may also be provided to participants in their home, which promotes de-escalation techniques. The program has a 24/7 crisis hotline. When a family member or advocate calls, staff visits the participant's home as soon as possible to assess the situation, collaborate with the team, and to provide support. The goal is to promote wellbeing and stability and reduce unnecessary emergency services.
S:US also has the Resource Center which offers a respite stay (14-21 days) for a person in crisis with a developmental disability and complex behavioral needs. A person is eligible if they are enrolled in the START/CSIDD program, age 18 or older, and live in their family's home (if they live in a group home, approval must be obtained first from OPWDD beforehand). The Resource Center can prevent hospitalization or offer respite after being discharged from the hospital before returning home. A planned stay (3-7 days) is also an option to help the participant build their capacity to cope, self-regulate, become more stable, build new skills and interests, and help manage their medication, along with supporting their family with the participant's stay away from home.
The four goals of the Resource Center are to provide "…crisis stabilization, assessment, treatment, and identification of interventions to reduce stress for the person and system."1 As Cindy Cohen, S:US' START/CSIDD Director shared, "a planned stay at the Resource Center gives the whole family and participant breathing room. Our interventions help the whole circle of support shift their attention away from their challenges towards a re-focus on their strengths."
S:US' START/CSIDD and Resource Center are steeped in utilizing positive psychology and a strengths-based perspective with the participant, their families, and advocates. As Magney Hector-Williams, S:US' CSIDD's Therapeutic Center Director explains, "…the focus is on their strengths, not their challenges. When we identify their strengths, it increases their positive self-regard, their self-esteem, and their engagement with the program." According to Angela Lee Duckworth, Tracy A. Steen, and Martin E.P. Seligman, "Positive psychology is the scientific study of positive experiences and positive individual traits, and the institutions that facilitate their development. Troubled persons want more satisfaction, contentment, and joy, not just less sadness and worry. They want to build their strengths, not just correct their weaknesses. And they want lives imbued with meaning and purpose… Furthermore, the fostering of positive emotion and the building of character may help – both directly and indirectly – to alleviate suffering and to undo its root causes."2 The staff and counselors weave in the principles of positive psychology through exercises, practices, and engagement to increase positive self-regard, self-esteem, nurture one's strengths, and deepen one's gratitude, meaning and purpose. As described in The Community of Practice for Supporting Families of Persons with Intellectual and Developmental Disabilities, "Within positive psychology, disability is seen from a lens of hope and opportunity rather than as pathology (Wehmeyer, 2013)."3 Through practices, interactions and exercises, the shift towards strength and positivity promotes self-esteem, growth, and engagement.
From the outset, START/CSIDD and the Resource Center teams follow a strengths-based philosophy steeped in positive psychology and PERMA (Positive Experiences; Engagement; Relationship; Meaning; and Achievement). These practices are inherent in all interactions and treatment provided. Additional assessments include a happiness assessment, a University of Massachusetts Recent Stressors Questionnaire, and a medication evaluation. A treatment plan is created to build on their strengths, happiness, resilience; and modeling these qualities for family members and caregivers is essential to provide as much stability and support as possible. At the Resource Center, a safe, positive, and low stimulation environment is maintained. Participants are provided with opportunities to identify and build on their strengths through solution-focused skill building as well as therapeutic supports and positive experiences. Therapeutic group activities promote positive, strengths-based approaches and skills. Exercises to foster gratitude are conducted to build a shift in perspective and a grounding in noticing what is good, beneficial, and helps give meaning to their life. Identified strengths are posted on the walls of the participant's room and their names are written on their bedroom door which helps build their rapport with staff and increase their self-esteem and engagement.
As Martin E.P. Seligman, Ph.D., writes in his book Authentic Happiness: Using the New Positive Psychology to Realize Your Potential for Lasting Fulfillment, "Experiences that induce positive emotion cause negative emotion to dissipate rapidly. The strengths and virtues… function to buffer against misfortune and against the psychological disorders, and they may be the key to building resilience. The best therapists do not merely heal damage; they help people identify and build their strengths and their virtues."4
Therapeutic practices utilized at the Resource Center include:
Identifying a "Word of the Day" to emphasize a strength and call attention to it when someone embodies its qualities throughout that day;
A Positive Affirmation Board in participant's bedroom to describe three strengths from their plan;
A Strengths Spotting envelope is created on their first day with strengths added daily as they exhibit them; and
A Positivity Tree in a communal area to identify strengths.
At the end of their stay, each participant receives a certificate which identifies their top three strengths. These practices help the participant and their caregivers "…focus on using wellness practices to improve the mental health stability… help increase social engagement with others, identify new or enhance existing interests and wellness activities to be used across settings to decrease stress and increase happiness."5 The intent of these therapeutic practices is to help the participant develop and deepen strengths that they can tap into when they leave the Center and return home.
Family members and caregivers who receive support from S:US' START/CSIDD program have shared similar coping techniques and positive support. Some common themes that came up among family members interviewed are the need for social support, whether it comes from staff or people in their social circle and the empathy that comes with it; regular exercise; time outside in nature whether it be in their garden, taking walks or hikes in nearby parks; and time with their loved one with a disability especially when they are engaged in an activity which increases their sense of agency and brings a sense of harmony and ease into their family. An overwhelming majority expressed gratitude for the visits that their loved ones have had at the Resource Center and the support they receive from their Clinical Coordinator during their home visits. Debbie, who has a son with a disability and lives with her, is enrolled in START/CSIDD and has also stayed at the Resource Center. She appreciates the kindness inherent in the treatment and the consistent routine that he experiences during his overnights stays. She expressed, "I appreciate the suggestions and strategies that my Clinical Coordinator has shared with me to help foster ease with my son. Staff have been amazing with him, they are so kind, compassionate, and respectful. COVID-19 was really stressful because without the routine of an in-person program, my son developed a lot of challenging behaviors. I needed support and assistance because it was really difficult. The Resource Center and staff are so comforting, warm, and loving; my son wishes he could go every weekend. He packs his bag and leaves it by the door hoping he can go. I'm so grateful and thankful that we found this program!"
Another mother, Heidi, has a 21-year-old son with a disability who lives with her and his two siblings. Her son is enrolled in the START/CSIDD program to obtain support and build on his strengths. He has had both planned and unplanned stays at the Resource Center. Heidi shared, "My son loves it there! He gets along with everyone; he has peers with whom he can interact. The staff are very comforting, and they go to parks, stores, and shop in the community. They help build his skills which he continues to use at home. I don't have that much support in my community. I get support from START/CSIDD, and I am grateful."
S:US' START/CSIDD and the Resource Center serve the families and their whole circle of support just as much as the person in crisis seeking services. The foundation of positive psychology and a strengths perspective is intrinsic to how they assess and treat the person in need along with their family members and caregivers. Staff model this foundation in how they interact with the whole circle in helping people identify their strengths and supporting them to stay strengths-focused, instead of only on their challenges. In the book Fred and Me: a Willowbrook Survivor's Story, the professor and sibling of a brother with intellectual/developmental disabilities, Allan B. Goldstein, shares, "Self-esteem can be built even with small tasks."6 When START/CSIDD and the Resource Center teams treat the person in need, whether it is in their home or at the Center, they build self-esteem one step at a time with inherent value and meaning by witnessing their strengths and helping them to identify, remember, and focus on their strengths on a daily basis. The emphasis on positive psychology helps the participant and their caregivers thrive and flourish, not only when they are receiving support, but also, and just as importantly, when they leave the Center to go out into the world and engage with their community.
Lori Lerner, LMSW, RYT-200 hr., is Coordinator of Family and Wellness at Services for the UnderServed (S:US). Ms. Lerner may be contacted by email at [email protected] or by phone at (917) 408-5366.
References:
1. START Resource Center Supports Manual, National Center for START Services University of New Hampshire Institute on Disability, January 2023.
2. "Positive Psychology in Clinical Practice" by Angela Lee Duckworth, Tracy A. Steen, and Martin E.P. Seligman, Annual Review Clinical Psychology, 2005.
3. "The Community of Practice for Supporting Families of Persons with Intellectual and Developmental Disabilities" by Michelle C. Reynolds, Diana Caldwell, Natalie Boonchaisri, Katharine E. Ragon, and Susan B. Palmer, Intellectual and Developmental Disabilities, 2022, Vol. 60 No. 2, 85-100.
4. "Authentic Happiness: Using the New Positive Psychology to Realize Your Potential for Lasting Fulfillment" by Martin E.P. Seligman, Ph.D., Atria Paperback, New York, NY, 2002.
5.  START Resource Center Supports Manual, National Center for START Services University of New Hampshire Institute on Disability, January 2023.
6."Fred and Me: a Willowbrook Survivor's Story" by Allan B. Goldstein, Independently Published, New York, NY 2021.
---