S:US Takes Over Astoria Park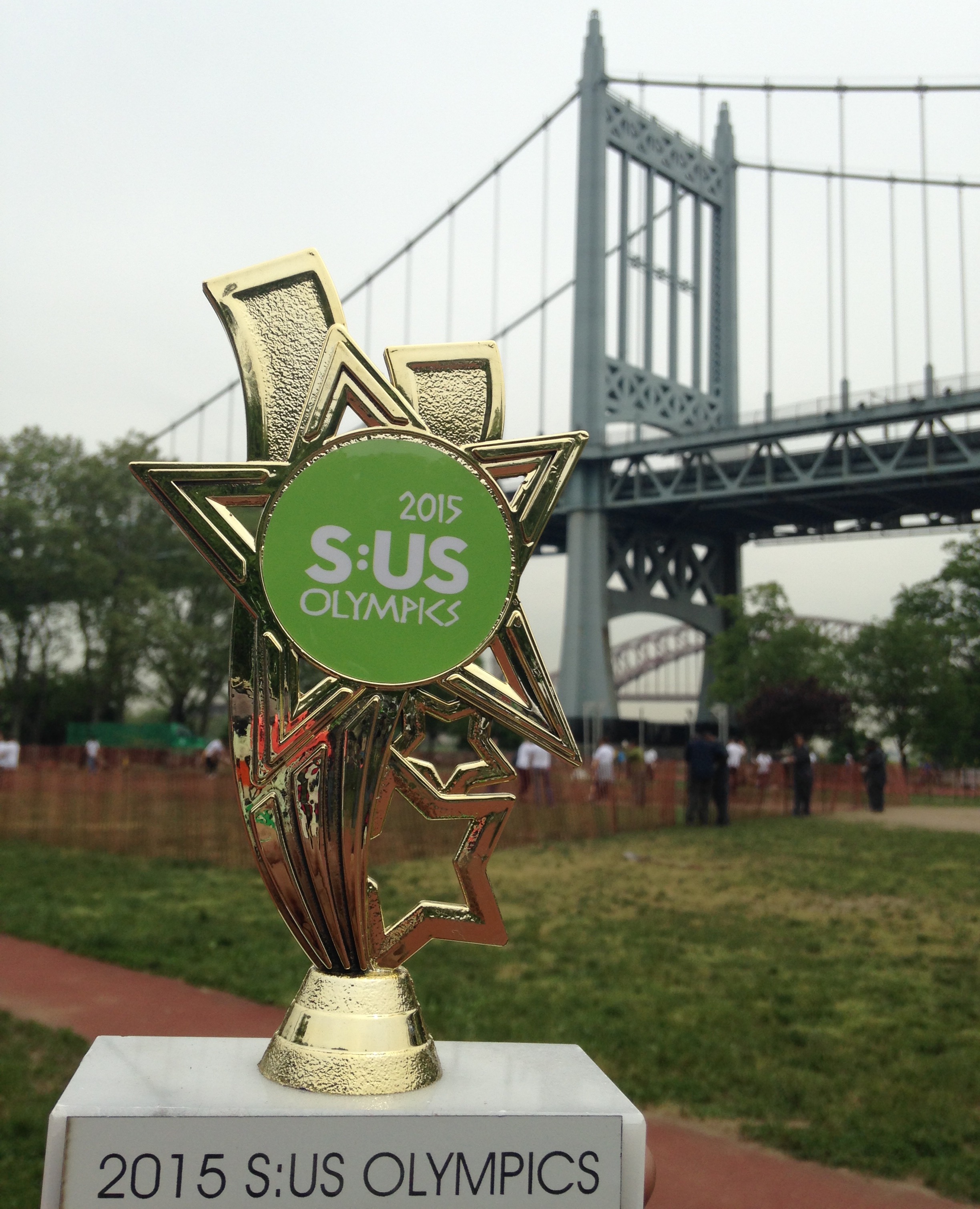 "Never underestimate the power of dreams and the influence of the human spirit. We are all the same in this notion: The potential for greatness lives within each of us." –Wilma Rudolph, USA gold medalist in track and field
S:US' brightest athletes flocked to Astoria Park with one goal in common: to return home with a medal, a trophy — or a collection of both, in the case of many competitors. The 5th Annual S:US Olympics and Family Fun Day celebrate the accomplishments of the participants in our Developmental Disabilities programs as they take center stage as athletes. They show up with a passion and determination you'd expect from any Olympian going for the gold.
The day kicked off with an Opening Ceremony where over 25 groups proudly marched onto the center field carrying colorful banners and signs to represent their S:US program or residence. After a session of stretching and fun dancing to hit played by New York's DJ Dynasty, our competitors put on their game faces and it was time for the games to begin.
WATCH: See snippets from Opening Ceremony  here and here on our Instagram page @S:US_org and follow us!
Competitions were held all day around the park and included sprints and relay races, a bean bag toss, basketball championship, batting competition and more. As is the case with many athletes, competing in these sports gives a sense of joy, confidence and fulfillment. "I've been with S:US for 5 years and I'm learning alot but this is my favorite day," said Jason Brown, a Valentine IRA resident. "I'm working towards graduation and learning how to be more independent. I'm learning how to take the train or bus. I'm learning how to save money. Now I'm a winner," he said while showing off several medals and a trophy he won from competing in track races.
The sprit of the games could be felt even amongst those participants who didn't come in first place. After one basketball team lost, leaving a player upset and disappointed, his teammate came alongside of him and said "That's OK! Try again! We'll do better next time" and they walked off smiling.  During the races, many runners could be seen slowing down or even running back to run alongside others who weren't as fast as the pack. Though the competition was stiff, the day was just as much about friendship and fun.
In addition to the sports, an arts and craft station offered a creative outlet to make paintings and picture frames, hundreds of attendees enjoyed lunch under tents around Astoria Park and the DJ kept the party going as people flocked around to dance. "I love that we get to hear music while we're doing the events," said Richard Oliveri a Throop Ave. resident.
The successful and fun-filled day would not have been possible without our Young Leaders Council (YLC) who raised over $15,000 at their annual Spring Fling benefit to fund all activities. We would like to extend a huge thank you to our YLC and sponsors TemPositions, Fluent, FusionStorm, Bond, Schoeneck & King and Broadview Networks, for their contributions.
CLICK HERE to see more pictures from the 2015 S:US Olympics.
READ MORE: The YLC Raises Over $15,000 For S:US' Annual Olympics
For more information about S:US's Developmental Disabilities program  click here.