S:US' Warriors Basketball Season Schedule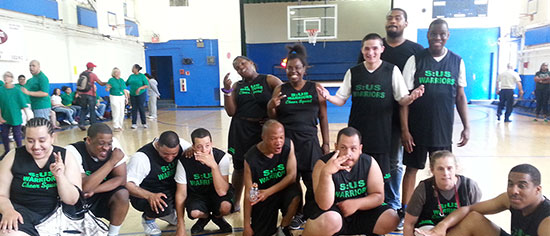 The season has started for our Warriors, who are a part of a basketball league for individuals with intellectual/developmental disabilities, founded by S:US and two other human service agencies. Last year the Warriors won the championship! Come support the home team at one of the games as they work to win the title again.
Games are held at the South East Bronx Neighborhood Center (955 Tinton Avenue, Bronx, New York 10456) from 11am-1pm.
Basketball league schedule of games

DATE

20-Mar
27-Mar
3-Apr
10-Apr
17-Apr
24-Apr
1-May
8-May
15-May
22-May
29-May
5-Jun
12-Jun
19-Jun
26-Jun


TEAMS

S:US vs. SEBNC
Esperanza vs. UCP
CLOSED
SEBNC vs. Esperanza
UCP vs. S:US
S:US vs. Esperanza
SEBNC vs. UCP
Esperanza vs. SEBNC
UCP vs. S:US
Esperanza vs. S:US
UCP vs. SEBNC
Esperanza vs. UCP
S:US vs. SEBNC
CHAMPIONSHIP GAME
26-Jun DANCE