S:US Welcomes Home 63 New Yorkers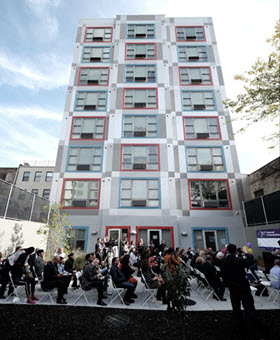 The day dawned bright and breezy as Services for the UnderServed (S:US) prepared to welcome its partners and friends to the housewarming of its Third Avenue Residence in the Bronx.  This seven story, 63 apartment building has been recognized by the New York chapter of the American Institute of Architects in their Fall 2015 issue of the Oculus magazine, which described it as "a colorful new supportive housing project… a beacon in a sea of mostly monochromatic brick and vinyl-sided buildings." It is the first modular design undertaken by architect, James McCullar and comprises dove and slate colored blocks that make up the edifice, with pops of red and blue on the window frames, causing locals to dub it "the Lego building".  In addition to the apartments the building also has a library, computer room, backyard, sunken courtyard and a rooftop garden.  This supportive housing is home to low income individuals from the surrounding area who were formerly homeless and who are in recovery from mental illness.
The $21.68 million project took two years to complete and is the result of a close collaboration between S:US and developers Bronx Pro Real Estate Management (BronxPro) and Strategic Development & Construction Group (SDCG), with construction by Strategic Construction Group and funding from New York State Homes and Community Renewal (HCR), New York State Office of Mental Health, New York City Department of Housing Preservation & Development (HPD) and JP Morgan Chase (Chase), and syndication by Enterprise Community Partners (Enterprise).  It is significant that this building is one of the first affordable and supportive housing projects to benefit from funds allocated by New York State Department of Health's groundbreaking Medicaid Redesign program.
As visitors toured the building they learned about the high-tech green elements that have put the project on track to earn both an Energy Star label through the NYSERDA Multifamily Performance Program, and LEED Gold certification under the LEED for Homes Multifamily Midrise rating system.
More than 80 people sat and stood under the late October sun, with several more residents watching from their apartment windows as S:US Chief of Staff, Judith Jackson welcomed the guests and introduced the speakers.
S:US CEO Donna Colonna said, "Services for the UnderServed is honored to be at the forefront of delivering on the promise of the Governor's Medicaid Redesign investment in supportive housing.  This project is another great example of what we can achieve through our public and private partnership."
HCR Commissioner James S. Rubin congratulated S:US and the Third Avenue building's program and funding partners by saying, "This is how government is supposed to work, strengthening communities and helping those most vulnerable reclaim their lives.  I thank our other state, city, non-profit and financial sector partners who made it a reality."
HPD Comissioner Vicki Been added, "The newest addition to the Morrisania neighborhood is not only modern, sleek and efficient, it is also now home to dozens of lower-income and formerly homeless New Yorkers."
"Supportive housing like 3361 Third Avenue is our best tool for solving New York's chronic homelessness problem," remarked Judi Kende, Vice President and New York Market Leader, Enterprise.
Samantha Magistro, Managing Director of New Business at BronxPro said, "Creating excellent housing for our most vulnerable New Yorkers is essential and we are honored to work with all our partners who dedicate their time and talents to support individuals with special needs to live with dignity in our Bronx community."  And Amandine Di Santo. SDCG Director of Business Development and Marketing & Sales added, "Strategic Construction & Development Group is proud to be part of this wonderful accomplishment."
Without doubt the most heartwarming speech of the day was given by resident Michael Byrne who related the health and family circumstances that led him to become homeless.  He ended up living on the streets for several years and lost all hope in humanity.  Eventually he connected with S:US and was offered a place at the Third Avenue Residence.  "The day I walked in, and put the key in the door gave me back a sense of self-respect and dignity.  I've got a place to call home again.  I'm able to lay down in bed and put a blanket over me and not have to worry about whether I'm going to freeze through the night."
Finally, representatives of the agencies who worked to make this building a reality planted an apple tree in the backyard, and the fruit of their labor will be enjoyed for years to come by the Third Avenue residents.
Click here to download a printable version of this story, including more photos