The YLC Raises Over $15,000 For S:US' Annual Olympics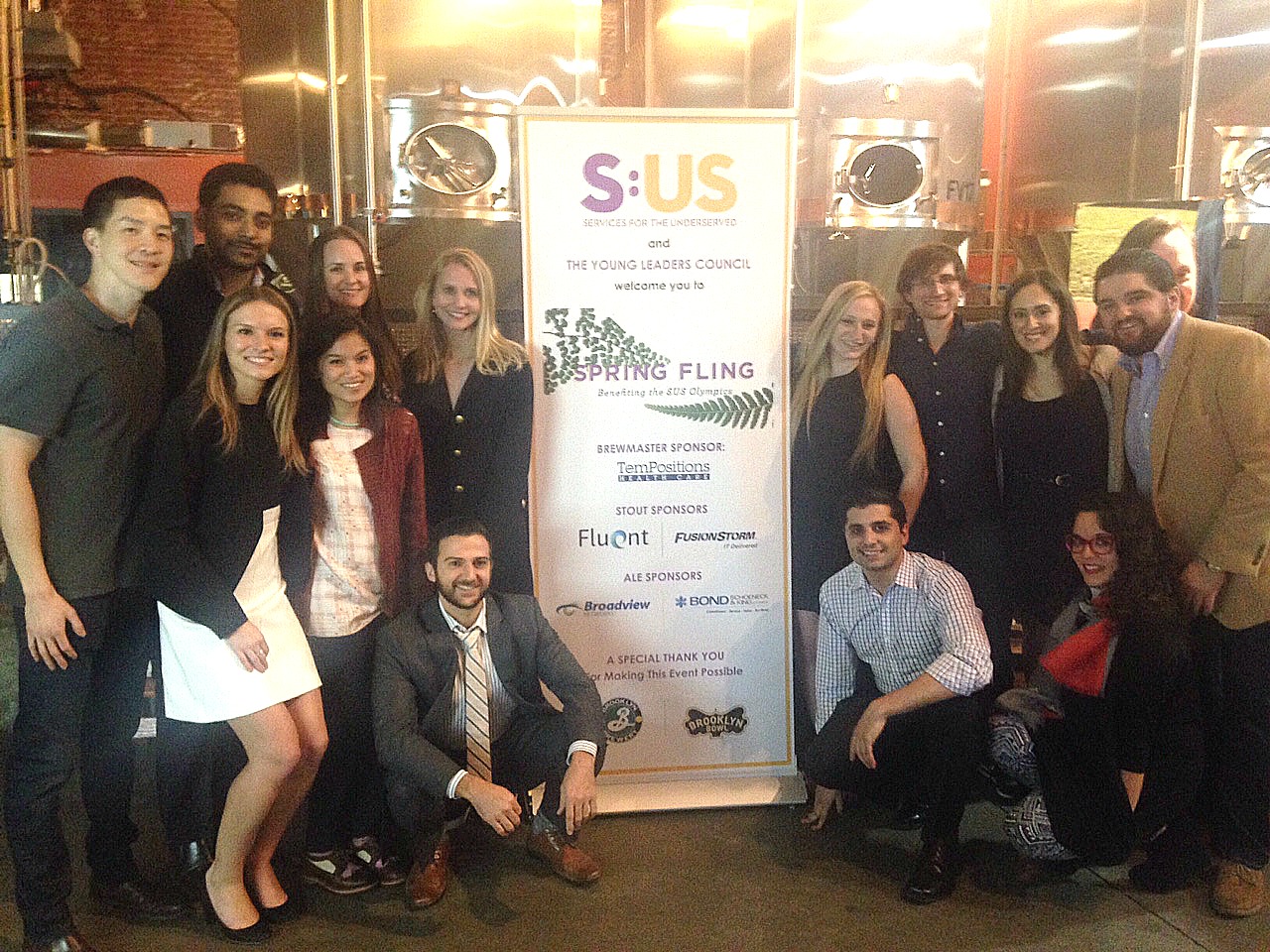 Members Of The Young Leaders Council
Back Row (l-r): Randy Yang, Mohit Singla (Vice President), Amanda  Walker, Anly Pasquinelli , Melanie Fetner, Joe Volpe, Barbara Cusumano, Thomas Morelli  | Front Row:   Victoria Colyer (Co-President),  Anh-Thu Nguyen, Henri Nika, Peter Lattanzio (Co-President), Joanna Volpe | Not pictured: Gabriella Knoll, Karina Knoll, Bryan Rodriguez
What happens when young professionals put their time, talents and contact lists together in the name of giving back to the S:US community? For starters: a Williamsburg, Brooklyn takeover and party that will make our annual S:US Olympics possible for another year.
S:US' Young Leaders Council spent months brainstorming, planning, generating sponsors and recruiting friends to execute the 6th Annual Spring Fling, an evening  of awareness, networking and foodie delights: unlimited craft beer from the world-famous Brooklyn Brewery, all-you-can-eat barbecue from Brooklyn Bowl and desserts from Baked by Melissa. Under the guidance of  Janet Perez, S:US' Manager of Individual Giving and Special Events, the current  YLC consists of Co-Presidents Victoria Colyer and Peter Lattanzio, Vice President Mohit Singla and current members, Barbara Cusumano, JP Pace, Julie Booth, Anly Pasquinelli, Melanie Fetner, Bryan  Rodriguez, Karina Knoll, Gabriella Knoll, Joanna Volpe, Thomas Morelli, Joe Volpe, Anh-Thu Nguyen, Amanda  Walker, Henri Nika and Randy Yang.  Together, these young professionals were able to completely pack the Brewery's exposed-brick warehouse with hundreds of other young professionals who came to make a difference, just as much as they came for the food and libations.
This year's Brewery party raised a record $15, 280 between sponsorship, ticket sales and a raffle that gifted lucky winners with gifts including designer sunglasses, dining gift cards and an iPad.  All proceeds will be used to fund S:US' Annual Olympics and Family Fun Day on May 15, an annual event that showcases the talents and abilities of our individuals with developmental disabilities. The money raised will help cover T-shirts for participants, medals, food for attendees and other supplies for the big day.
GET THE DETAILS: You're Invited! S:US Olympics & Family Fun Day – May 15, 2015
A special thanks to Roger Oliver, the Brooklyn Brewery and Brooklyn Bowl for their continued support of this event.