Training Our Sights on the Homeless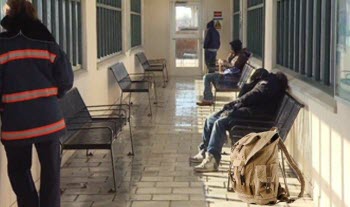 The MTA has selected S:US to provide outreach to the homeless in Long Island Rail Road stations in Nassau and Suffolk counties.
Long Island has 3,860 homeless individuals. More than 100 of these are unsheltered individuals including veterans. Many of the unsheltered homeless congregate in railroad station waiting rooms, especially in the winter months when the temperature outside drops.
In a statement about the issue, the Long Island Railroad (LIRR) said, "The presence of the homeless at LIRR stations is a growing concern for LIRR customers and staff, and sometimes presents law enforcement issues." But instead of just reacting to incidents relating to homeless individuals, the MTA has decided to be proactive and enlist the help of S:US.
S:US has a long track record of working hard to prevent homelessness. Through shelters for homeless individuals and families, for people living with HIV/AIDS, for men with mental health challenges and for families experiencing domestic violence, S:US addresses many housing and health-related issues faced by the homeless and connects them to medical centers to ensure primary medical care and adherence to treatment. So when the MTA awarded S:US a grant of $860,000 to address the homeless problem at LIRR stations S:US began to mobilize special outreach teams to reach these homeless individuals. This outreach initiative will run for three years with an option to extend for an additional two years, and marks the first time that the LIRR have used the services of contractors who not only respond to problems in real time but also take proactive steps to reduce the likelihood that similar problems will arise again.
S:US outreach teams have begun giving out food and clothing to the homeless at the railway stations and are offering to drive them to housing placement locations. Here are some of the typical comments that the teams receive from the homeless they are serving in the stations: "I can't believe you came looking for me!" and "I can't believe you found me!" The teams also continue to build a rapport with those homeless individuals who are more reluctant to receive any help in the hope that they will eventually be willing to receive care. Several of these individuals are impressed with S:US' diligence and remark, "I can't believe you came back!"